Golani Recognized as Valedictorian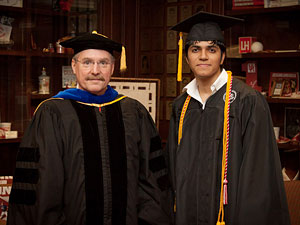 Dean Mark A. Smith and NSM valedictorian, Akshay Golani.
The College of Natural Sciences and Mathematics (NSM) recognized its more than 450 bachelor's, master's and doctoral degree candidates during the Fall Commencement ceremony on December 16. Held at University of Houston's Hofheinz Pavilion, the ceremony also included UH's College of Education, College of Technology, and Conrad N. Hilton College of Hotel and Restaurant Management.
More than 60 doctoral candidates earned degrees in biochemistry, biology, chemistry, computer science, geology, geophysics, mathematics, or physics. In addition, 117 NSM students were candidates for master's degrees with 288 candidates for bachelor's degrees. The ceremony covered students who completed their degrees in August or December 2011.
NSM's valedictorian was Akshay Golani, a biology major and chemistry minor. As valedictorian, he served in the commencement opening procession as NSM's College Banner Bearer. Golani, who was born in Bombay, India, graduated from Kingwood High School. He plans to attend medical school in fall 2012.
While at UH, Golani participated in the American Medical Student Association Pre-Med Chapter and in Cougars for Kids, a community service volunteer program created to help UH students learn the value of making community service contributions. Volunteer projects included helping young patients at Texas Medical Center hospitals and tutoring students. Golani is also a member of the National Society of Collegiate Scholars.
- Kathy Major, College of Natural Sciences and Mathematics