Members of Russian Academy of Science visit UH and Rice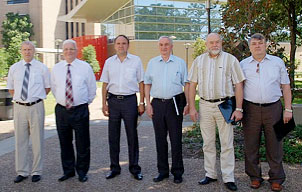 The Siberian Days of Science came to UH with Russian academicians touring the campus and research labs. From left, Sergei Alekseenko, Michael Epov, Igor Bychkov, Yuri Chugui, Nikolay Pokhilenko, and Sergei Zakovryashin.
Academicians from the Siberian Branch of the Russian Academy of Sciences (RAS) made a return visit to Houston in April for the Second Siberian Days of Science.  The group, led by Vice President of the Siberian Branch of the RAS, Michael Epov, included six RAS members invited to present their research efforts to Houston scientists.
The presentations and related events were a joint effort of the University of Houston (UH) Center for Advanced Materials and Rice University's James A. Baker III Institute for Public Policy.
The RAS academicians delivered formal research presentations to Rice and UH faculty at the Baker Institute and later toured the UH campus and a number of research labs.  Discussions also included possibilities of collaborations with Houston scientists and engineers on topics ranging from the development of nanostructured biosensors to exploration for diamonds. Several collaborations were initiated during the week-long meeting.
A formal dinner, held at the Hilton University of Houston, included a proclamation from the City of Houston declaring Siberian Days of Science Day and entertainment by "Ylubka," a Russian dance ensemble visiting Houston from Volgograd, Russia, in celebration of the 50th anniversary of cosmonaut Yuri Gagarin's space flight. Gagarin was the first human in space.
Stay tuned, the RAS group agreed to organize the Days of Houston Science in Siberia in 2012.