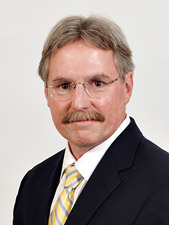 Mark A. Smith, past chairman of the department of chemistry and biochemistry at the University of Arizona, has been named dean of the College of Natural Sciences and Mathematics (NSM) at the University of Houston, concluding a national search.
Smith succeeds John L. Bear, the longest-serving sitting dean at UH, who announced in January that he would be stepping down as dean after 18 years in the position. A renowned researcher, Smith also brings to the position strong credentials as an administrator, experience at both public and private universities, an impressive record of recruiting topnotch faculty and students, and experience in coping with budgetary challenges. He will begin his new duties on Jan. 1, 2011.
"I believe I am a very good fit to the needs of UH in the College of Natural Sciences and Mathematics," Smith said. "I have seen what it takes to transform a university from growing to shining in the national spotlight and can bring my experiences and observations to UH at a time when this is precisely what is desired: to take a vigorous academic community to one of broad and extensive productivity to ensure that it appears in the spotlight of the radar used nationally to monitor university success."
Inclusion for UH among the nation's Tier One nationally competitive research universities is among the major goals of UH President Renu Khator's presidency.
"To be the best, you have to attract the best, and the hiring of Dr. Smith is another indication of the progress we are making on our journey to Tier One," Khator said.
"His broad range of experience, diverse talents and commitment to strengthening our partnerships throughout the Greater Houston Region are exactly the qualities we were seeking. His challenge will be to lead to greater heights a college with more than 180 ranked faculty, nearly $26 million in annual research expenditures and more than 4,500 students pursuing excellence in six academic departments."
Smith said this "optimistic, but realistic, goal to step up in the national standings during a time when state and private universities are simply trying to weather the economic storm" was a major factor in attracting him to the position.
"UH has excellent faculty and students, and an enthusiastic staff who are really underappreciated nationally," he said.  "The numbers indicate an institution that is truly ready to step up to the next level among elite research universities. Coupled to the developments under way in teaching, retention and campus life, the transition to Tier One status in the very near future appears entirely realistic. I am impressed by this motivation and 'can-do' attitude and wanted to be an integral part of this success."
His background is rooted in success at the University of Arizona. Smith built his department's first development program. This involved the recruitment of academic, business and community leaders, engagement of the community as a whole and getting the word out about how strong science benefits the community and state.
Smith has been in the department of chemistry and biochemistry administration for 16 years, the past eight as department head or chairman. Under his leadership, the department achieved a ranking in the top 15 research-funded departments nationally. He also was actively engaged in university restructuring and cost-savings initiatives.
"These experiences will help me to understand present or upcoming challenges at UH, especially during times of growth in a problematic economy," he said.  "We must build the research-active faculty and ensure that our curriculum at all levels remain vibrant and current.
"This requires varied resources –  from salaries, to equipment, space, and infrastructural support for both teaching and research. To be a truly great university, it is important that attention be paid to all aspects of function as we strive to improve various sectors."
Among his initial goals, Smith said he plans strong growth in the medical- and energy-related sciences in NSM.
The ties we build between the university, business and the community will be important attractors for the brightest and best faculty in the country to come to UH," he said.  "These will attract the brightest and most motivated students to UH.
"The combination of these will naturally increase productivity and success, which brings in greater funding ties. So, all of these are closely coupled, and I look forward to beginning to piece this puzzle together systematically to allow for vibrant activity and growth."
The author of more than 80 publications and the principal investigator of a wide range of grant-funded projects, Smith's research group at Arizona focused on chemical physics, reaction dynamics, atmospheric chemistry, interstellar chemistry and astrobiology.
He earned a B.S. degree in chemistry from the University of Oregon in 1976, an M.S. degree in organic chemistry from the Massachusetts Institute of Technology in 1978 and a Ph.D. in physical chemistry from the University of Colorado in 1982.