Computer Science Student Awarded Two Conference Scholarships
Conferences Offer Networking Opportunities
Cristina M. Morales-Mojica, a University of Houston Ph.D. student in computer science, was awarded a Tapia Conference Scholarship, as well as a Grace Hopper Conference Scholarship. These scholarships will fund associated costs with attending both conferences.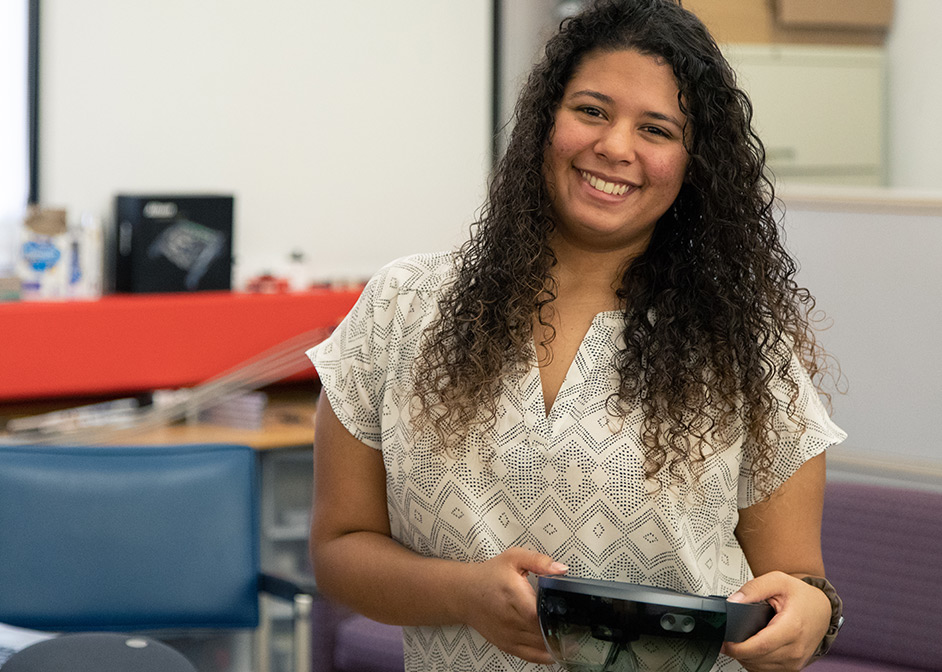 Morales-Mojica is advised by Nikolaos Tsekos, professor of computer science in the College of Natural Sciences and Mathematics. Her research, which is in the field of medical robotics, is building a system that allows surgeons a three-dimensional immersive experience.
Giving Surgeons an Immersive Experience
"When a surgeon is preparing for surgery, they use a set of 2D images," Morales-Mojica said. "What we want to do is represent this data in three dimensions, giving the surgeon an immersive experience."
To create an immersive virtual-reality experience for the surgeon, this requires processing data generated from an MRI scan, segmenting it and then displaying it in a HoloLens, which provides a three-dimensional interactive scene. Using the HoloLens, a surgeon can interact with three-dimensional images and structures, looking at these representations from different angles.
Morales-Mojica's part of the project involves the retrieval and reconstruction of MRI data for the HoloLens and the design of the holographic interface.
"This is about giving surgeons exactly what they need," Morales-Mojica said.
Conferences Offer Networking Opportunities
This will be Morales-Mojica's second time attending the Grace Hopper Conference, which is a gathering of women technologists, designed to provide women with networking opportunities to enhance their careers. The Grace Hopper Conference has awarded Morales-Mojica a partial scholarship, which covers the conference registration. The conference takes place in Houston, September 26–28.
Morales-Mojica also attended the conference during her first year at UH, when she was still getting oriented to the research world.
"There was so much going on at the Grace Hopper Conference," Morales-Mojica said. "I knew I wanted to go back."
The Tapia Conference is meant to acknowledge, celebrate and promote diversity in computing. This year, the conference will be held in Orlando, Florida, from September 19–22. The Tapia Conference Scholarship provides support for students, postdoctoral fellows and a limited number of faculty, and includes conference registration, meals, hotel accommodations, and a travel stipend.
"There aren't many Latinas in computer science," Morales-Mojica said. "It's great that I can attend a
conference which celebrates diversity."
Support During Graduate School
"Since eleventh grade, I knew I wanted to do a Ph.D.," said Morales-Mojica, who got her start in robotics research as an undergraduate doing summer internships. She credits her success to her mother, Maribel Mojica, who raised her and her brother after their father passed away. "It wasn't always easy for her, being a single mother, but I always had her support."
- Rachel Fairbank, College of Natural Sciences and Mathematics
August 15, 2018