20 YEARS AFTER DEATH, LET'S REMEMBER LELAND'S LEGACY
Alison Leland and State Senator Rodney Ellis
August 7, 2009
Houston Chronicle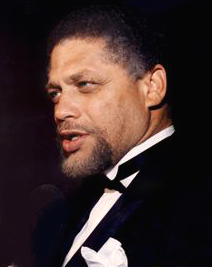 Twenty years ago our city, our nation and much of the world waited for word on the fate of the missing delegation led by Congressman Mickey Leland. The delegation was on the way to oversee the delivery and distribution of essential supplies to famine-stricken Ethiopia. After an international search effort, we learned that his plane had crashed, killing the congressman, congressional staff members, USAID staff and American and Ethiopian supporters.
Today, as he is missed and remembered, many of his passions and causes live on.
Although he loved Houston, Leland's efforts, vision and the size of his heart could not be confined to the boundaries of his congressional district or this nation. Leland understood that the struggle for basic human rights — food, clothing, shelter and health care — was necessarily a global one. Leland dedicated his life to giving back; championing the causes of the poor and disempowered.
As an activist, long before he ran for elected office, Leland set up free health clinics in areas of Houston where residents previously had little to no access to health care. He continued the fight in the Texas Legislature and in Washington for those less privileged, on issues such as alleviating hunger and poverty, protecting civil rights and expanding access to health care. We are still fighting all these battles today
One of the issues most associated with Leland is the often neglected issue of hunger. He pushed for the creation of, and eventually chaired, the Select Committee on Hunger in Congress. But he always linked hunger and health care as basic human rights.
He passed a bill in the Texas House to give access to generic drugs to low-income people. He fought for universal access to health care before most considered it a serious possibility. And now, as President Obama has put health care reform on the top of his legislative agenda, there is the possibility to achieve one of Leland's greatest goals: universal health coverage.
Nobody should be forced to make the difficult choice of paying bills or taking a sick child to the doctor. And yet one in four Texans — Texas has the highest rate of uninsured in the nation — must routinely make that choice. Leland desperately wanted us to understand that in a nation of abundance, people should not be turned away from medical treatment simply because they are less privileged. He fought until the end, against incredible odds, because he believed that working together for a just cause, we can all make a difference. His untimely death robbed us of a friend and champion, but his purpose and legacy endure.
As we commemorate Leland's life on the 20th anniversary of his passing, let us rededicate ourselves to the values of compassion, courage, and advocacy that he exemplified. Let us resolve that we will push for a health care system that provides quality and affordable health care to all Americans.
We can think of no better way to honor Leland's life and legacy.
Alison Leland is a professor of political science at the University of Houston and widow of former Congressman Mickey Leland. Ellis, a Democrat, represents Senate District 13 in Houston and served as Leland's chief of staff.
http://www.chron.com/disp/story.mpl/editorial/outlook/6563696.html