Committed to Serve From the Military to Teaching, University of Houston Coogs Make a Difference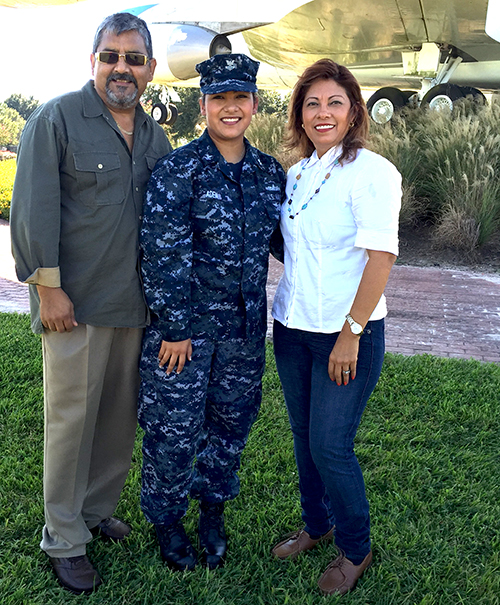 Posted Nov. 8, 2019 — Yelena Reyes always knew she wanted to help others.
She joined the Navy fresh out of high school, excited to explore the world, give back to her community and have a financial path to college. "School was one of the main reasons I joined the military, but it was more than that. It was also about my patriotic duty," she said. "I have a lot of pride in my country."
Today, her commitment to service continues as she pursues a bachelor's degree in teaching at the University of Houston College of Education.
Reyes, who graduates in December, would join an estimated 110,000 veterans working as teachers across the United States.
In honor of Veterans Day, the UH College of Education is spotlighting two students and one alumnus whose acts of service go beyond the classroom.
Adapt and Overcome
Reyes' 11 years in the military proved to be deeply rewarding. Not only did she have the chance to see numerous countries, but she also discovered her passion to teach.
She's now gaining hands-on experience in a social studies classroom, serving as a student teacher at Stevenson Middle School three days a week.
Juggling schoolwork and student teaching, Reyes doesn't shy away from challenges. But in the moments when she's most exhausted, she turns to a motto from the military: Adapt and overcome.
"It's something we said in the Navy all the time," she said.
It helps her remember she has survived bigger obstacles. And it helps her stay focused on the big picture: the students.  
"It's really all about making a connection with them," she said. "If I can change just one person's life with my experiences, that would be satisfying for me."
Coming Full Circle
Jesus Sanchez is quick to admit he was a "problem child" in middle and high school, often getting in trouble and struggling to find meaning in his classes.
But teachers wouldn't let him quit. "I had teachers who motivated me, inspired me to do something better with my life," he said.
He turned to extracurricular activities like music and the Army Junior Reserve Officers Training Corps.
"I felt like I had a purpose," he said. He found mentors and, through JROTC, cultivated a deep-rooted love of country that continues with him today.
Sanchez found his second calling in teaching, graduating from the UH College of Education in 2016. He's now teaching sixth grade math at Raul Yzaguirre School for Success on Houston's southeast side, just minutes from his childhood home.
"I get a lot of questions from my students about things in the neighborhood, rap music, taco places," he said. "I'm like, 'Are you serious? These are my stomping grounds!' so I can really relate to them."
He finds himself gravitating toward students who, like his younger self, need support.
"It's funny — I used to give teachers headaches and now I have students who give me headaches," he said with a laugh. "It's really come full circle."
Sanchez continues to serve in the U.S. Army Reserves as a civil affairs specialist. Striking a balance between his military and civilian duties can be challenging, but he believes it's worth the energy.
"It's a really hard balance, but I see them as ultimately connected," he said. "I try to bring the same leadership to both the service and my classroom. If my soldiers are in the dirt, I'm in the dirt. If my students are struggling, I'm struggling. It's about asking how I can serve them."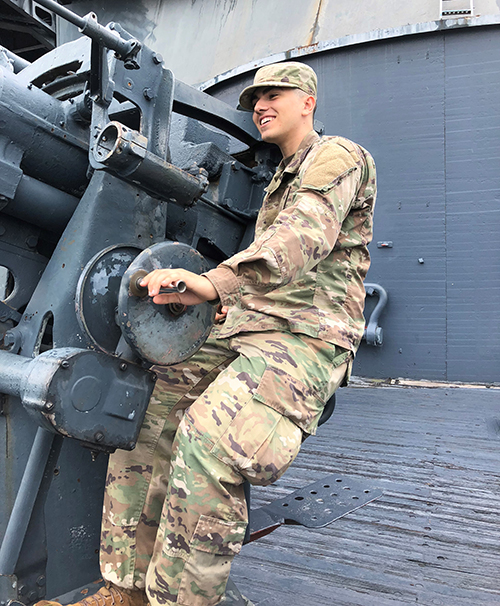 Making a Mark
"Everyone wants to know where they fit in in the world."
For College of Education junior Maurilio Perez, that means training to be a teacher and serving in the National Guard.
Perez has always gravitated toward math, taking advanced classes "for fun" in high school, but he credits his teachers with making coursework resonate with him.
"If you connect with the teacher's personality and teaching style, you don't even think about how hard the work is. It's just fun," he said. "I'm trying to be like the teachers that got me interested in math."
Once he graduates, he'll have the chance to make that impact here in Houston.
Perez is enrolled in Teach Forward Houston, a unique partnership between UH and the Houston Independent School District that provides tuition support to aspiring teachers. As a participant, he's committed to teaching in HISD for four years once he earns his degree.
"It's great! I get to focus on math and have a plan for when I graduate," he said.
His service will continue.
— By Natalie Thayer
— Photos courtesy of Yelena Reyes, Jesus Sanchez and Maurilio Perez