University of Houston Earns a Top Spot in U.S. News Ranking of Online Graduate Education Programs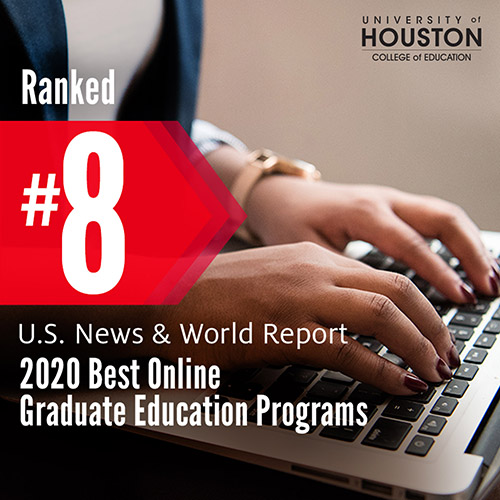 Posted Jan. 14, 2020 – The online master's degree programs at the University of Houston College of Education rank among the best in the nation, according to the 2020 list from U.S. News & World Report.
Specifically, the College ranked No. 8 for its online M.Ed. programs, based on factors such as student engagement, technology tools, surveys of deans, faculty credentials and student excellence.
"Our faculty and staff strive to give students a top-notch experience online," said Bob McPherson, dean of the UH College of Education. "We work to emphasize high-quality instruction and support while allowing students the flexibility and personalization of an online learning environment."
The rankings, released Tuesday, cover the College's online M.Ed. programs in higher education, special populations, and curriculum and instruction (the latter includes specializations in early childhood; health science education; learning, design and technology; math; and literacy).
U.S. News also recognized individual programs for the first time this year. The College's curriculum and instruction programs earned a top spot on that specialty list at No. 20.
Marisa Ramirez, a student in the College's M.Ed. in curriculum and instruction – literacy program, said she appreciates the convenience of the online experience. Working full-time as a high school English teacher, she gets home in the evening, eats dinner, and then does classwork from her laptop, spreading her books on the kitchen table.
"I'm very grateful it's online," Ramirez said. "It's not easy work, but you can do it and have a full-time job."
She can do most of the work on her own schedule, though Ramirez said she enjoyed the monthly online classes she had at a set time with all her classmates in professor Margaret Hale's literacy course.
"I always looked forward to the online meetings because Dr. Hale would make the meetings interesting. It wasn't just a lecture," Ramirez said. "She brings the teaching to life."
Hale, who serves as chair of the College's Department of Curriculum & Instruction, said she incorporates videos, discussion boards and online polls into her online courses. For the synchronous monthly meeting, students log on via video from wherever they are – which included Texas, California and Germany last semester.
"I find different tools that make it mirror as much as possible what I would do face to face," Hale said. "My experience in the online environment is it's very easy to become disengaged. If I'm actively involving you in the class, then you're less likely to be distracted."
Cathy Horn, who serves as chair of the College's Department of Educational Leadership & Policy Studies, said she sees the positive impact of the online programs in higher education and special populations in the actions of the graduates.
"Ultimately, the strength of these programs is captured in our graduates, who are serving as positive change agents on behalf of all students," she added. "We couldn't be more proud of them and the difference they make."
The UH College of Education traditionally has performed well in the overall U.S. News Best Online Master's Education Programs rankings. In 2019, the College ranked No. 19. This year's eighth place ranking was a tie with six other universities.
— By Ericka Mellon