College of Education Undergrads to Present Health-Related Research
Editor's Note (October 18): Tayma Machkhas, an undergraduate student mentored by Lorraine Reitzel, chair of the College of Education's Psychological, Health & Learning Sciences department, won an Audience Favorite award at the 2018 Undergraduate Research Day. She presented on physical activity and homeless individuals.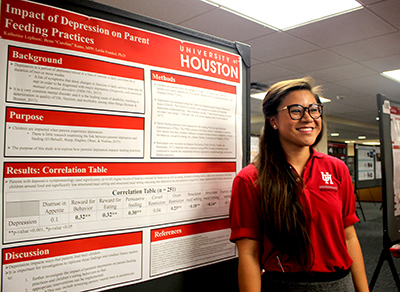 Posted October 16, 2018 — Undergraduate students from the University of Houston College of Education are taking their research skills to the next level, presenting their findings on sleep inadequacy, chronic stress, cancer and other important topics to the UH community this week.
The students are participating in UH Undergraduate Research Day on Oct. 18. The event, a key opportunity for students to present their research to a large and multidisciplinary audience, takes place from 4 to 6 p.m. in the MD Anderson Library, Rockwell Pavilion and The Honors College.
Lorraine Reitzel, chair of the College's Department of Psychological, Health & Learning Sciences, said the event gives students important experience to prepare for graduate school and their future careers.
"Undergraduate Research Day brings together an impressive group of scholars and enables them to present their research findings to the entire campus community," she said. "It is an excellent professional development opportunity for the students and a wonderful celebration of the great mentoring and scholarship being conducted at the University of Houston."
Hee Jung Lim, a presenter and an undergradute student in the health program, worked with Reitzel to investigate how to decrease mortality and improve health among the homeless population.
"Dr. Reitzel is a great mentor with extensive research experience," she said. "My future goal is to become a registered nurse and I believe this opportunity taught me how to advocate for vulnerable people."
Below is a list of undergraduates doing poster presentations at this year's event and their faculty mentors. The list includes College of Education undergraduates and students from other colleges who were mentored by UHCOE professors.

Participant in Summer Undergraduate Research Fellowship 2018:
Haelim Jeong, human development and family studies major 
Department of Psychological, Health & Learning Sciences
The Relationship Between Social Support, Personal Distress, and Engagement in Feeding
Mentored by Assistant Professor Leslie Frankel
Poster Presentations:
Eden Absar, Honors biomedical sciences major
Department of Psychological, Health & Learning Sciences
A Culturally-Tailored Smoking Cessation Intervention for Latinos
Mentored by Assistant Professor Marcel de Dios
Pooja Agrawal, health minor 
Department of Psychological, Health & Learning Sciences
Higher Frequency of Seeing People Walk is Associated with Meeting Aerobic Physical Activity Guideline Among Latino Adults 
Mentored by Assistant Professor Rosenda Murillo
Eduardo Anzures, human nutrition major, UHCOE Behavioral Opportunities Uniting Nutrition Counseling and Exercise (BOUNCE) program, USDA Eye to the Future intern  
Department of Psychological, Health & Learning Sciences
Kitchen Detective: What is in Your kitchen?
Mentored by Professor Norma Olvera
Keana Asadifar, health major
Department of Psychological, Health & Learning Sciences
The Association of Perceived Cancer Risk with Aerobic Physical Activity in U.S. Adults
Mentored by Assistant Professor Rosenda Murillo
Natalia C. Chacon, human nutrition major, UHCOE Behavioral Opportunities Uniting Nutrition Counseling and Exercise (BOUNCE) program, USDA Eye to the Future intern
Department of Psychological, Health & Learning Sciences
Glycemic Index and Eating Practices of Hispanic and African American Children
Mentored by Professor Norma Olvera
Dontray Crump, health major
Department of Psychological, Health & Learning Sciences
Promoting Safer Sexual Behavior on the HBCU Campus Through a Focus on Ethnic Identity
Mentored by Assistant Professor Chakema Carmack
Shreya Desai, psychology major, UHAND scholar (a partnership between UH and MD Anderson Cancer Center)
Department of Psychological, Health & Learning Sciences
Neighborhood Social Cohesion Partially Mediates the Association Between Seeing People Walk and Leisure-time Walking in Latino Adults
Mentored by Assistant Professor Rosenda Murillo
Basant Gamal, biochemical/biophysical sciences major, UHAND scholar (a partnership between UH and MD Anderson Cancer Center)
Department of Psychological, Health & Learning Sciences
Vibrant Lives—A Weight Loss Program for Employees of the Pasadena Independent School District
Mentored by Department Chair Lorraine Reitzel
Jocelyne Garcia, teaching and learning major
Department of Curriculum & Instruction
Family Home Providers Change in Observations as a Result of Professional Development Classes
Mentored by Associate Professor Nicole Andrews
Natalia Henao, human nutrition major, UHCOE Behavioral Opportunities Uniting Nutrition Counseling and Exercise (BOUNCE) program, USDA Eye to the Future intern
Department of Psychological, Health & Learning Sciences
Kitchen Detective: What is in Your Kitchen?
Mentored by Professor Norma Olvera
Glycemic Index and Eating Practices of Hispanic and African American Children
Mentored by Professor Norma Olvera
Keilan Johnson, health major 
Department of Psychological, Health & Learning Sciences
Gender Variation Among Perceived Social Concomitants of Sexual Behavior in Emerging Adulthood
Mentored by Assistant Professor Chakema Carmack
Josee Kahambwe, health major
Department of Psychological, Health & Learning Sciences
Association Between Sleep, Distress Tolerance and Mindfulness Among College Students: An Examination of Subscale Scores
Mentored by Assistant Professor Virmarie Correa-Fernández
Hee Jung Lim, health major
Department of Psychological, Health & Learning Sciences
Characterization of Sleep Inadequacy and Association with Health among Homeless Adults
Mentored by Department Chair Lorraine Reitzel
Paulina Linares Abrego, biology major, psychology major, UHAND scholar (a partnership between UH and MD Anderson Cancer Center)
Department of Psychological, Health & Learning Sciences
The Impact of Flavor and Nicotine Dose on Electronic Cigarette Use and Acceptability Among Cigarette Smokers
Mentored by Department Chair Lorraine Reitzel
Tayma Machkhas, media production major
Department of Psychological, Health & Learning Sciences
Characterization of Physical Activity and its Association with Self-Rated Health among a Large Homeless
Population
Mentored by Department Chair Lorraine Reitzel
Umaima Memon, health major 
Department of Psychological, Health & Learning Sciences
The Association of Perceived Cancer Risk with Aerobic Physical Activity in U.S. Adults
Mentored by Assistant Professor Rosenda Murillo
Lena Musoka, health major 
Department of Psychological, Health & Learning Sciences
Link Between Sleep Problems, General and Mental Health, and Happiness in an Ethnically Diverse Sample of College Students
Mentored by Assistant Professor Virmarie Correa-Fernández
Sean Reuven, health major, UHAND scholar (a partnership between UH and MD Anderson Cancer Center)
Department of Psychological, Health & Learning Sciences
Comparing Diet, Body Mass Index and Perceived Cancer Risk in African American Men and Women
Mentored by Department Chair Lorraine Reitzel
Joanna Rodriguez, health major
Department of Psychological, Health & Learning Sciences
Gender Variation Among Perceived Social Concomitants of Sexual Behavior in Emerging Adulthood
Mentored by Assistant Professor Chakema Carmack
Amy Rojas, human nutrition major, UHCOE Behavioral Opportunities Uniting Nutrition Counseling and Exercise (BOUNCE) program, USDA Eye to the Future intern
Department of Psychological, Health & Learning Sciences
The Association Among Acculturation, Anxiety, Sleep Quality, and Weight Status in Latina Mothers
Mentored by Professor Norma Olvera
Christine Smith, health major, UHAND scholar (a partnership between UH and MD Anderson Cancer Center)
Department of Psychological, Health & Learning Sciences
Physiological Determinants of Chronic Stress in Relation to Substance Use and Neighborhood Crime
Mentored by Associate Dean for Research Ezemenari Obasi
Prakriti Srivastava, Honors biomedical sciences major
Department of Psychological, Health & Learning Sciences
A Culturally-Tailored Smoking Cessation Intervention for Latinos
Mentored by Assistant Professor Marcel de Dios
Evelyn Staley, health major
Department of Psychological, Health & Learning Sciences
Interesting Associations among Sexual Health Services Utilization and School Exposure to Sexual Health
Information
Mentored by Assistant Professor Chakema Carmack
Denisse Velazquez, human nutrition major, UHCOE Behavioral Opportunities Uniting Nutrition Counseling and Exercise (BOUNCE) program, USDA Eye to the Future intern
Department of Psychological, Health & Learning Sciences
The Association Among Acculturation, Anxiety, Sleep Quality, and Weight Status in Latina Mothers
Mentored by Professor Norma Olvera
Aitong Wang, health major
Department of Psychological, Health & Learning Sciences
A Culturally-Tailored Smoking Cessation Intervention for Latinos
Mentored by Assistant Professor Marcel de Dios
Jocelyn Yanez, health major, USDA Eye to the Future intern
Department of Psychological, Health & Learning Sciences
The Association Among Acculturation, Anxiety, Sleep Quality, and Weight Status in Latina Mothers
Mentored by Professor Norma Olvera
The Association between Frequency of Seeing People Walk and Neighborhood Social Cohesion: Race/Ethnic Differences
Mentored by Assistant Professor Rosenda Murillo
— Compiled by Kathy Patnaude
— Photo by Kathy Patnaude