Two-Time UH College of Education Graduate Leads Literacy Campaign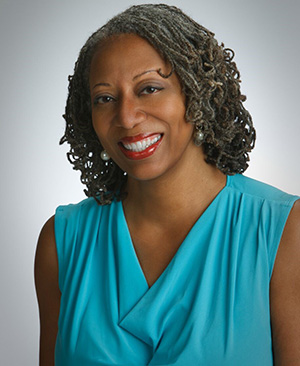 Editor's note: The UH College of Education has awarded Tracy Weeden a 2020 Distinguished Alumni Award.
Posted May 29, 2019 – A group of teachers, parents and doctors struggled to read aloud a paragraph of mostly single-syllable words. The letters appeared fuzzy and out of order.
One doctor held up the paper to his face. Most paused before every word.
"To," read one woman.
"Almost," said the proctor.
The word was "in."
The exercise, held at Neuhaus Education Center, was designed to give participants the feelings of frustration experienced by children and adults with dyslexia. Tracy Weeden, a two-time graduate of the University of Houston College of Education, serves as president and chief executive officer of the Houston-based nonprofit, which specializes in dyslexia training and support.
Weeden, who administered the reading activity on a recent afternoon, asked the participants how they felt afterward.
"It's so emotional for me," said a mother, her voice cracking and her eyes welling with tears. "I feel bad for my daughter."
An estimated 15-20% of the population has dyslexia, a learning disability that makes it difficult to read and write.
On the positive side, Weeden told the group, about 35-40% of entrepreneurs have dyslexia. On the flip slide, nearly half the prison inmates in Texas are estimated to have dyslexia.
"Think about all that human potential we can tap into as a nation if we can get reading right," she said. "This is high stakes."
Practice makes perfect
Weeden grew up in Detroit, with a mother who struggled to read but encouraged her children to be avid readers like their father. Weeden recalls practicing while her mom folded laundry.
"Read to me like you're on television, baby," her mom would say.
The oldest of seven children, Weeden went on to the University of Detroit Mercy, a private Catholic school, and graduated with a bachelor's in communication studies and a minor in English.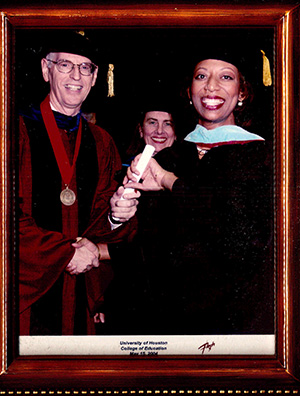 Unsure about her career path, Weeden said she prayed and realized she had been leaning toward teaching, often mentoring her siblings and serving as a coach and community volunteer. After getting her teaching certification, Weeden returned to her old neighborhood to teach English at a high-poverty high school. She recalls students reading on an elementary school to college level.
After five years, she said, "I was ready to give up. I felt like I had failed them."
Still, Weeden knew she could make a difference and continued her teaching career when she moved to Katy in 1991 with her husband, L. Darnell Weeden, now an associate dean of research and faculty development at the Thurgood Marshall School of Law at Texas Southern University.
Weeden taught English in the Katy Independent School District and then worked as a recruiter and coordinator of personnel development. She later served as an assistant superintendent in Houston ISD and worked for the publishing companies Scholastic and Houghton Mifflin Harcourt – which gave her a closer look at the reading crisis nationwide.
'A proud alum'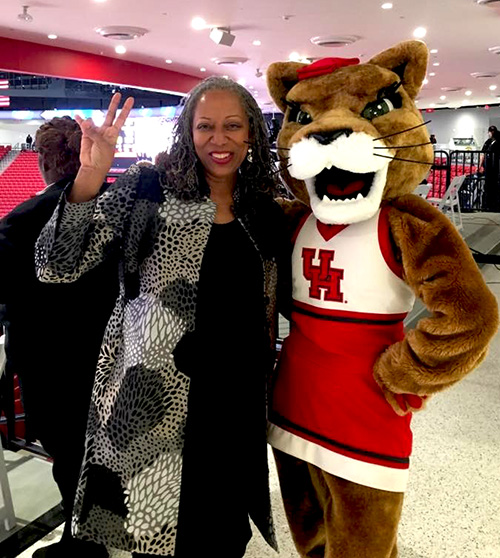 During her graduate work at the UH College of Education, Weeden recalls learning about interpersonal process recall, a counseling technique to help people think through problems.
"It was one of the most important classes I've ever taken in preparing me to be a leader," said Weeden, who earned an M.Ed. in administration and supervision in 1995 and an Ed.D. in 2003 from the College.
Weeden said she remains in touch with several of her classmates after the "boot camp bonding experience" of graduate school.
Today, her twin sons attend UH. Lawrence is an English major, accepted into the College of Education, and Henry is a history major, following a call to ministry. Her daughter, Elizabeth, is a rising ninth-grader whose goal is to become a pediatrician.
"I'm a proud alum and so proud that my twin boys are at UH," Weeden said from her Neuhaus office, where her diplomas hang on the wall.
'One step at a time'
When Weeden was tapped to lead the Neuhaus Education Center in August 2015, then-board chair Amy Melton praised her "passion, commitment and innovative thinking."
"Under her leadership, I am confident the NEC will continue to make great strides as we combat the inability of children and adults to read: a problem which has been declared a public health issue by the National Institutes of Health," Melton said in a statement.
Weeden has helped expand Neuhaus' national reach to improve literacy, with projects in Ohio, Florida and West Virginia as well as Texas. In the East Texas district of Lufkin ISD, for example, far fewer students need intense reading intervention after adopting the Neuhaus curriculum, data show.
During the recent dyslexia simulation, Weeden shared the success story of a student in a Neuhaus adult literacy class. The student is about to complete a nursing program after starting at a kindergarten reading level.
"We are going to win this battle one step at a time," she said.
–By Ericka Mellon
–Photos courtesy of Tracy Weeden