COE Higher Education Student Ian Todd Shines at UH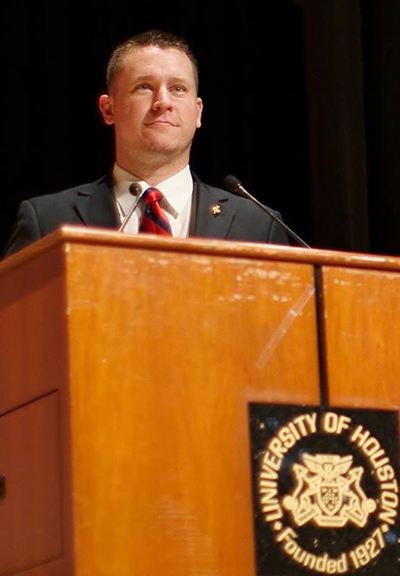 Department of Educational Leadership & Policy Studies (DELPS) M.Ed. Higher Education student Ian Todd is a graduate assistant for Leadership Programs at the University of Houston (UH) Center for Student Involvement.  The Center for Student Involvement provides services for Registered Student Organizations, connects students with opportunities to be involved on campus, and supports many Fee Funded Organizations at the University of Houston.
Todd's work at the center involves building programs for undergraduate students which includes training, marketing, budgeting and recruitment.  One of his important projects is the Ignite Leadership Program, designed to develop basic leadership skills for UH students.  Todd coordinated a series of UH and community speakers for workshops for the program and also recruited, interviewed, and on-boarded new candidates.
Some of Todd's other accomplishments include: Developing a four-year, hi-touch, cohort-based, undergraduate leadership program to build campus and community leaders; establishing an accessible, co-curricular, leadership certificate workshop series that offers more than 60 unique workshops; producing a short marketing film for recruitment and program introductory purposes; and utilizing networking skills and connections to bring influential Houstonians to campus to meet with students.
Todd attended several Higher Education conferences including the 2014 National Association of Student Personnel Administrators (NASPA) Leadership Educators Institute and the 2014 and 2015 Texas Association of College and University Student Personnel Administrators (TACUSPA) Annual Conferences. His team won the 2015 TACUSPA Annual Conference Graduate Student Case Study Competition against several other students from across Texas. 
"I was invited by the American Red Cross to present at the 2015 Points of Light Conference on Volunteering & Service, which is the largest convening of nonprofit, government, business and civic leaders in the world," said Todd. "I presented preliminary results from my study in volunteer motivations for the millennial generation in a presentation entitled Engaging the Global Generation: Exploring What Motivates, Inspires and Deters Youth Volunteers."
Todd has conducted extensive research into student veteran programs and maintains close relations with the Student Veterans of America as well as several prominent veteran support groups in Houston. "I will be partnering with a fellow veteran researcher from Houston Baptist University (HBU) on a few upcoming research projects in the near future," said Todd.  "We were introduced by my research methods professor, John Spoede."
Several College of Education faculty members have influenced Todd, personally and professionally.  Alexander Schilt helped him aim higher in his aspirations and Lyle McKinney has mentored him through the tough times when he lost his drive. "Dr. [John] Spoede has held me accountable for excellence while introducing me to new options in Higher Education careers, Dr. [Jackie] Thomas has challenged me to develop my educational foundations to ground my practice in theory, and Dr. [Catherine] Horn has advocated for my successful transition into jobs which will expedite my professional development."
"Ian has made many important contributions to our Higher Education program, and to student success at UH more broadly during his time at the University," said McKinney. "He has natural leadership ability and we are excited to follow the next steps in his higher education career."
"I have enjoyed spending time with and being mentored by professionals in the field," said Todd.  "I will graduate with a strong theoretical foundation combined with practical and personal experiences."