Future HISD Teachers in Innovative Training Program Make Dean's List
Posted March 1, 2017 – Like many high school students, Juan Barrera felt stressed about paying for college. But a poster he saw in the counseling office at Bellaire High School last year intrigued him.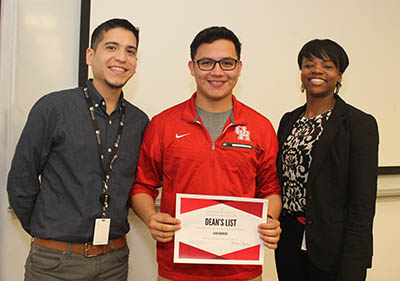 Teach Forward Houston student Juan Barrera (center) celebrates making the Dean's List with HISD academics program manager Ricardo Rodriquez and HISD senior manager of leadership recruitment Denise Hooker-Ware.
It advertised an innovative new program that would let him major in teaching at the University of Houston College of Education. And – cost concerns be gone – the Houston Independent School District would reimburse tuition after he returned there to teach.
Barrera, now in the inaugural class of the Teach Forward Houston program, is well on his way to a successful teaching career after completing his first semester at UH. In February the college honored Barrera and other students in the program who had made the Dean's List.
"At first I was not sure how I was going to pay for college, but when Teach Forward Houston came along, I was relieved I didn't have to worry about the cost," Barrera said. "The resources are also great and help us immensely."
Teach Forward Houston launched this school year as a partnership between HISD and the UH College of Education. The initiative aims to create a pipeline of high-quality teachers in the state's largest school district. It targets students ranked at the top of their high school class and gives them the opportunity to enter the profession well prepared, graduating with a bachelor's degree in teaching and learning without the burden of college debt. Participants receive tuition assistance tied to the number of years they teach in HISD.
"The aspiring teachers in the Teach Forward Houston program demonstrated tremendous potential in high school, and they are continuing their success as college freshman," said Robert McPherson, dean of the College of Education. "I know they will have a great impact on their future students in their former school district. This is the grow-your-own concept at its best."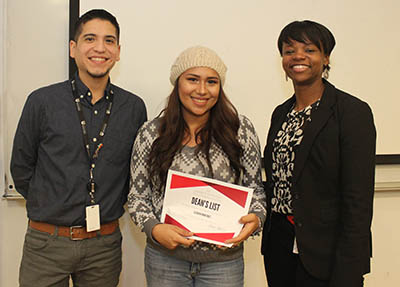 Teach Forward Houston student Claudia Martinez (center), who made the Dean's List while juggling work and a new baby, is joined by HISD managers Ricardo Rodriquez and Denise Hooker-Ware
Participants in the program receive extra academic support and get significant real-world experience in schools, observing classes and tutoring students well before their yearlong student-teaching requirement during their senior year.
"We're elevating the way we prepare pre-service teachers by having both a large, urban university and a large, urban school district fully invested in supporting students through not only four years of preparation but also their first years of teaching," said Amber Thompson, associate chair over teacher education for the college.
Rick Rodriguez, an academics program manager in HISD, said he was excited to see the Teach Forward students, called fellows, "progress, succeed and join our classrooms soon."
"Grow-your-own teacher-prep programs are vital to ensure we are equipped and empowered with high-quality educators at Houston ISD," said Rodriquez, who is pursuing his doctoral degree in the college's professional leadership K-12 program and has a bachelor's in human development from UH. "This UH Power House is changing the conversation in education."
To make the Dean's List, students had to earn a minimum 3.5 grade-point average. Barrera said he was able to keep up his grades while also working at a fast-food joint by staying organized. "I have a schedule for school and one for work too," Barrera said. "I force myself to follow it."
Barrera wants to become a teacher because he knows he can help students who are struggling. "I can relate to student problems because I faced problems myself," he said.
Freshman Claudia Martinez, also honored for making the Dean's List, is juggling a part-time job as a teaching assistant, plus her college courses and a new baby.
"I do my school assignments during lunch and all my breaks," said Martinez, who graduated from Chavez High School. "While my baby sleeps, I do my assignments, and even when he is up, I try to do school work. I don't think having a baby should limit your ability to study."
Martinez hopes to teach third or fifth grade after graduation – and eventually buy a house.
HISD won two awards from the Texas School Public Relations Association this year for its communication efforts for Teach Forward Houston. The inaugural class has 50 students.
"These students have the potential to really change the lives of the future students they will teach," said Laura Lee, the college's program coordinator. "I have watched them grow and mature from the first time they entered the building to where they are now."
–By Kathy Patnaude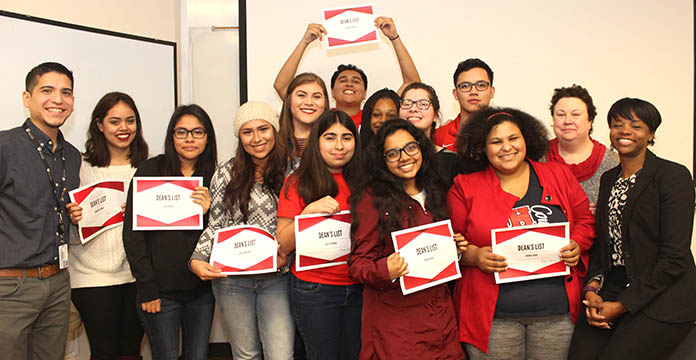 The Teach Forward Houston students who made the dean's list celebrated in February 2017 with HISD academics program manager Ricardo Rodriquez (first from left), college coordinator Laura Lee (second from right) and HISD senior manager of leadership recruitment Denise Hooker-Ware (first from right).