Three UH College of Education Grads Named 2018 Teachers of the Year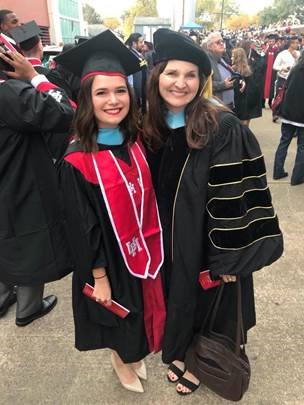 Mayde Creek Elementary teacher of the year Demi Andrews (left) and Clinical Assistant Professor Carrie Cutler celebrated Andrews graduating with her master's in December 2017.
April 4, 2018 – The Facebook notifications kept coming this semester. Carrie Cutler, a clinical assistant professor at the University of Houston College of Education, received nearly the same message from three former students: Each had just won Teacher of the Year awards at their school.
"I'm so proud of their hard work!" Cutler said, sharing the good news via email.
The winners include Demi Andrews, Rookie Teacher of the Year from Mayde Creek Elementary in the Katy Independent School District; Brittany Johnson, from Bonham Elementary in Houston ISD; and Pamela Lopez, ESL Teacher of the Year from Tice Elementary in Galena Park ISD.
The recent College of Education graduates join at least three other alumni who won Teacher of the Year awards at their schools in 2017, part of a strong network of UH-prepared teachers in the Houston region.
Cutler, a professor in the elementary math program, said the yearlong internship required of UH teaching majors has a significant impact on their success once they're on their own in the classroom. "I think our rigorous student-teaching program helps prepare (students) for how hard the job really is," she said.
In addition, Cutler said, she teaches her students to understand that failure can be a learning opportunity.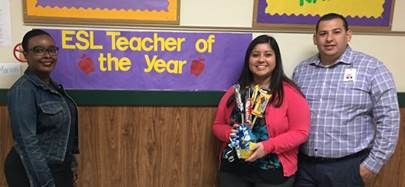 Tice Elementary teacher of the year Pamela Lopez (second from the left) said Clinical Assistant Professor Carrie Cutler's positive attitude inspired her as a teacher.
"Teachers who are outstanding are teachers who are willing to try new things and aren't fearful about their own failures but see failure as a chance to grow their brain and get better," Cutler said.
The College of Education has revamped its teacher-preparation program in recent years to ensure a better learning experience for the students. For example, specially trained site coordinators now hold class on site in the schools, provide more consistent coaching to the students and meet regularly with school staff to ensure a strong, beneficial relationship.
"It's incredibly rewarding to see the results of these changes and to celebrate with our students when they're recognized by their districts," said Amber Thompson, the College's associate chair over teacher preparation. "When we say every child deserves a classroom-ready teacher on day one, we mean it."
Lopez, named teacher of the year for two consecutive years at Tice Elementary, said teaching in her own classroom is the fulfillment of a longtime dream and years of hard work. Lopez first knew she wanted to be a teacher in high school, when she was part of the Ready, Set, Teach program, which gave her the opportunity to volunteer as a teacher's assistant in a kindergarten class at Tice.
After graduating from UH in December 2015, Lopez returned to Tice to work as a third-grade teacher. A string of passionate, dedicated teachers from primary school through the College of Education inspired Lopez to not only become a teacher, but to teach with joy and devotion.
"Dr. Cutler is a big inspiration because she's so excited about what she does," Lopez said. "Being her student, you can just see it. She doesn't focus on the bad things, she's always so happy and excited, and it's contagious."
Unlike Lopez, Andrews didn't always know she wanted to be a teacher. She started college studying hotel and restaurant management. After serving as her sorority's education chair and getting a glimpse of what it might be like to teach, however, Andrews switched to education and didn't look back.
Andrews now teaches first grade.
"The kids are at such a great age when they are growing so much on their own. It's crazy to see how far they come in one year," Andrews said. "They're at the age where they are starting to develop their personality, and it's so special to be part of that."
Also committed to continuous growth, Andrews earned her master's degree in administration and supervision from the College of Education in December.
Johnson was unavailable for comment.
–By Claire Andersen
–Photos courtesy of Carrie Cutler and Pamela Lopez