UH Alumni Recognized as Teachers of the Year Continue Rising to the Challenge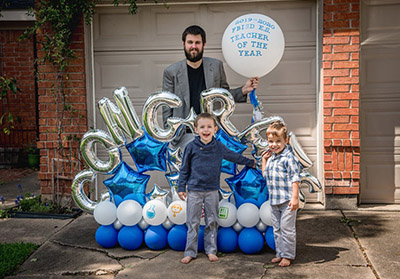 Posted May 4, 2020 — During a virtual staff meeting in mid-April, Kelly Stavinoha of Madden Elementary School received a surprise announcement: He was named Fort Bend ISD's top elementary teacher for 2020.
District officials delivered a giant yard sign and balloons to his house and filmed a short video while social distancing. Stavinoha, who earned a teaching degree from the University of Houston College of Education in 2010, focused on encouraging students.
"We miss you," he said. "We can't wait to see you. Keep working hard."
Stavinoha joined at least five recent College of Education graduates whose year also capped off with recognition of their strong teaching skills.
Armando Morales, who earned an M.Ed. in curriculum and instruction from the College in August 2019, won 2020 Teacher of the Year at Pasadena High School. Alumnae Tori Bello, a kindergarten teacher at Colony Bend Elementary, and Mackenzie Smith, a fifth grade English and social studies teacher at Rita Drabek Elementary, won 2020 Rookie Teacher of the Year Awards in the Fort Bend Independent School District. Joanna Flores, a second grade math teacher, won the 2020 New Teacher of the Year Award at Houston ISD's Blackshear Elementary, down the street from UH. And Yessica Castillo won 2020 Beginning Teacher of the Year at HISD's Cornelius Elementary.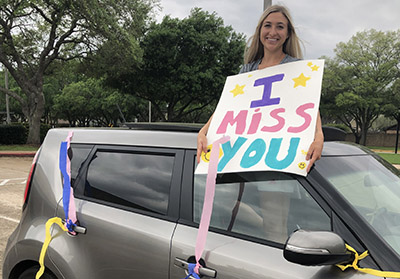 "The first year teaching can be scary, but that recognition makes you know that you're doing something right," Flores said.
With COVID-19 shutting down schools and moving instruction online for the rest of the academic year, these teachers continue to go above and beyond to help their students. In the initial weeks of the crisis, connecting with students was a challenge, Bello said. Determined to find a way, she drove through her students' neighborhoods waving an "I Miss You" sign to let them know she was there even from afar.
"We are looking to give our best efforts to support our families and students deeper than ever before," she said. "We just have to remember to be forgiving and patient with each other."
Stavinoha, who's been teaching science, technology, engineering and math from his garage these days, organized a Zoom dance party that drew hundreds of students.
"This was legitimately one of the coolest things I've ever been a part of as an educator," he tweeted. "We have all missed our fellow @CVME_Huskies so stinking' much and it was great to get together to GET DOWN (remotely)."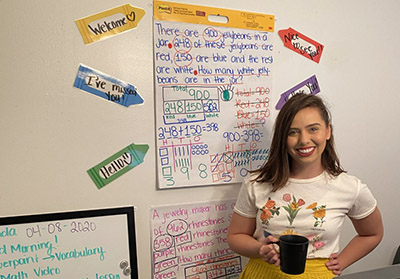 Despite having to stay home, Flores said she wants her students to remember she is still available when they need her.
"I want them to know I'm there every single day," said Flores, who formed a strong connection to the school after doing her yearlong teaching internship there.
The transition to online learning may have disrupted daily routines, but teachers and students have found inventive ways to problem solve, turning to household resources and navigating new technology such as Zoom, Microsoft Teams and ClassDojo.
"Their creativity has been mind-blowing," Flores said of her second graders. "They've been using items that you can usually find at home and creating videos to show me how regrouping works."
To provide a sense of normalcy amid the virtual transition, Bello decorated her home to reflect elements of her real classroom, hanging her jungle-themed calendar and name banner on the wall. She continues to do fun read alouds, donning a party hat and a pig nose for a birthday story, and tells her students daily that she loves them.
Though honored to receive the teacher of the year award, she said the joy in teaching comes from seeing her students' smiles, excitement and resilience.
"Every voice recording, picture and video I receive of my kids is what gets me through these long days," she said. "They are such positive rays of sunshine, little sponges ready to soak up the learning no matter how it is given to them."
— By Alberto Huichapa and Ericka Mellon
— Photos courtesy of Kelly Stavinoha, Tori Bello and Joanna Flores