UH College of Education Honors Star Faculty, Alumni, Students and Friends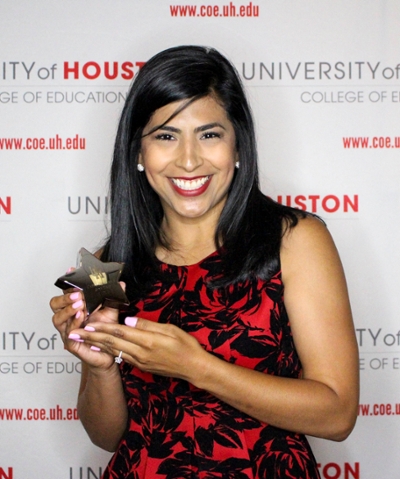 Cathy Hernandez, a KPRC-TV Channel 2 reporter and a UH alumna, served as emcee for the banquet.
Posted April 20, 2017 – The University of Houston College of Education recognized outstanding alumni, faculty, community members and students Wednesday, honoring their contributions and commitment to the fields of education, health care and counseling psychology.
"Our annual Star Awards event allows us to shine a light on people who do incredible work to benefit children and families in Houston," said Bob MchPherson, dean of the College of Education.
The event also recognized nearly 60 students who received scholarships for the 2016-17 academic year thanks to the generous support of donors.
"You have changed my life," Quentaxia Wrighting, one of the scholarship recipients, told donors in a tribute video. In May, Wrighting, a public health major, will be the first in her family to graduate from college.
"Thank you," added M. Cristina Mejia, a teaching major and scholarship recipient. "There are no words."
Cathy Hernandez, a reporter for KPRC-TV Channel 2 and a UH alumna, served as emcee for the banquet, held at the Hilton University of Houston.
Congratulations to all the 2017 winners of the UH College of Education Star Awards!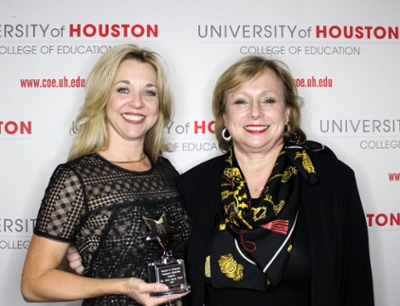 Julie Baker Finck (left) with Anne McClellan
Community Education Champion – Julie Baker Finck
As president of the Barbara Bush Houston Literacy Foundation, Dr. Julie Baker Finck has led crucial efforts to improve low literacy rates among children and adults in the greater Houston region. She has partnered with the UH College of Education to bring much-needed books and volunteers into at-risk schools in Third Ward. And she recently oversaw the launch of a new initiative, My Home Library, that allows children to create a wish-list of books that donors can sponsor to support their reading outside of school. A former middle school teacher, Baker Finck also has served as chief academic officer and chief major projects officer for the Houston Independent School District.
"Julie is a doer who makes thing happen," said Anne McClellan, the college's executive director of growth and innovation. "The children she's helping now will be able to thank her when they graduate from college."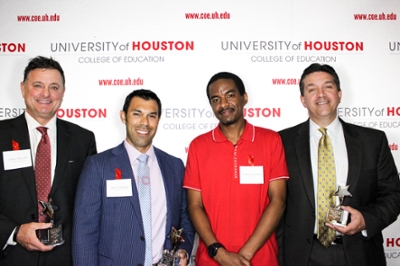 Mike Dowdle, Dan Limbago, Ezemenari Obasi and David Milich 
Community Health Champion – United Health Foundation
United Health Foundation, established by UnitedHealth Group in 1999 as a nonprofit dedicated to improving health and health care, recently awarded a $2 million grant to the University of Houston to support programs to combat obesity and type 2 diabetes in Houston's Third Ward and East End. The college recognized Mike Dowdle, vice president, UnitedHealthcare StudentResources; Dan Limbago, vice president of grants and programs for United Health Foundation; David Milich, UnitedHealthCare CEO of South Texas and Chris Stidman, United Health Foundation president.
"The foundation has been an incredible partner, and our kick-off health fair was only the beginning of great work to come," said Ezemenari Obasi, the college's associate dean of research and co-principal investigator of the grant with Dan O'Connor, chair of the UH health and human performance department.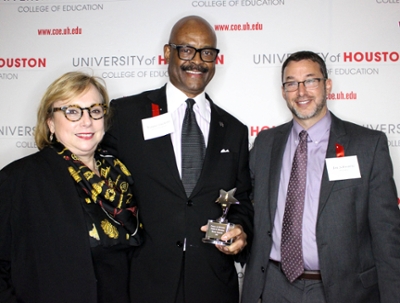 Anne McClellan, Wayne Luckett and Jonathan Schwartz
Friend of Education – Wayne Luckett
Wayne Luckett serves as chair of the Third Ward Schools Task Force on the UH Board of Visitors and is a member of the UH Alumni Association Foundation. He has passionately promoted a strong partnership between UH and the neighboring community to improve education, health, business and arts opportunities. Luckett enjoyed a 33-year career as a telecommunications executive with SBC (now AT&T) and later founded Branwar Wine Distributing Co. in Houston. He won the 2014 UH African American Studies Program - Dr. Marguerite Ross Barnett Alumni Achievement and the 2012 UH Alumni Association Distinguished Black Alumni Award.
"Wayne is a tireless advocate for the community and for the college," said Jon Schwartz, associate dean of graduate studies for the college. "He motivates us all to do better."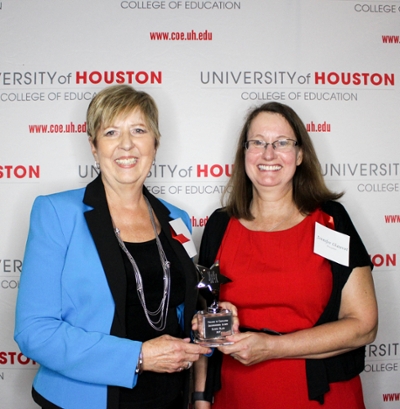 Eloise Blair with Jen Chauvot
Distinguished Alumna – Eloise Blair
Eloise Blair has served as an educator for six decades, working in the Aldine, Conroe, Houston and Montgomery school districts in Texas and supervising teacher candidates at Mercer University in Atlanta. In 2004, she left a two-month retirement to become debate coach at Houston ISD's Lamar High School and has restored the program to national prominence. She won the 2016 Secondary Educator of the Year Award from the Texas Speech Communication Association. She has been inducted into the Hall of Fame for both the National Speech and Debate Association and the Texas Forensic Association. She earned a bachelor's degree in education from UH and a master's in English from Sam Houston State University.
Jen Chauvot, who chairs the college's curriculum and instruction department, shared remarks about Blair from a fellow debate coach: "She was, is and continues to be an inspiration to students and colleagues alike."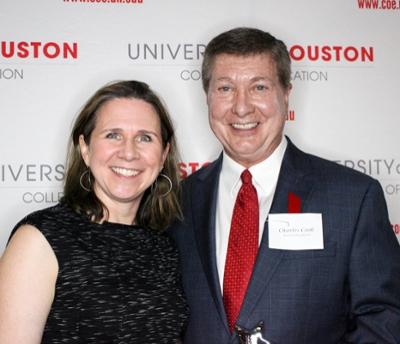 Cathy Horn with Charles Cook
Distinguished Alumnus – Charles Cook
Charles Cook has served as provost and executive vice president for academic affairs at Austin Community College since August 2014, continuing a career committed to fueling student success. For 15 years prior, he served as vice chancellor for academic affairs for the Houston Community College System and led efforts to more than triple the number of graduates and completers. He previously was director of instructional programs for the Community and Technical Colleges Division of the Texas Higher Education Coordinating Board. Cook has an Ed.D. in higher education administration from UH and has taught several graduate-level courses at the College of Education.
Associate professor Cathy Horn applauded Cook's committment to connecting K-12, community college and university systems to help more students achieve their goals in higher education.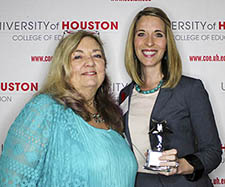 Roberta Nutt with Emily Voelkel
Rising Star – Emily Voelkel
Emily Voelkel received a Ph.D. in counseling psychology from the UH College of Education in 2014 and now works as a staff psychologist in the PTSD Clinic at the Michael E. DeBakey VA Medical Center. She has a faculty appointment as an assistant professor at Baylor College of Medicine. Voelkel has served as chair of the American Psychological Association of Graduate Students and in that role was a member of the APA Council of Representatives, the association's governing body, and served one year on APA's Board of Directors. She also served on the APA Implementation Work Group, which provided recommendations for restructuring the association. In addition, she was a member of the Society of Counseling Psychology and Council of Counseling Psychology Training Programs Special Task Group.
"Dr. Voelkel has made national contributions to psychology in general and counseling psychology in particular that are seldom achieved by psychologists with many more years of experience than she possesses," said Roberta Nutt, training director of the college's counseling psychology program.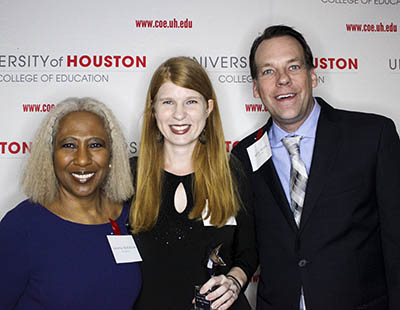 Laveria Hutchison, Amber Thompson and Gary Henry
Faculty Service Award – Amber Thompson
Amber Thompson serves as a clinical assistant professor and associate chair of teacher education for the College of Education. She also serves as executive director of the Houston Area Teacher Center. Thompson recently oversaw the college's tedious national accreditation process, leading to the college becoming the first in Texas to meet new, tougher standards set by the Council for the Accreditation of Educator Preparation. The first in her immediate family to attend college, Thompson transferred from nursing school to UH to pursue her dream of becoming a teacher. She went on to earn an Ed.D. in curriculum and instruction with an emphasis in science education from UH. After teaching middle school science for five years, Thompson joined the college as a grant coordinator and later served as field placement coordinator for student teachers.
Associate Professor Laveria Hutchison praised Thompson's impact on the teacher education program. And Gary Henry, president of the College of Education Alumni Board, which presented the award, said that as a principal he knows firsthand the high-quality of the teacher produced.
Based on her personal experience, Thompson encouraged everyone to support students who express an interest in teaching or other service careers.
"When someone tells you they want to be a teacher, congratulate them; celebrate them," Thompson said. "And that goes for the other professions in our college – Health and HDFS (Human Development and Family Studies) as well. It's time we start lifting each other up for choosing these professions."
Thank you to the Barbara Bush Houston Literacy Foundation for serving as the "shining star" sponsor of the 2017 Star Awards event. The college also expresses appreciation for table sponsors Charles Cook and the College of Education Alumni Board.  
Thanks also to the students from HISD's Lamar High School Band who provided entertainment during the reception under the leadership of band director Donnie Christian.
The slideshow features highlights from Star Awards and includes the student scholarship winners who were able to attend.