Sisters Set to Earn Doctoral Degrees from UH Together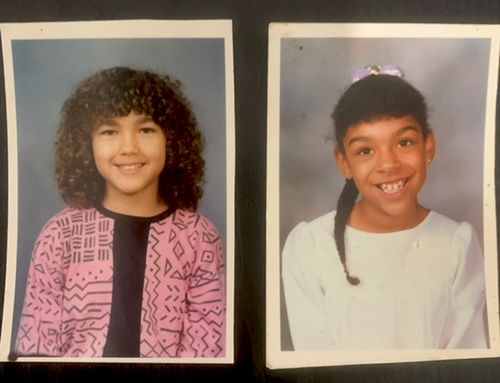 Posted Nov. 28, 2022 — Education has been a way of life for Ayana Lebron and her sister, Khechara Bradford — their parents and grandmother were educators, and the siblings currently work in Houston-area school districts supporting students with disabilities.
Next month they'll take it one step further, crossing the stage together to receive their doctoral degrees in professional leadership from the University of Houston College of Education.
They've juggled raising children, working and school, all amid COVID-19, Winter Storm Uri and family loss. The journey hasn't been easy, but they'll graduate stronger with new tools to help marginalized students succeed.
"Where people slow down or stop when it comes to writing dissertations, we weren't going to be part of those statistics," Lebron said. "We are getting through this together, and we're walking the stage."
The sisters were in all but one of the same classes. Lebron, 46, drew upon her strong math skills to take the lead as they studied statistics and school-based budgeting, while Bradford, 42, used her strong verbal and reading skills to summarize information covered in the classroom. 
Lebron works in the Spring Independent School District as a director of special education, and Bradford works in Houston ISD as an executive officer, also in the area of special populations, which includes bilingual, gifted, special education and students with dyslexia.
Kristi Santi, a professor of special populations, served as advisor for both sisters and describes the pair as "passionate about advancing equity in the academic setting for kids who are otherwise disengaged."
"It's really heartwarming to see these two, who work in different districts, work within the special populations field to help better the lives of the students and families they interact with," she said.
Growing up in Florida, Lebron fought the idea of being an educator like her mother, father and grandmother. But she gave in after several career assessments during college suggested she was best suited for special education, counseling or school administration.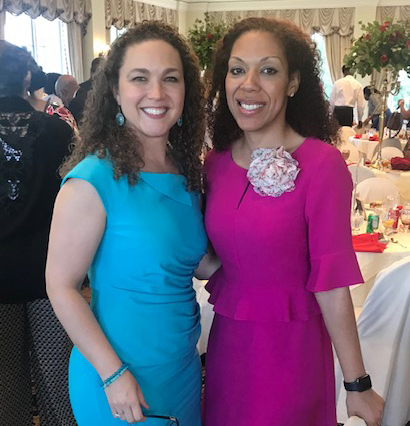 Bradford, on the other hand, knew early in her college career that she would work in education. She realized she wanted to be a teacher after playing chess with a 5-year-old nephew, who was good at the complicated game but still struggled in school. "He really made me think if we found what our students are most interested in, we can help them succeed," she said.
Bradford describes Lebron as the popular, social sibling. "I was the sister that borrowed her clothes without asking," Bradford said, laughing. Lebron describes Bradford as a natural leader — "one might say a little bossy, but I think she knew exactly what she wanted and went after it no matter what, clothing or anything else."
Their mother's example — raising five kids as a single mom while working and earning a master's degree — taught the two that they could do anything. "Through her struggles, we were able to see that we want more and know if she's able to do it with five kids, we can, too," Lebron said.
Bradford agreed. "You can be anything you want to be — that just permeated throughout my life," she said. "I went into education to change the world, and I really thought it wasn't too far-fetched because of my mom."
The College's Ed.D. in professional leadership program encouraged them to select problems they had experienced in their careers and find solutions through research and evidence-based best practices.
"I loved the doctoral program because it wasn't learning for the sake of learning. It was learning for the sake of making improvements in public education," Bradford said.
Her dissertation studied how failing to provide students with special needs the same quality of education as their peers prevents them from scoring as well as their peers on state standardized tests. Lebron's dissertation covered the disproportionate removal of Black students with special needs from classes in middle school, which negatively impacts academic performance. They successfully defended their dissertations on the same day.
The two leaned on each other emotionally, as well as academically, throughout their studies. When Bradford's former husband, the father of her two teenage sons, died suddenly in the summer of 2022, Lebron stepped in to help.
"Without my sister and my advisor, Dr. Santi, I don't think I would have been able complete the program," Bradford said. "Ayana kept me encouraged, and we worked off each other's strengths to stay motivated."
Lebron took Bradford's kids when her sister needed time to work and unwind, and she helped Bradford stay on track, even checking to make sure she logged into the online classes.
Santi gave her the space and time to grieve. "I told her it's OK, it's OK to work through your loss," Santi said. "Our program understands that things happen in our lives that are out of our control. To have that compassion and understanding is critically important if we want our students to have that same compassion for the people they work with."
Both sisters benefitted from support UH offered, including granting extensions during the height of the pandemic and Winter Storm Uri, when millions of Texans lost power, disrupting not just access to virtual classes and resources but overall daily life.
The sisters encourage other doctoral students to find a network, knowing it is difficult to succeed without a support system. "If you don't have a sibling, lean into your cohort because you're going to need someone to connect with," Lebron advised.
Advisors and dissertation committee chairs can offer valuable help and support, Bradford said. "Don't struggle in silence. Let your team at UH support you. I found it's helped every time."
The sisters earned scholarships thanks to a federal grant received by program faculty, allowing them to graduate without debt.
With their new doctoral degrees, Lebron and Bradford will be working to improve curriculum and instruction for kids in special education. They also hope to recruit more people of color to serve as teachers and leaders at the campus and district levels.
"Our goal is to leave a legacy for our children, to let our children see that opportunities are endless," Lebron said. "As Black males and females, you can accomplish as much as your heart desires."
But first, they will celebrate with a vacation after commencement. Once their trip ends, the sisters will be back supporting students. Bradford will also continue work with her consulting firm #LevelUpEdu, with help from Lebron and their younger brother.
"The firm is an opportunity to take the knowledge we gained from UH and influence and support others beyond the districts we currently work in," Lebron said. "We want to help others to learn how to make a difference based on evidence-based practices."
— By Lillian Hoang
— Photos courtesy of Ayana Lebron and Khechara Bradford