UH Experts Suggest Top Tools for Teaching Online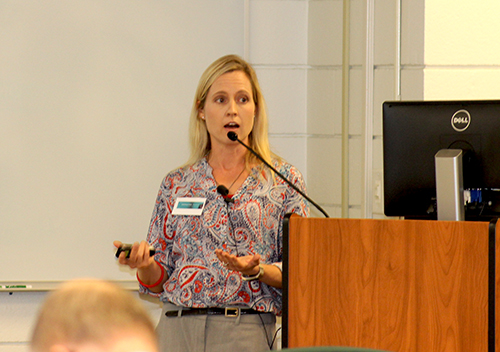 College of Education professor Susie Gronseth discussed the importance of building community online during a UH training session in September.
Posted September 28, 2018 — Online courses can foster robust collaboration among students and professors – if instructors know the right tools to use.
Thanks to a recent training session at the University of Houston, dozens of faculty and staff members now have a grab bag of technological tools and research-based instructional strategies to access when teaching or designing online classes.
Jingyuan Fu, instructional designer in CLASS, said she wants to help faculty feel more comfortable with online teaching tools.
"We believe building community within online courses is a crucial element to facilitating meaningful and engaging learning experiences," said Susie Gronseth, a clinical associate professor of learning, design and technology at the UH College of Education, who co-led the training. "This is such a difficult thing to do in the online environment, as the physical distances that separate instructors and students make interpersonal connection and communication quite challenging. The technologies that we described in this session can help forge bridges across those gaps."
Jingyuan Fu, an instructional designer in the UH College of Liberal Arts and Social Sciences, also led the training. The September session was part of the Emerging Trends in Educational Technology series, a partnership between the UH Office of the Provost and the CLASS Office of Educational Technology.
"This partnership has benefited from the close relationship between the central instructional design team and the instructional design team in CLASS, and has resulted in many excellent Emerging Trends presentations over the past few years," said Jeff Morgan, UH associate provost for education innovation and technology.
Keith Butcher (second from left), a clinical assistant professor from the College of Education, joined about 35 other attendees at the recent Emerging Trends workshop.
Fu suggested that faculty members meet with instructional designers in their colleges to discuss their goals.
"We will help to find the technologies that can best work for them based on their disciplines, course content and purposes," she said. "Hopefully, we can help faculty feel comfortable with technologies so they can focus more on the academic content of courses."
Gronseth and Fu shared the following as some of the best tools to use for facilitating learning online.
Social/Engagement
Adobe Spark is a free mobile and online video creation tool. It allows users to upload text, images, icons, audio/video and music to create videos, slideshows, presentations and stories.
Best Uses: Introductions, course orientation, student feedback, demonstrations, vlogs and digital storytelling
Tips: Start with a story map or board. Keep it short. Add captions/script for accessibility.
Managerial, administrative and organizational
GroupMe allows instant message communication through an app or website. Messages can be text, images, web links, calendar items and polls. Research indicates positive benefits of ease-of-use and instant access. It's also mobile friendly.
Best Uses: Quick responses to questions, course reminders, can connect with absent classmates, team collaboration, share images of ideas and drafts
Tips: Invite students using a provided link and QR code. Model low-risk, course-related idea sharing. Build in student leadership roles within the group space.
Pedagogical/Teaching methods
Quizlet is an online tool for creating flashcards and practice quizzes. It aids practice of terms, vocabulary, diagrams and other study material. Shared creation, editing and use of study sets for varied study modes is supported by Quizlet.
Best Uses: Key vocabulary, warm-up, review games, pre-scripted feedback and student-created questions
Tips: Create and invite students to join a "class" on Quizlet. Enable small groups to collaboratively build study sets using an edit password. Facilitate study set sharing.
Technical support
Zoom supports web conferencing activities such as meetings and webinars via the web and mobile app. It hosts up to 100 participants. The premium version is needed for meetings over 40 minutes.
Tips: Extend invitations to present, lead and contribute in sessions. Create recurring meetings for student teams to use. Incorporate challenges and interactivity into session agenda. 
See Gronseth and Fu's expanded list of tools for online teaching.
View a video of the entire presentation.
—Story and photos by Kathy Patnaude