Staff Spotlight: IT Specialist Knows Customer Service is Key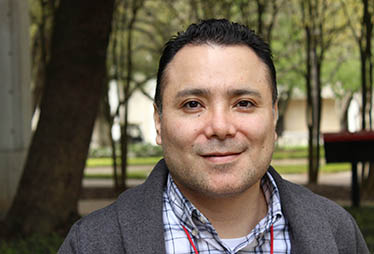 Posted April 8, 2019 – After six years doing back-end IT work at HP, Roberth Peralta has come to enjoy his time serving as the University of Houston College of Education's "first responder" for technology problems.
Peralta started working for the College in August 2018 as a user service specialist. With a focus on customer service, he relates well to the faculty and staff, able to emphasize with any frustrations or concerns, said Tim Rosas, who oversees CITE, the College's technology department.
Peralta, an Ecuadorian native, is currently pursuing a bachelor's degree in computer science at UH. He recently took time to answer some questions.
Q: Have you always been interested in computers?
A: I like how technology helps people achieve a number of different goals. Usually, especially with programming, I try to do things by myself. I'm the kind of guy who likes to be inside machines.
Q: When did you realize you liked working with computers?
A: When I was in high school, my father bought a very old and cheap computer with a bunch of old games that required you to type in commands. I tried to create my own games. I was able to create my own but it wasn't so complex. That's when I probably realized that's what I wanted to work with later on in life.
Q: You worked at HP as a technician for six years. Can you describe the differences between the corporate and customer service ends of technology?
A: At HP, I had the possibility to interact and see many aspects with these new technologies on an assembly line. Yet, I didn't have the possibility to interact with the final customer. In that environment, we only produced the servers. In the College, I have been able to talk to people face-to-face. The people here are so friendly and I get support from the staff and faculty. I get to learn from them.
Q: Does it get frustrating?
A: It's part of the job. In the position of tech support, the main concern is that you try to understand the person more than the technology you know. We need to understand the person's knowledge and necessities from technology as well.
Q: Initial impression of the University?
A: It's like a city inside a city. It's big. I came from a small country and we had universities as well but not as big as it is here.
Q: Favorite places in Houston?
A: I am the type of person who likes to learn more. My favorite places are the Houston Museum of Natural Science and the Barbara Bush Branch Library, which is close to where I live. By reading, I can better practice my language and communication skills and know more about technology.
Q: Favorite UH hangout?
A: Cullen Family Plaza Fountain
Q: Summer or winter?
A: The weather here is very humid and humidity for me is something new so I prefer the winter.
–By Alberto Huichapa
–Photo by Jaime Questell