Staff Spotlight: Teacher Education Coordinator Earns Second UH Degree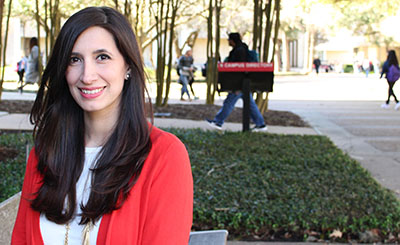 Posted Feb. 11, 2019 – Born and raised in Monterrey, Mexico, Patricia "Paty" Siller expected to return home after earning a master's degree from the University of Houston College of Education.
But Siller found UH to be a great fit, so she decided to pursue her doctorate here, too, while also working for the College.
After juggling her job, classes and a new baby, Siller graduated in December 2018 with an Ed.D. in curriculum and instruction, with a specialization in early childhood education.
Inspired by her parents' perseverance and her passion for helping children, Siller works for the College's teacher education program as the field placement coordinator and program operations manager.
With graduation recently behind her, Siller took time to answer some questions.
Q: What is a typical work day like for you?
A: Answering emails takes a lot of my day. There are seasonal things such as scheduling interviews, writing assessments, benchmarks, field experiences and other program requirements that take the rest of my time. My office is always open so students can come in at any time.
Q: What is the most fun part of the day?

A: I have the most fun when we have orientations or events with students. I love meeting with them and getting to know them. Also, the people I work with are incredible and make my job all the more enjoyable.
Q: What is the most challenging part about your job? 
A: There are many moving pieces working together that make the program whole, so it's like a big puzzle and it can get complicated at times.
Q: Can you tell me a little about your background?
A: I was born and raised in Monterrey, Mexico. I have two brothers who are five and six years older than me, so I was the favorite growing up (ha!). Both my parents had to work really hard to provide for us, and they have been the best examples of perseverance and drive I have ever had.
I went to the same school from elementary up until 10th grade. Then I completed 11th grade and started college at 17 years old. I graduated with a bachelor's degree in psychology in 2007 and worked with school-aged children until I came to Houston in 2011 for my master's degree. I have always enjoyed working with children and I am happy to work with those who will be their teachers in the future.
Q: What does it mean to you to be graduating with your doctorate?
A: I am thrilled! It's a combination of excitement and relief. I am proud of myself for not giving up along the way when so many things could have made me quit. I am also happy that I will be able to spend time doing other things without having something hanging over my head. And I am also looking forward to the new opportunities it may grant me in the future.
Q: How was your journey toward getting your doctorate?
A: You know, it's funny, I didn't really plan for it or think I would ever get a doctorate. When I first came here, I was going to work on my master's and go back to Monterrey. But then things just fell into place! And when the opportunity to earn a doctorate degree while working as a graduate student at UH came up, I didn't hesitate to take it. It has been an incredible experience!
I had some ups and downs and some moments where I wasn't sure I would ever finish, but I have such an amazing support system both at work and at home. It took me four years, but I basically took one full year off because two of the most important things in my personal life happened while I was working on my doctorate. I got married in spring 2015 (had a lovely wedding in my hometown), and my baby was born in spring 2018.
Q: What are your favorite hobbies?
A: I love watching good movies and reading. I am always in for taking a trip to Target or Hobby Lobby.
–By Asia Jackson-Sublet
–Photo by Jaime Questell