University of Houston Provost Short Honored for Work on Faculty Diversity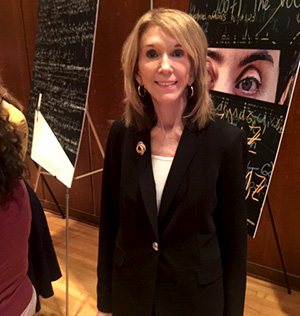 Posted April 18, 2019 – Paula Myrick Short, senior vice president for academic affairs and provost at the University of Houston, has been honored by the Association for Women in Mathematics for her significant work to support women and women of color in science, technology, engineering, math and other key fields.
Short was recognized at the association's 2019 Research Symposium in April for her leadership of the Center for ADVANCING UH Faculty Success. The center, formed in 2014 with a $3.3 million, five-year grant from the National Science Foundation, aims to increase the representation of women and women-of-color faculty, particularly in the areas of STEM and social and behavioral sciences.
"I am delighted to be recognized for the work we have done with the ADVANCE Center at the University of Houston," said Short, also senior vice chancellor for academic affairs for the UH System. "Through ADVANCE, we have created a career cycle of recruitment, retention and advancement that focuses on engaging and supporting women and women of color on this campus."
While increasing faculty diversity is a challenge nationwide, data show the efforts at UH are helping:
Over the last hiring cycle, under-represented minorities made up 29% of incoming tenure and tenure-track professors hired across UH. That marks an increase of 17 percentage points since 2013, the year before ADVANCE launched.

In addition, the percentage of UH female faculty promoted from associate to full professor in STEM and social and behavioral sciences increased to 33% in 2016-17, up from 8% the two years prior.

UH also is above the national average in representation of Hispanic faculty across campus, especially in the social and behavioral sciences.
"As a woman of color at the University of Houston, I feel like I've had this incredibly unique opportunity where I'm surrounded by a lot of females who are in leadership and have been able to serve as mentors," said Mariam Manuel, an instructional assistant professor in the UH College of Natural Sciences and Mathematics and College of Education.
Manuel, a native of Pakistan who prepares aspiring STEM teachers through the teachHOUSTON program, delivered the keynote address at the Association for Women in Mathematics Research Symposium, held April 6 at Rice University.
While Manuel grew up gravitating toward math – numbers provided consistency as she moved to the United States and Saudi Arabia – she said educators should work to increase girls' confidence in math and science at an early age to encourage them to pursue STEM majors in college and related careers.
"Houston is the most diverse city in the country, so it makes sense that the University of Houston is the public institution that takes the lead and addresses these challenges and is able to guide and inform practices for other institutions," said Manuel, who's pursuing a Ph.D. with a STEM concentration.
The ADVANCE Center's programs include specialized trainings for faculty search committees, workshops for mid-career scholars, resources to support dual-career families, an administrator fellows program and additional mentorship and professional development opportunities.
Short, who serves as co-principal investigator of the ADVANCE grant and director of the center, also created the Underrepresented Women of Color Coalition to facilitate career advancement and collaboration among female faculty. UH President Renu Khator serves as the grant's principal investigator.
"We have worked hard to move the needle on this initiative, and our hard work is now paying off," said Short, also a distinguished professor in the College of Education. "My goal with the ADVANCE Center is to embed the activities and work of the center into institutional policies and practices, and we are well on our way to achieving that goal."
Consuelo Arbona, a professor of counseling psychology in the College of Education, said she has seen the campus culture change since the ADVANCE Center launched and Provost Short created the Office for Faculty Recruitment, Retention, Equity and Diversity to oversee many of the efforts.
"One of the great things I've observed is she has used the grant to create institutional change. She has developed systems and put resources behind them so they stay after the ADVANCE grant is finished," said Arborna, a founding member of the Underrepresented Women of Color Coalition, along with Norma Olvera, a professor of health in the College of Education; Elebeoba May, associate professor of biomedical engineering, and Donna Stokes, associate professor of physics.
"Also," Arbona said, "she has changed the conversation – talking about the importance of faculty diversity. It didn't happen overnight, but it's normalized talking about these issues."