Health Education Professor Norma Olvera Selected for USDA Fellowship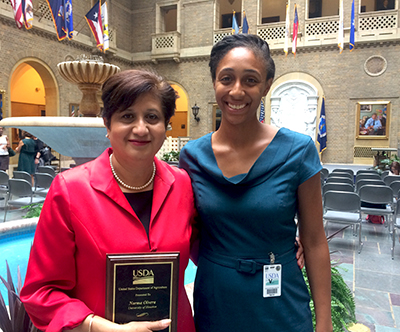 Professor Norma Olvera (left), joined by Camille Range, was recognized in Washington, D.C., in June as one of only five science fellows selected this year for a USDA fellowship.
Posted June 28, 2017 – Norma Olvera, a professor of health education at the University of Houston College of Education, has joined a select group of science fellows sponsored by the United States Department of Agriculture.
Olvera joined the 17 other fellows in Washington, D.C., in late June as part of the E. Kika De La Garza Fellowship Program, open to representatives of Hispanic-serving institutions.
The fellowship not only provides valuable networking opportunities with federal officials but also supports Olvera's longtime work to prevent childhood obesity.
As part of the program, Olvera now is partnered with Deborah Thompson, a research nutritionist at the Children's Nutrition Research Center in Houston, to explore innovative ways to assess eating behaviors in children. The nutrition center is operated by Baylor College of Medicine in cooperation with Texas Children's Hospital and the USDA's Agricultural Research Service, the department's chief internal scientific research group.
"I feel very hopeful about finding innovative ways to empower communities to reduce obesity," Olvera said. "At the same time, there's so much to do to move the needle."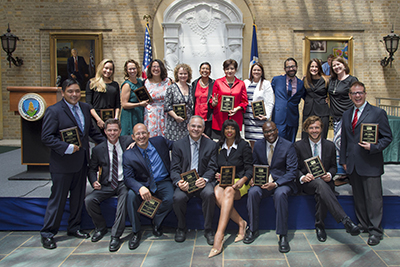 Science and education fellows from across the nation met with representatives of nearly 20 USDA agencies and the National Science Foundation as part of the E. Kika De La Garza Fellowship Program.
Over the last decade, Olvera has reached thousands of families in the Houston area through her program, BOUNCE, which stands for Behavior Opportunities Uniting Nutrition Counseling and Exercise. She works primarily with low-income African-American and Hispanic adolescents and teenagers – and brings their parents on board – for summer and after-school programs that include grocery-shopping tours, fun runs and education.
"It's not just about the physical change, but seeing children and families see possibilities they never saw before," said Olvera, who also directs the Latino Health Disparities Lab at UH. "It could be they never saw themselves running one mile – and they did."
One in three children and adolescents are overweight or obese, with Hispanic and African-American children more likely to be affected.
Mary Ann Ottinger, associate vice chancellor for research for the UH System, said the USDA fellowship honors Olvera's expertise and can lead to new grant proposals and internships for students.
"It reflects not only on her enthusiasm for learning and her passion for working with people and helping them, but also it will give her a lot of new tools," said Ottinger, who also serves as associate vice president for research at UH.
Olvera's interest in childhood obesity stems from her background in psychology. As a graduate student at UH, she was invited to work on a study that looked at parental influences on obesity. Her curiosity in the subject kept growing, and by 2005 a friend had issued a challenge: Her daughter was 13, about 300 pounds, and had success losing weight at a pricey summer camp.
"She wanted to challenge me to do something for low-income girls," Olvera recalled.
And that's how BOUNCE began, with a $2,000 donation from the former St. Luke's Episcopal Health Charities to launch a summer program.
Today, back from D.C., Olvera is gearing up for her 13th annual BOUNCE summer session.
"There's so much potential," she said.
–By Ericka Mellon
–Photos: United States Department of Agriculture