UH College of Education Program Trains Diverse Nutrition Educators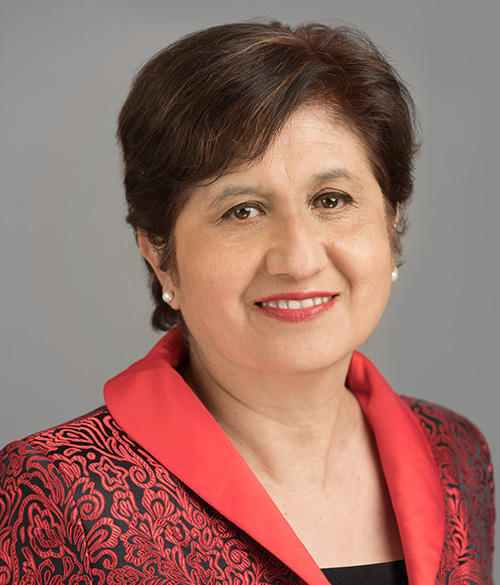 Posted Jan. 10, 2022 — With childhood obesity on the rise, a new internship program at the University of Houston is training the next generation of prevention educators.
College of Education Professors Norma Olvera and Consuelo Arbona received a $500,000 grant from the National Institute of Food and Agriculture to support the project. The program, called PATH, or Providing Advanced Training in Health, specifically focuses on increasing the number of Hispanic and Black nutrition educators to diversify the profession and address health disparities among children of color.
Nationwide, about 6% of registered dietitian and dietitian nutritionists are Hispanic or Latino, and around 3% are Black, according to a 2020 Commission on Dietetic Registration report.  
"Having somebody who looks like you is important because it's important that you communicate in a way that makes sense not only within the language but within the culture," said Olvera, a professor of health and the principal investigator on the grant.
The project's co-investigators include Arbona, Associate Professor Tracey Ledoux of the Department of Health and Human Performance and UH Career Services Executive Director Monica Thompson.
As part of PATH, students participate in 15 weekly sessions, learning about advances in nutrition education, curriculum development, research methods and more. They'll also get the opportunity to disseminate what they've learned to families in an accessible and culturally relevant manner through the paid internship program.
In addition, the students will attend career development workshops to help with the job search process and to hone professional skills such as time management and networking.
The program, open to undergraduates from UH, UH-Downtown and Houston Community College, kicks off with its first class of 10 students in 2022. Over five years, a total of 50 students are expected to participate.
"It's an excellent opportunity to be exposed to leaders in the community, the community itself and learn basic training on how to do nutrition education," Olvera said. 
PATH is based on another program Olvera led called Eye to the Future, which centered on Hispanic students and had a similar internship and mentoring component.
Fernanda Bazán, a participant in Eyes to the Future, said the program expanded her real-world perspective as a kinesiology major and nutrition minor.
"I feel that, when you graduate, sometimes you're not ready for the outside world, so this internship really helped me," said Bazán, whose mentor was Ledoux. "I was very confused with what I wanted to do with the future, and she helped me a lot."
Participant Abdias Samuel Sapon had a similar positive experience. Before joining the program, Sapon said he was a shy student who struggled with public speaking, but Olvera inspired him to talk more and pursue his master's. "She believed in me when I couldn't believe in myself," he said. "When you're around her, she's contagious. She makes you want to do better."
To students interested in the PATH internship, Sapon said, "Whoever applies for it, I would say that you're in good hands."
—By Lillian Hoang