Agent of Change: UH College of Education Alumnus Reconnects the Disconnected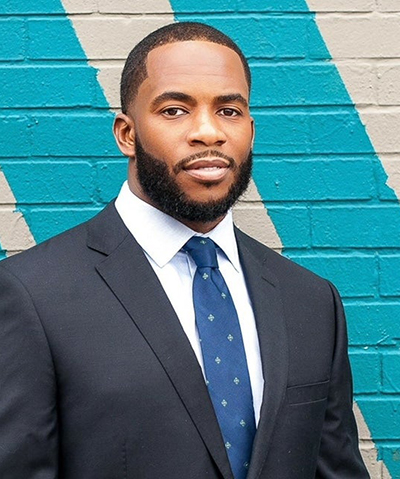 Posted Feb. 12, 2020 — Marvin Pierre spent two years as an investment banker at The Goldman Sachs Group after college before discovering his passion for education.  
Today, the native New Yorker serves as co-founder and executive director of Eight Million Stories, an alternative education program for students 14 through 18 who have been incarcerated or expelled from school.
The Houston-based nonprofit, launched in 2017 by Pierre and Vanessa Ramirez, aims to disrupt the school-to-prison pipeline, or the growing trend of juvenile incarceration due to "zero tolerance" policies that disproportionately affect students of color. Students enrolled in the program have the opportunity to recover high school credits, work toward a GED, develop practical customer service and trade skills, connect with community partners, receive on-site counseling and learn healthy social-emotional skills.
"For many of our kids, this is their last opportunity to complete an education or find meaningful employment," he said. "I give my 100% every day to make sure that the kids I serve here are going to be successful."
For Pierre, that means connecting with students one-on-one throughout the day. Between meetings with community partners and classroom walkthroughs, he checks in with students to ask about their goals, how they are feeling and any obstacles they are facing.
"I think it's really important to do a lot of work around healing our kids, putting them in a position to be receptive to our services," he said. "For a lot of our kids, we're the only consistent resource for them in their lives."
Pierre honed his leadership skills at the University of Houston College of Education, where he earned a master's in administration and supervision in 2016. While he came to the program with several leadership roles under his belt, including serving as assistant principal for KIPP Polaris Academy for Boys in Houston, he said the program's emphasis on strategic planning and intentional decision-making were invaluable in preparing him for his current role.   
Going forward, Pierre would like Eight Million Stories to keep growing. He has plans for new community partnerships and additional vocational training programs and hopes to expand the program with satellite campuses one day.
"There are so many students who could benefit from our services," he said. "I've always had this itch to grow, to help as many kids as possible, but we want to make sure we have the infrastructure in place to do it the right way."
For now, he feels grateful for the lives already changed, like the young woman who found the program after being pregnant in jail.
"I found my calling working with kids, especially kids who need my guidance and support to have a fighting chance in life," he said. "There's nothing that I would rather do."
— By Natalie Thayer
— Photo by Rome Goodson