UH Ed.D. Student Honored for Service to Students with Deafblindness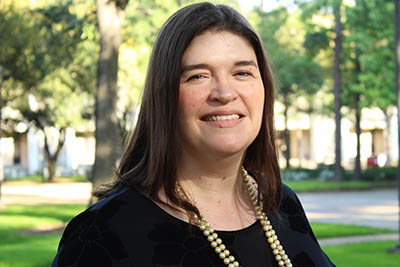 Posted April 11, 2019 – As an expert in deafblindness, Marina McCormick strives to help her fellow educators serving this small but special population of students.
"For me, it is a matter of equity," said McCormick, a doctoral student at the University of Houston College of Education and coordinator for the Region 4 Regional Day School Program for the Deaf.
"For children who are typically developing, they simply show up for classes, and their teachers begin teaching from day one," McCormick said. "For students with deafblindness, their teachers have to learn a great deal about them, as well as develop their own expertise in working with children with deafblindess, before they can begin to work on curriculum."
For her "extraordinary commitment" to improving the lives of people with deafblindness, McCormick was honored with the 2019 Texas DeafBlind Symposium Ann Silverrain Award. She also has received the Administrator of the Year Award from the Texas Association of Parents and Educators of the Deaf.
McCormick is set to graduate in May with an Ed.D. in professional leadership – special populations, completing the program in two-and-a-half years while working full time. She praised the hybrid online and face-to-face format.
"This allowed me to complete a dream the way it was set up," she said.
Despite her packed schedule, the mother of two young children, ages 5 and 3, takes time to present at conferences, including the Statewide Conference for the Education of the Deaf and the Texas Symposium on DeafBlindness.
During her first year as a special education administrator, McCormick supported a team of educators who worked with a middle school student with deafblindness. The experience inspired her to want to do more to serve this special population.
Nationwide there are about 10,000 individuals with deafblindess and 750 in Texas, with varying degrees of hearing and vision loss.
As McCormick wrote in TX SenseAbilities in 2015, "Students with deafblindness have an uncanny ability to stretch our professional understanding of what is educationally possible within the public school setting."
McCormick earned a bachelor's degree and teaching certification in deaf education from Indiana University of Pennsylvania before moving to the Houston area nearly 20 years ago. She later earned an M.Ed. from the University of St. Thomas and principal certification through Rice University's Rice Education Entrepreneurship Program.
She said UH's status as a Carnegie-designated Tier One University represented rigor, and she's glad she applied – growing as a leader thanks to the Ed.D. program.
She also earned several College of Education scholarships: the Dr. Richard L. Hooker Scholarship – Educational Leadership, the Loleet Usener Eckel Scholarship and the COE Living Legacies Scholarship.
"I lead differently now than I did in the beginning," she said. "I ask questions differently. I'm more student-centered than I've ever been. I'm focused on data."
In addition, McCormick said the program helped her develop networks. And to that end, she created the Professionals for Students with Deafblindness Collaborative. The network brought together educators from cities across Texas and as far away as California to exchange ideas and share coping strategies.
Recently, McCormick passed the program to the Texas School for the Blind and Visually Impaired to continue offering the support services.
"That's going to benefit people for years to come," McCormick said.
–By Dianca Chase
–Photo by Jaime Questell