UH MOOC Researcher Sees Potential to Strengthen Online Learning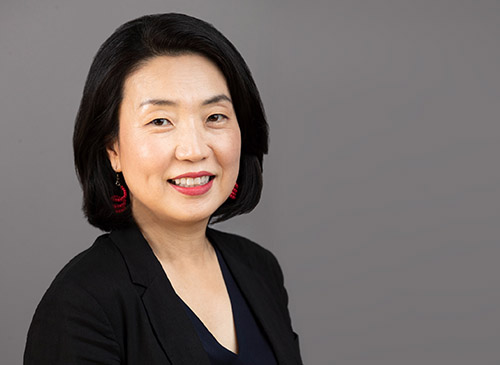 Posted May 1, 2020 — With the ubiquity of virtual classrooms in the face of COVID-19, understanding best practices in online teaching and learning is more valuable than ever.
The past several weeks presented numerous challenges as schools had to turn virtual with little time to prepare. Yet, this moment also provides opportunity for growth and innovation in online instruction, said University of Houston College of Education Professor Mimi Lee.
"I have always been interested in the social and cultural implications of how technology can be used for learning," said Lee, a qualitative researcher trained in instructional technology. She studies MOOCs, or massive open online courses, which are offered for free or at a low cost and can draw hundreds or thousands of participants from around the world.
While her research interests center on digital learning platforms, she gained new hands-on experience this semester as UH moved all courses online mid-semester. She transitioned her face-to-face doctoral level course, Introduction to Qualitative Research, to remote learning using synchronous Zoom sessions. In addition to adapting the coursework to fit the delivery, she tried to create a flexible, supportive environment for students.
"This transition was not just simply moving things online — it was about having to transition to everything online in a once-in-a-lifetime pandemic situation," she said.
Learn more about how Lee and her students have weathered the transition, her research on MOOCs and what she sees as the future of online learning.
What got you interested in researching MOOCs?
The idea of a thousand people taking a course together purely out of an interest in that particular topic was fascinating to me for its potential to reimagine how we define "instruction" and "learning." I wanted to learn more about these courses and the phenomenon.
What lessons can we learn from research to help inform online teaching today?
COVID-19 has forever changed many aspects of our lives. In education, we have been "forced" to transition to online learning mid-semester. We didn't have time for thoughtful design and development of online learning environments — we didn't have the luxury of carefully considering different platforms, delivery modes or individual teaching/learning styles.
Research shows that previous exposure to online learning has serious impacts on learners' decisions to take online courses in the future. What serves as an opportunity is that post-COVID, we will all be familiar with doing things online — work, classes, meetings, community-building — in ways that we might have otherwise avoided. We've had to move online faster than expected, so the discussion can now proceed right into how we can provide the best online learning environments for specific disciplines and learners.
When the semester began, you were teaching a face-to-face course. What changes did you make as you transitioned it to an online class?
I worked on being more explicit and structured when dividing the class time into smaller chunks, combining individual work and group work sessions. I also made a point of explaining these decisions so the students can understand my values and assumptions regarding the online instruction.
What has been the biggest challenge over these past few weeks?
Because we had already tried out Zoom meetings successfully prior to COVID-19, the transition did not feel too difficult. However, now everyone has what I call "Zoom fatigue." By the time they attend my class in the late afternoon, most of my students have already worked all day on the computer and the effectiveness of this platform/delivery seems to have quite diminished compared to when it was our own choice to meet online.
While this has been a challenging time, have you seen an increased sense of community?
An international student in my class ended up having to return to their home country with their young children at the last minute. For several weeks after the return, they could not attend our synchronous class meetings due to the time difference (it was 2 a.m. there) and had to work with me individually. For our last class meeting, all the other students agreed to change our regular meeting time so that this classmate could connect at midnight their time. It was a special moment to have everyone on one screen, and I was very appreciative of my students.
Looking ahead, how do you think this experience of going to nearly 100% remote learning will impact education over the coming years?
Everyone has now experienced teaching and learning remotely. This fact has moved the starting point of our conversation. We have entered an era where the question is no longer "if online" but "online and how."
What advice do you have for fellow educators?
Online learning has become a reality and a necessity. This normalization of online learning will continue to impact different groups of learners inequitably, based on issues both social and technological (e.g. internet and computer access). We as educators need to pay close attention to identifying and reducing the new "digital gap" both through our practice and research.
— By Natalie Thayer and Ericka Mellon