Staff Spotlight: Academic Advisor Prepares Health Undergraduates for Success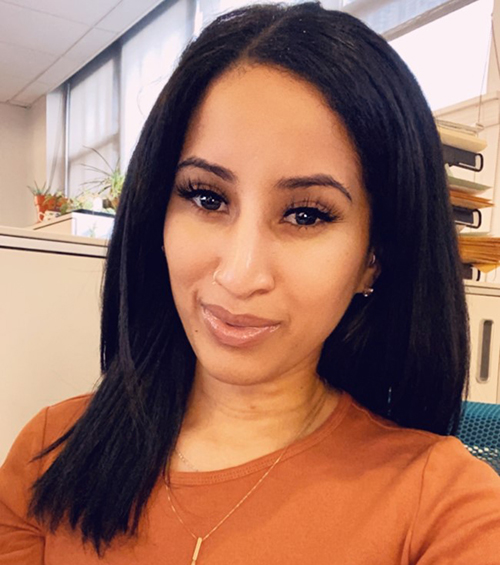 Posted September 17, 2021 — Like many first-generation college students, Meggan Gittens struggled with the application process. She applied to only one university, a private, out-of-state institution. She didn't know how to navigate financial aid. And, ultimately, even though she wanted to become a journalist, she attended a college known for health professions.
Wanting to support others like her, Gittens became an academic advisor in a newly created centralized office at her university, helping students get involved on campus, find jobs and internships, and successfully graduate.
"I really wanted to be that one-stop shop for the students," she said.
Today, Gittens applies that same approach as an academic advisor at the University of Houston College of Education, where she works with undergraduate students majoring in health. She joined the College in March 2020 as UH switched to remote operations due to the outbreak of COVID-19.
Learn more about Gittens and her advice for students in the Q&A below.
What do you love most about your work?
Really just being an extra support system for the students. Coming into and/or finishing college is a very tough time for students. It's a weird transition because you feel like, "Oh, I need to get a job. I should have it this way. I should have it that way." Nine times out of 10, it's not going to work out the way you planned. So, I enjoy giving students that confidence. It will be OK, no matter what route you take. You're on the right path, and you just gotta work hard to get to where you want to be.
How has the pandemic affected your work?
I feel students really thrive off face-to-face interaction, being on campus and being around activities. It was kind of a struggle trying to help the students navigate that, especially because I never had online classes. Trying to help them be comfortable with online courses and keeping their focus and attention on the task at hand was a little bit hard.
What is one of the most common questions students ask you?
Students will ask, "What job can I get with this degree?" And it's not really your degree that's going to determine your job; it's the experience you've put in, it's the internships you've done. I try to encourage them to look at the job postings of their dreams to see the requirements, so they can work toward that.
What advice do you have for students?
It's not over until it's 100% over. There're always ways to improve; there're always ways to move forward; and there're always ways to work hard for what you really want.
What do you do in your spare time?
I do makeup on the side, so I'm a freelance makeup artist for events, weddings, birthdays, things like that. I also dabble in photography, trying to perfect my craft. Makeup and photography give me a chance to be creative and dip into my journalistic and media arts background.
What are you looking forward to most, post-pandemic?
I am looking forward to enjoying the campus. I came from a very small campus in the middle of Brooklyn, so there weren't a lot of trees. It's cold there most of the time, so there's not a lot of activities on campus. I'm excited for basketball games and football games too. I'm excited to see Houston more, go out and eat more.
— By Lillian Hoang
— Photo courtesy of Meggan Gittens