Education Dean McPherson Appointed to Key Leadership Post for Research Institutions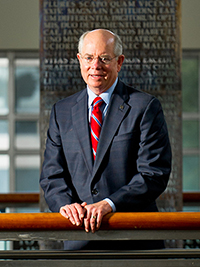 Robert McPherson, dean of the University of Houston College of Education, has been selected to help represent his peers at high-research institutions across North America.
McPherson's appointment to the board of the Council of Academic Deans from Research Education Institutions took effect in October 2016 and continues through 2019. As a member-at-large, McPherson represents fellow education deans at schools that serve significant minority student populations.
The council, which includes more than 150 member institutions, promotes high standards for educator preparation; strong school and community partnerships; and continued research into teaching and learning to improve practice.
"I appreciate this opportunity to work with my colleagues across the nation to advocate for research-based policies that support effective innovations in education," said McPherson, the Elizabeth D. Rockwell Chair of the College of Education and interim associate provost at the University of Houston Sugar Land.
McPherson's service on the council's board underscores the University of Houston's rising national stature as a Carnegie-designated Tier One public research university.
Paula Myrick Short, senior vice chancellor for the University of Houston System and senior vice president for academic affairs and provost at UH, said the appointment is a reflection of McPherson's work at UH.
"Research at the College of Education under Dean McPherson's leadership has grown significantly," she said. "I am excited to see how his work with the Council of Academic Deans from Research Education Institutions will assist in bringing high-quality scholarship into improving teaching and learning."
During McPherson's tenure, annual research expenditures at the College of Education have doubled since 2011.
The College of Education recently became the first in Texas to be accredited under new, more rigorous standards set by the Council for the Accreditation of Educator Preparation. In addition, the online graduate education program ranks No. 1 in the country, according to U.S. News & World Report. And the undergraduate program for preparing elementary school teachers ranks in the nation's top 1 percent, according to the National Council on Teacher Quality.
The college in recent years has successfully launched two new Ph.D. programs, nearly doubled the number of faculty and expanded its influence nationally with faculty appointments to key professional organizations.
McPherson started his career as a classroom teacher and guidance counselor at a Title I minority-serving high school in Odessa, Texas. He was among the first graduates of the University of Houston's Ph.D. program in counseling psychology in 1987. He later served as chair of the Department of Educational Psychology and as associate dean of graduate studies.
For his contributions in the field, McPherson was named a fellow of the American Psychological Association and the American Educational Research Association. In 2015, he received the Lifetime Achievement Award from the Texas Psychological Association, its highest honor.