Staff Spotlight: Academic Advisor Helps Aspiring Teachers Destress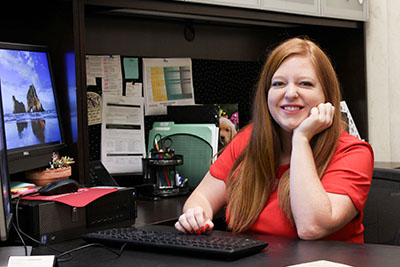 Posted December 10, 2018 – Sporting a huge smile, academic advisor Kaitlyn Dempsey sits at her desk awaiting her next appointment with a student. Many enter her office stressed, so she works to put them at ease.
Dempsey, who advises teaching and learning undergraduates, joined the University of Houston College of Education in June.
Originally from Joplin, Missouri, she earned a bachelor's in radiologic technology from the University of Missouri. Then, she served as a college advisor to high school students through the federal community-service program AmeriCorps. That's where she found her passion for helping students figure out their futures.
She landed in Houston after a two-year stint serving in the Peace Corps in Zambia.
Dempsey recently took a break to answer some questions.
Q: What do you see in students when they stop by your office?
A: The whole goal is to be engaging. Students who normally come in here stressed always leave smiling, and that makes me happy. I even have some students come up to me and ask for hugs. It is nice to see that I am making a difference in people's lives and brightening people's days.
Q: Who was your biggest influence in leading you toward this career path?
A: I had a great mentor back in Missouri who works in college access and retention. I've followed her path in a way and learned from her experiences.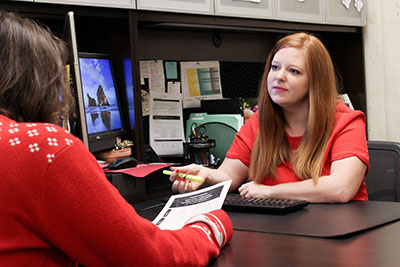 Q: What is your personal connection to college advising?
A: I took this job because I knew I wanted to do advising. I fell in love with college advising while working within a high school. I applied to jobs in higher education because I didn't know if I preferred working with high school or college students.
Q: How did you end up in Houston?
A: I returned from serving in the Peace Corps and I was like, 'I'll go anywhere.' I applied to 15 different jobs, and the University of Houston was the first one to call me back and offer a position that I felt like I couldn't turn down.
Q: What do you love about UH?
A: How diverse the University of Houston is. Houston is very different from where I grew up, and UH is different than where I graduated from. I knew that I could grow here.
Q: What is one attraction you would tell a tourist to visit in Houston?
A: Memorial Park. I go multiple times a week. I love exploring and trying new coffee shops.
Q: Favorite holiday?
A: I don't know if this counts but March Madness. It's like a beautiful, three-week holiday.
Q: Favorite cartoon growing up?
A: "Barney & Friends" and "Hey, Arnold"
–By Alberto Huichapa
–Photo by Jaime Questell