UH College of Education Alum Tapped to Lead Community College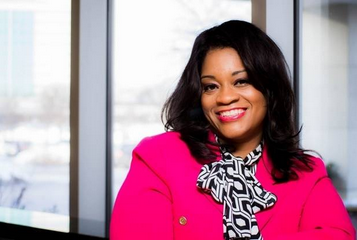 Posted April 9, 2019 – Kenya Ayers loved to play teacher as a young girl, but it took her until graduate school to embrace education as a career.
Once she did – earning a doctorate in educational leadership from the University of Houston in 1999 – she soared. She served as a dean of students, associate provost and academic dean at institutions around the country before shadowing UH President Renu Khator as part of a prestigious fellowship in 2015-16.
"[Khator] is a rock star," Ayers said. "She asked me what my gaps in preparation to be president were, and she told me that if I came to UH, she would make sure I would learn what I needed to learn to become president."
The mentorship and hard work paid off. In February, Ayers was named president of Tarrant County College Northeast, a community college campus outside Fort Worth, effective July 1.
Khator shared the good news on Twitter.
"Proud of her!" she wrote.
'Education was for me'
Ayers was born in Detroit, Michigan, and grew up in the northern suburb of Southfield.
"When I think of Detroit, I think of strength and resilience," she said. "Detroit is a place that has had lots of ups and downs yet has reinvented itself. I see many of those traits within me and I am grateful to Detroit for providing the foundation of who I am."
While her mom was a school principal and her dad was an engineer, Ayers initially thought she wanted to be a pediatrician. She later veered into psychology after being exposed to a school psychologist in elementary school and finding herself lending an ear to friends in need.
Ayers went on to earn a bachelor's in psychology from the University of Michigan and a master's in clinical psychology from Eastern Michigan University.
---
"The first job as leader is to listen and learn and understand the culture and know the people." – Kenya Ayers

---
While pursuing her master's, Ayers held a graduate assistantship in an academic advising office on campus. Working with students on academic probation, she could see the progress they made within a semester or two.
"It had never occurred to me that I could work at a college," she said. "What I was learning in psychology applied to education, but the ability to affect change had a shorter trajectory."
Ayers walked away from a full ride to a clinical psychology doctoral program in Michigan. She ultimately pursued an Ed.D, with a focus on higher education administration, at the UH College of Education.
"I knew education was for me," she said.
'The woman she has become'
Judy Alston, a former professor at the College of Education, described Ayers as "eager and willing" as a student.
"She wasn't afraid to ask the hard questions and grapple with issues or new concepts either," said Alston, now a professor at Ashland University in Ohio.
Ayers credits the College of Education for providing her with a strong foundation for her career and the American Council on Education Fellowship for growing her confidence as a leader.
She most recently served as vice president and chair of the board of the Northwest Educational Council for Student Success, a collaboration between William Rainey Harper College in Palatine, Illinois, and three local school districts.
She's also served as associate provost at Kettering University in Flint, Michigan, and as dean of student services at Trinity Washington University in Washington, D.C. Her other experience includes roles at Florida Atlantic University and Oakland Community College.
Alston said she's thrilled to see Ayers take on a new challenge as a community college president.
"I can't begin to put into words the amount of pride I feel seeing my former student reach this milestone in her career," Alston said. "I was proud of her then and I'm even more proud of the academic, the administrator and the woman that she has become since we first met over 20 years ago. She worked hard for this moment and deserves all of the good that is coming her way."
Very proud of Dr. Kenya Ayers, my ACE Fellow...All the best to you as you climb the career ladder! pic.twitter.com/DM2DfZcSB3

— Renu Khator (@UHpres) August 2, 2016
'A special gift'
In her new role, as in prior roles, Ayers said student success is her top priority. She also hopes to increase professional development and enhance diversity, equity and inclusion efforts on campus.
"The first job as leader is to listen and learn and understand the culture and know the people," Ayers said.
Tarrant County College Northeast, located in Hurst, serves about 13,000 students. The student population is about 44 percent white, 29 percent Hispanic, 14 percent black and 7 percent Asian.
Northeast Campus Interim President Tahita Fulkerson said in The Collegian newspaper that Ayers "brings a special gift in reaching out to all segments of a campus population."
"She cares about the success of students," Fulkerson said. "I think she's going to be an amazing president."
–By Alberto Huichapa
–Photo courtesy of Kenya Ayers