UH College of Education Graduate Wins Rookie Teacher of the Year Award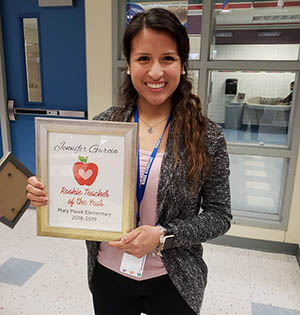 Posted May 8, 2019 – As a first-generation college graduate, Jennifer Garcia knows the value of education, so she strives to build a solid foundation for her first-graders.
Garcia, a 2017 graduate of the University of Houston College of Education and a current master's student, has been quick to develop strong relationships with her students and their parents.
Her efforts have gained attention.
Garcia won the Rookie Teacher of the Year Award for 2018-19 from Mary Burks Marek Elementary in the Alvin Independent School District.
"To me, being named the rookie teacher of the year at my school means that I must have done something right," Garcia said. "It means that all my hard work has paid off, and that people notice the little things."
Roman Nieto, principal of Marek Elementary, said Garcia earned the award for making a "great impact" with her students, planning and delivering engaging lessons and communicating well with parents.
"She motivates her students to do their best," Nieto said. "Her students have such a special connection with her. Ms. Garcia even attends activities that her students are involved with away from the school. We are glad to have her as one of our teachers."
After earning a bachelor's in teaching, Garcia taught fifth- and sixth-graders in Costa Rica before joining Marek Elementary.
She said she felt well-prepared for the classroom thanks to the UH College of Education. She praised the College's yearlong student-teaching internship, where she had the opportunity to teach lessons, attend school meetings and perform assessments with strong support from her mentor teacher.
Garcia said her advisor Anitra Wright helped guide her, while her professors offered practical ideas, including hands-on science lessons from Yunes Golabbakhsh and creative math lessons from Carrie Cutler. Garcia said she still refers to a binder of notes and activities from Cutler's class to use with her first-graders.
"Something that impressed me about Jennifer was her drive," said Cutler, a clinical assistant professor of elementary education. "She knew she had a natural affinity, maybe even a gift, for teaching. But she recognized that hard work is what makes the difference between being good and being great. And she worked her tail off! She certainly has a growth mindset."
Born and raised in Corsicana, a small town near Dallas, Garcia said she knew from a young age she wanted to be a teacher. She said her parents always pushed her to be the best student she could be – and she continues to push herself.
Teaching full time, Garcia has maintained straight A's while pursuing an M.Ed. in curriculum and instruction, with a specialization in math education, from the College.
She is expected to graduate in December 2019 with a master's and then plans on pursuing a doctorate.
With a long-term goal of teaching at the college level, Garcia is on the right track.
–By Asia Jackson-Sublet
–Photo courtesy of Marek Elementary