UH Alum Leads White House Asian American Initiative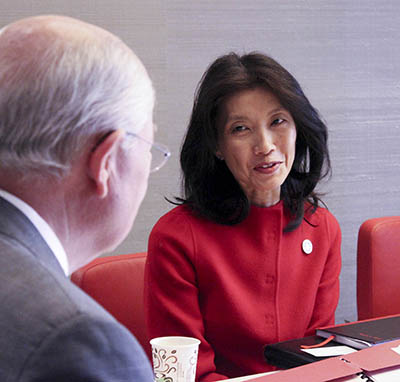 Holly Ham (right), an executive director at the White House, met in January with College of Education Dean Bob McPherson in the UH Asian American Studies Center.
Posted Jan. 30, 2018 – Holly Ham's journey began like that of many UH students.
A young immigrant in Texas, she grew up in a blue-collar family. Her dad worked as a machinist, her mom as an assembly line worker at a food processing plant. Her parents sent all five of their children to college, with Ham attending the University of Houston Bauer College of Business.
Ham, who earned a bachelor's and a master's of business administration from UH, returned to campus in January in her new role as an executive director at the U.S. Department of Education. She has overseen the White House Initiative on Asian Americans and Pacific Islanders since November 2017.
"I am excited to step into this role at a time when Asian Americans and Pacific Islanders are now the fastest growing racial group in the country," Ham said in a statement at the time. "This is a wonderful opportunity to connect this diverse community to federal programs and resources, and I look forward to meeting with community members across the country."
On campus, Ham split her time between Bauer and the College of Education, which offers a minor in Asian American Studies and houses UH's Asian American Studies Center. About 20 percent of students at UH are Asian American or Pacific Islander.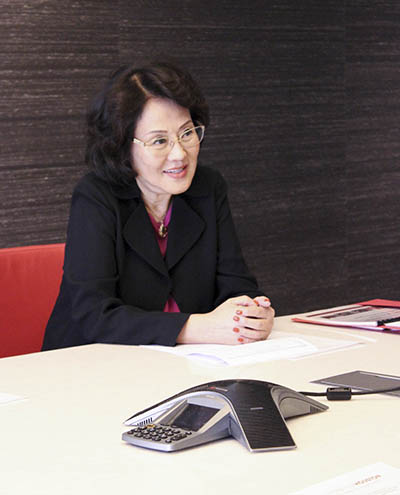 Yali Zou, director of the UH Asian American Studies Center, said federal grant opportunities could benefit the diverse student population on campus.
"We were delighted to connect with Holly Ham and her staff to discuss funding opportunities for students in our teacher preparation and executive leadership programs," said Bob McPherson, dean of the UH College of Education. "In addition, we had a good discussion about study abroad opportunities for doctoral students conducting their dissertation research."
The Asian American Studies Center, led by College of Education Professor Yali Zou, holds global leadership trainings and provides educational and cultural resources to the UH and Houston community. Zou said she was interested in partnering with other departments to seek federal grant opportunities that Ham and her team discussed.
"That's what we want to do – meet our students' needs like language assistance and culture adaptation," said Zou, University Endowed Professor for Global Leadership Studies. "We want to do data evaluations to see who they are, what their needs are and help them achieve academically and professionally."
Ham also met with a class of students in the College of Education and recounted her path from UH to two decades in the business world to public service.
"Your experience and your dedication will take you far. You never know where life takes you," Ham said. "A quarter century after I graduated from here with a technical degree and all this work experience, I never thought I would be in public service. But it feels good; it feels right.
"I can't put a price tag on what it's like to be able to serve and know we're making a difference."
–By Claire Andersen
–Photos by Jaime Questell