Young Students Got to Drown Out Harvey at UH Third Ward Camp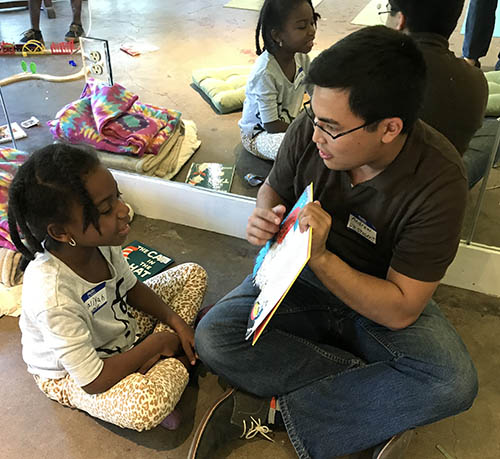 Andrew Matthews, a UH student in the teachHOUSTON program, reads a story with Aaliyah, 6, during the post-Harvey camp at Workshop Houston.
Posted Sept. 14, 2017 – With local schools closed in the aftermath of Hurricane Harvey, the University of Houston College of Education organized a three-day camp in Third Ward to keep children active and engaged during the unexpected extension of summer break.
The College partnered with Workshop Houston, a nonprofit that specializes in after-school arts programming, to pack the days with dancing, painting, sewing, reading, drum playing, puzzle making, jump roping and more – easing the youngsters into the structure of school.
"Routines are so important for kids," said Krista Coleman, the College's teacher certification officer, who helped lead the camp. "The faculty and staff pulling together to help this community and wrapping our arms around these families – it's directly in line with the mission of the College. It has been a tremendous honor."
The camp volunteers included professors and staff from the College of Education, plus students majoring in teaching, Workshop Houston staff, the Bellaire High School girls' soccer team and members of the UH women's basketball team.
"I just want to help as much as I can," Maddie Altofer, a junior teaching major, said between art projects.
Sitting beside 7-year-old Landon, Altofer pinched a black piece of clay, showing him how to shape a hat for the snowman he was creating.
"I wasn't sure what to expect," Altofer said of the camp. "It's very nurturing. I love it."
At another table, teaching major Claire Orewiler worked with Ezunee, a soon-to-be 10-year-old, on a butterfly drawing.
"Do you work on Saturday?" Ezunee asked Orewiler. "Can you come to my birthday party?"
Aundria Rogers, another teaching student, had signed up to volunteer for one day of camp but decided to return for a second. She was getting to know some of the students from Blackshear Elementary, where she would be working as a student teacher once the Houston Independent School District reopened.
HISD postponed the start of the school year by at least two weeks after flooding from Harvey made streets impassable, campuses uninhabitable and displaced countless employees and families.
"I wanted to be that constant face the children see," Rogers said.
Blackshear Elementary is just two blocks from Workshop Houston, so the campers were able to eat breakfast and lunch at the school thanks to HISD's free meal program.
"It was great to see our teacher candidates honing their skills," said Amber Thompson, who oversees the College of Education's teacher-preparation program. "I saw them adjust activities to meet the needs of individual students and create a supportive environment."
Thompson, a former middle school science teacher, even snuck in a lab of sorts, helping the children make "slime" – a concoction of glue, Borax, water and food coloring.
"Giving children an outlet to express themselves is extremely important following a traumatic event," said UH College of Education Dean Robert McPherson, whose background is in counseling psychology. "I'm also thankful our camp was able to provide parents some relief as they dealt with the stress of Harvey or had to return to work."
Jaime Herrero, executive director of Workshop Houston, said he was glad the nonprofit could help more families through the UH camp, in addition to extending the hours of its after-school program.
"It was great to engage students in fun and educational activities throughout the week," he said. "Our staff showed them the basics of sewing, making music and dancing. … I think that structure and regularity really helped the students, and their families, drown out the chaos that took place in the aftermath of the storm."
La'Tosha Rogers, a mother of three who lives nearby in the Cuney Homes housing project, said she was grateful her older children had a place to learn and play for a couple of days.
"I was able to get my 4-month-old daughter's shots taken care of because of you all," Rogers told a camp volunteer as she picked up her 7-year-old son and 14-year-old daughter.
–By Ericka Mellon
–Photos by Jaime Questell, Ericka Mellon and Kathy Patnaude