Great Minds Unite Around the Value of Well-Prepared Teachers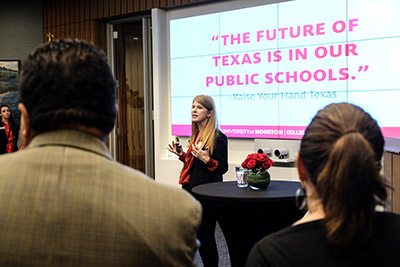 Posted November 26, 2018 – A giant "1" flashed on the screen, and Amber Thompson, associate chair over the teacher-preparation program at the University of Houston College of Education, asked the guests at a recent event to guess what the number represented.
"It takes one person to make a difference," said Helen Shaffer, vice chair of UH's Third Ward Schools Task Force.
"That's close," Thompson said.
The number signified good and bad. On the plus side, Thompson said, students with one effective teacher stay ahead of their peers academically for three straight years.
However, the reverse is true. It takes three years to remedy the impact of an ineffective teacher. Imagine, Thompson said, if a student has three ineffective teachers in a row.
"You can't recover from that," she said.
That's what drives her and the other professors in the College's teacher education program.
"We want to make sure that … every student in Houston and Texas has a teacher that's prepared to meet the needs of students on day one," she said.
Thompson delivered remarks about the state of teacher education during a Nov. 7 reception at Amegy Bank in the Galleria area. The College of Education's Capital Campaign Committee hosted the event.
Amegy CEO Steve Stephens, a UH graduate who serves as vice chair of the University's Board of Visitors, welcomed the guests with a story about one of his bankers. The employee recently gave notice to become a teacher.
"It was kind of bittersweet," he said. "I thought, 'Well, we probably need more good teachers than bankers.' Don't you think?"
Stephens praised College of Education Dean Bob McPherson as an innovator. "If there's ever a time we need disruptive thinking, it is now," Stephens said.
Thompson emphasized the point, noting that the vast majority of the 1.2 million public schoolchildren in greater Houston come from low-income families. Just as society demands well-trained pilots and surgeons, she said, aspiring teachers must go through rigorous preparation. "We have to start treating teaching like it's life and death," she said, "because for some people it is."
To that end, she said, UH requires teaching majors to complete a yearlong student-teaching residency at a local school before graduation. In comparison, those in some alternative-certification programs are placed on the job after hours of only observing classrooms.
"If we can get this right, if we can train teachers that make a difference in the community, we can be a model for the nation," Thompson said, noting Houston's status as the fourth-largest city.
She concluded by assigning homework to the crowd: "When someone tells you they want to teach, encourage them."
Roberto Gonzalez, who co-chairs the College's Capital Campaign Committee with his wife, Irma Diaz-Gonzalez, then told the crowd that he's seen the value of public education through the success of his daughters. Two of the three graduated from UH.
"It has just been a magical experience to have seen how the University of Houston has grown over the last 20 years," he said.
The "Great Minds for Education" event is part of a series highlighting various aspects of the College of Education. The reception last year focused on the College's efforts to eradicate disparities in health outcomes, with remarks by Associate Dean of Research Ezemenari Obasi.
–By Ericka Mellon
–Photos by Miguel Ramos Photography