UH Counseling Psychology Grad Supports Vets with PTSD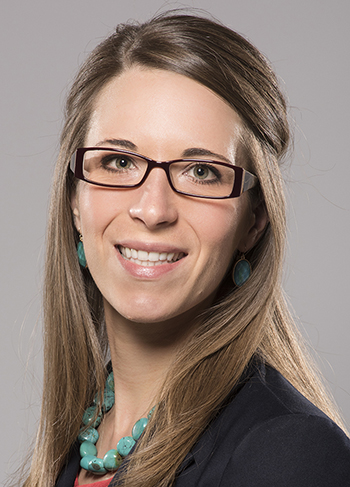 Emily Voelkel, who earned a Ph.D. in counseling psychology in 2014, praised the mentorship and practicum experience in the UH College of Education program.
Posted Jan. 31, 2018 – From her office at the Michael E. DeBakey VA Medical Center in Houston, Emily Voelkel counsels veterans experiencing symptoms of posttraumatic stress disorder.
As the first telehealth psychologist in the Houston PTSD clinic, she operates via a secure connection and works with clients virtually. Some may live in rural areas or have physical conditions that make it challenging to come in for therapy.
"It can be a stressful position at times, but the reward is helping people who have served our country feel like they can live their lives again," Voelkel said. "It can be very powerful to see someone not be able to leave their house because of fear be able to take their kids and family out to important events and be able to re-engage in their life."
Voelkel graduated with a Ph.D. in counseling psychology from the University of Houston College of Education in 2014. She received the College's Rising Star Award for young alumni in 2017, honored for her various leadership roles as a graduate student and early contributions to the field of counseling psychology.
Voelkel, whose dad and grandfather were in the Navy, said her interest in trauma research and treatment grew in the doctoral program. Her dissertation focused on the development and validation of a measure to assess factors related to and consequences of military sexual trauma. She also completed an internship at the Cincinnati VA and a fellowship at the Boston VA before returning to Houston to work fulltime.
"The high level of training at UH, in particular the varied practicum experiences in the community, were really helpful," Voelkel said. "And the mentorship you get there is really high caliber."
Of 100 veterans who served in Operations Iraqi Freedom or Enduring Freedom, 11 to 20 have PTSD in a given year, according to the National Center for PTSD. About 12 of every 100 Gulf War veterans have PTSD – a disorder than can result in flashbacks and feelings such as guilt, anger or numbness.
"One of the common misperceptions of people who are diagnosed with PTSD is that they're violent. It's important for people to understand that the facts don't match that misunderstanding," Voelkel said. "Most of the people we treat are more fearful of you than you would ever be of them."
Voelkel first came to Houston through Teach for America, which she joined after graduating with a bachelor's in psychology from Loyola University of Chicago. From a homogenous small town outside of Cincinnati, Voelkel said she wanted to broaden her perspective.
"I remember having this innate feeling that there was more to the world," Voelkel said. "After I was in TFA, I was hooked. I knew I needed to know more. I needed to experience more."
Voelkel taught at YES Prep in Houston and then went to the University of Dayton, where she earned a master's in clinical psychology.
While at UH, Voelkel served as chair of the American Psychological Association of Graduate Students and in that role was a member of the APA Council of Representatives, the association's governing body. She also served one year on APA's Board of Directors and on the Implementation Work Group, which provided recommendations for restructuring the association.
Roberta Nutt, who served as training director of the College's counseling psychology program, praised Voelkel's leadership skills and commitment to the field.
To prospective students, Voelkel said, "If they're looking for a program that is going to have a great focus on multiculturalism and diversity while getting well-rounded generalist training in psychology, then UH is a great place for them."
–By Ericka Mellon
–Photo courtesy of Emily Voelkel