Student Spotlight: DeAndrea Powell Strives to Help Others Reconcile Relationships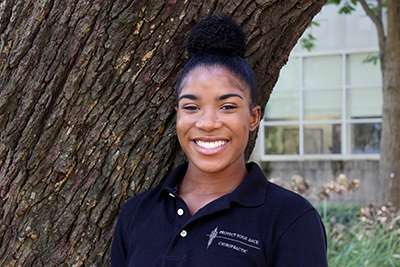 Posted December 6, 2018 – An aspiring therapist, senior DeAndrea Powell said her classes in human development and family studies at the University of Houston College of Education have helped her better understand herself and others.
After transferring here from California, she's stayed busy serving as president of the UH Human Development Student Association and interning at a local chiropractor's office. She credited HDFS program coordinator Kimberly Schoger for her ongoing support.
Powell, set to graduate in December, said she hopes to travel the world before going to graduate school. But first, she took time to answer some questions.
Q: Where are you from?
A: Arlington, Texas
Q: What made you want to move to Houston?
A: All the opportunities it provides. I transferred here after my freshman year at San Jose State in California, and it was the best decision I made.
Q: What influenced your decision to major in HDFS?
A: I took a dual-credit sociology class back in Arlington and I loved it. I love learning about humans, how we are as people and how we act the way we do. I looked up a major and chose HDFS.
Q: How would you say that the College of Education has helped you develop?
A: It's made me realize and learn things about myself and about the world. I feel like it's really opened my eyes to just how big it is and how important it is to be cautious and knowledgeable to people and cultures all around us.
Q: What is your career goal?
A: I want to be a therapist, pushing more toward marriage and family therapy. I love to reconcile any type of relationship, whether it be family, friends. Communication is huge, and people need to understand that's all it really takes to try and learn about each other.
Q: Favorite food?
A: I love all food, but Asian food is my ultimate favorite.
Q: If you were stuck on an island and could only listen to one genre of music, what would it be?
A: R&B
Q: Dogs or cats?
A: I would say cats.
–By Alberto Huichapa
–Photo by Jaime Questell