Staff Spotlight: Manager of College Information Services Now Powers Virtual Offices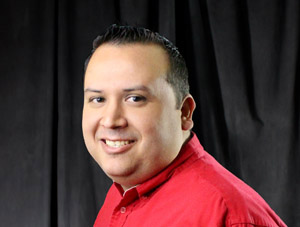 Posted April 15, 2020 — With classes at the University of Houston taking place virtually, faculty, staff and students had to adapt quickly to working from home. Luckily, Daniel Pineda, manager of college information services in the College of Education, was ready to assist — checking out laptops, showing employees how to access data off campus and troubleshooting.
(Editor's note: Pineda's job responsibilities only cover the College of Education. Please contact UH IT with technology questions outside of the College of Education.)
"Before COVID-19, if a keyboard didn't work or a projector lamp died, I would fix it or help move the class into another classroom, so they could keep on going with the instruction," said Pineda, a UH alumnus who has been a part of the College's CITE team for nearly 20 years. "Now, I help students, staff and faculty from home. We remain the go-to department."
Learn more about Pineda's role during this transition in the Q&A below.
Why did you pursue a career in technology?
I wanted to learn more about this growing field. I wanted to get to know the equipment, how to work it, use it, dismantle it, put it back together. I like to make and destroy things and remake them again.
What are your main responsibilities as manager of college information services for CITE (Center for Information Technology in Education)?
I do yearly inventories and track equipment to make sure it's in a specific location, which is especially useful when the College or a College grant gets audited. I'm in charge of the UH Charter School technology and manage the ordering and paying for all the College's devices. I also train, help and advise the CITE team.
How has your position been rewarding and challenging?
Every day's different. That's what I like about this job. One day, I had to move 15 – 30 boxes of paper to restack our computer lab. Other days, I help students. I once had to help a distraught student because she lost a file on her Macbook Pro. Luckily, I was able to retrieve it, and her face lit up because she didn't have to retype her assignment. So, those bits that happen daily, that is what makes me say, "I did a good job today."
Due to COVID-19, classes are now online, and most faculty and staff are working remotely. How has the CITE team addressed these changes?
Through trainings, software purchases and special accommodations such as remote desktop connections, CITE is diligently working to ensure that all faculty, including charter school teachers, are ready to instruct their online courses.
What advice do you have for students and faculty during this transition?
Be patient and certain that we are all trying our best. We will all work together, so that no one is left behind.
How do you conduct virtual meetings?
I use Microsoft Teams, the University's approved platform. It has a lot of cool features. It's integrated with Office 365, and you can access it on Android, iOS and Windows phone.
Do you prefer PC or Mac? What technology do you use most at home?
I am a PC user. At home, I prefer a desktop to browse. For personal tasks, I prefer a laptop. At home, I have a desktop with two monitors. I also have a TV next to my station to stay aware of the news.
What is your favorite tech device or app?
Nowadays, the webcam is my favorite gadget. It is underestimated and underappreciated, but it has help me greatly these past two weeks. If it wasn't for it, I would have been in trouble.
What is the best piece of advice you've ever received?
No one's going to blame anyone for not knowing, if you're willing to help.
If you approach someone with an angry face or an "I don't want to help you" face, then they're never going to forget you for the wrong reasons. If you approach them with a smiling face, they're never going to forget you for the right reasons.
— By Lillian Hoang