Health Care Executive Wins UH College of Education's Community Award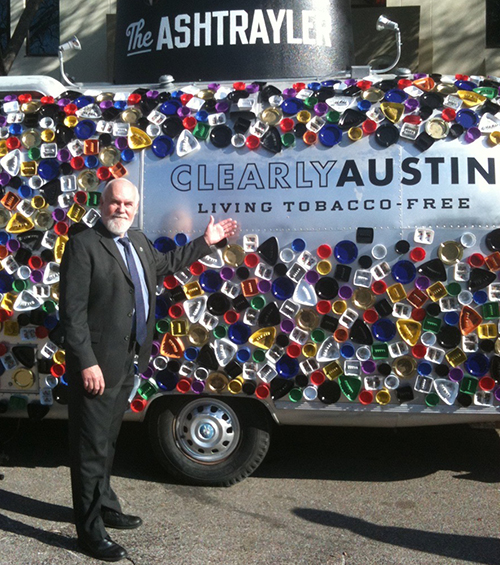 Posted April 20, 2021 — For partnering with the University of Houston to reduce tobacco use and cancer among vulnerable populations, David Evans, CEO of Integral Care in Austin, won a 2020 Friend of Education Award from the College of Education.
Health Professor Lorraine Reitzel nominated Evans for the award for his collaboration on the Taking Texas Tobacco Free program, which provides research-based trainings and education to help people quit smoking.
"Evans has been an unwavering advocate for individuals with behavioral needs across the state, and has contributed significantly to the eradication of tobacco health disparities and the elevation of health and wellness through his partnerships and support," Reitzel said in her award nomination letter.
As the head of Integral Care, the mental health authority in Travis County, Evans collaborates with the city, county and health care district to promote health and wellness. The organization serves nearly 30,000 people a year, helping individuals with mental illness, intellectual or developmental disabilities or substance use disorder. Integral Care works with community partners to offer permanent housing for individuals who are homeless, residential treatment and other services.
"We're reimagining public safety. Rather than a person who is confused in the middle of a major episode going to jail, we're able to intervene early and schedule treatment," Evans said. "I look forward to improving the lives of individuals and their families."
Evans, who earned a bachelor's in psychology and social services and a master's in education, also works as an adjunct professor. At the University of Texas at Austin, he teaches graduate students how to promote social welfare through public policy.
His efforts have been recognized with the National Council for Behavioral Health's 2019 Visionary Leadership award and an Austin Business Journal's 2007 Health Care Heroes Award.
Learn more about Evans and his work in the Q&A below:
Why did you get involved in health care?
When I graduated, I had an opportunity to work at a community health center, and all of a sudden, I found myself in behavioral health. My degree in education prepared me to work more broadly in health and human services. So much of the work we do is public education, not just on the nature of wellness and behavioral health-related illnesses but also how to access treatments.
What is a typical workday for you?
On a given day, it has to do with reviewing performance and working with the board, collaborative partners and a team to implement services. Working with the University of Houston has been one of our most successful collaborations.
How did your partnership with Professor Reitzel and Taking Texas Tobacco Free start? 
We were providing substance use disorder treatment but not tobacco use, like somehow that wasn't a drug. What really vaulted things forward was meeting Professor Reitzel and beginning to marry up good research with best practices. We began our joint collaborative venture to meet with other community centers across the state and offer model policies and nicotine replacement treatment such as smoking cessation and anti-craving medications.
What are you most proud of when it comes to the Taking Texas Tobacco Free partnership? 
The deepest impact is addressing the extraordinary harsh medical conditions and death caused by tobacco use. We're not just promoting healthier living. We're addressing fundamental health. I'm so proud of making a contribution through education and practical training.
The Cancer Prevention and Research Institute of Texas investing three rounds of grants into our joint venture has been the strongest, clearest endorsement of what it is we've tried to accomplish statewide. It's gratifying to see that type of investment by that level of organization.
What does winning the Friend of Education Award mean to you?
It's a moment to celebrate. To actually receive that from the UH College of Education is such an affirmation of the collaboration we've had. To me, personally, it's a full circle, from that master's degree to this point in my career. I've received recognition in the field of mental health, but so much of my career has been in communicating and educating others on the nature of illnesses. To root this award back to the University's department of education is a wonderful career affirmation.
How has the pandemic affected your organization?
The work hasn't stopped; the needs of the community have gone up, and we've looked for effective ways of engagement. Most of our work with public forums and community meetings use Microsoft Teams and Zoom. The convenience of being able to do remote video telehealth has reported so much higher satisfaction and access that we won't go back to everyone having to come to our clinics. We're planning a hybrid model.
As an adjunct professor, what do you enjoy most about teaching?
For the last 20 years, I've taught public policy graduate classes. I enjoy looking at how obstacles and challenges can be addressed through public policy. I most enjoy how many students go into public policy. I've had the opportunity to work with former students who are now professionals in an area we had talked once upon a time about in the classroom.
What do you like to do in your spare time?
I enjoy not only playing music but live music venues. I've been listening to performances online, but I really enjoy those smaller live venues. I also enjoy college basketball, football, sports. I like being outdoors. That's something I've been able to continue to do during the pandemic. I look forward to more close family time, attending grandchildren's events and traveling with my wife, Debra, as the COVID pandemic restrictions ease.
— By Lillian Hoang
— Photo courtesy of David Evans