UH College of Education Professor and Alum Tapped for National Leadership Program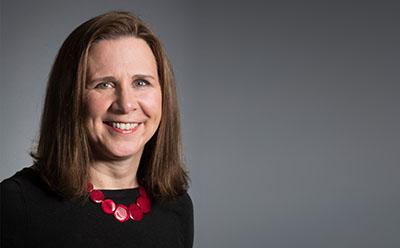 Posted April 8, 2019 – As an English teacher at a high-poverty high school on Houston's north side, Cathy Horn recalls seeing far too many of her students bypass college. Not because they weren't smart enough, but because policies weren't set up to help them, she said.
Horn since has become a policy wonk, serving as a professor of higher education at the University of Houston College of Education and researching critical topics such as college access and admissions and teacher and principal retention.
Now, Horn will delve deeper into issues in higher education leadership, selected to participate in a prestigious yearlong fellowship program through the American Council on Education. She will be paired with a mentor at another university, shadowing executives and gaining insights she can bring back to UH.
"I'm very excited to learn from another institution," said Horn, who chairs the College's Department of Educational Leadership & Policy Studies. "I think we can benefit from other people's experiences, the positive and negative, and that helps us collectively get stronger."
Horn joins 38 other fellows this year and 2,000 over the last five decades. ACE President Ted Mitchell said in a statement that the fellowship program "epitomizes ACE's goal of enriching the capacity of leaders to innovate and adapt, and it fuels the expansion of a talented and diverse higher education leadership pipeline."
Horn, who grew up in Texas, comes from a family of educators. Her great grandmother was an elementary school principal, her grandmother was a high school guidance counselor and her mom was a 30-year teacher in the Grapevine-Colleyville Independent School District, north of Dallas.
---
"Education beyond high school is really, at this point, a necessity and, therefore, ought to be a right." –Cathy Horn

---
Horn moved to Houston for college, earning a bachelor's in sociology and English from Rice University and a master's in curriculum and instruction from the UH College of Education. She taught for two years at Houston ISD's Northside High School (then called Davis).
"I think I got interested in higher education because of my initial work as a teacher and seeing the ways that K-12 policy was shaping college access," Horn said. "In my graduate work, I did research that looked at the ways state policy opened or closed doors for students to have access to top colleges in Texas. I've stayed in that space ever since."
Horn earned a Ph.D. in educational research, measurement and evaluation from Boston College in 2001 and then worked as a research associate for The Civil Rights Project at Harvard University (now at UCLA). She joined the UH College of Education faculty in January 2005.
She currently serves as director of the UH Education Research Center, one of only three such centers in Texas, and also runs the Institute for Educational Policy Research and Evaluation and the Center for Research and Advancement of Teacher Education.
In addition, she serves as associate editor of the Review of Higher Education and co-editor of the Journal of Research on Leadership Education.
College of Education Dean Bob McPherson said the ACE fellowship is "an extraordinary opportunity" for Horn. He plans to work with her department to name an acting chair.
Two decades after teaching high school, Horn said the importance of having equitable opportunities for all students to pursue higher education has continued to increase.
"Education beyond high school is really, at this point, a necessity and, therefore, ought to be a right," she said. "Our country has grounded itself on the idea of K-12 education as a right and that continues to be foundational, but our current environment really demands learning past 12th grade. We have to build an infrastructure that ensures that for all students. That's why we do what we do."
–By Ericka Mellon