UH Charter School Students Learn from Award-Winning Author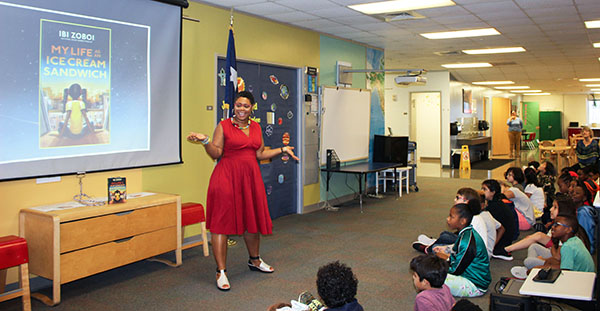 Posted Sept. 6, 2019 – Author Ibi Zoboi knows what it's like to feel out of place.
A Haitian native who moved to New York at age 4, she wrote about the struggle to belong in her latest novel, "My Life as an Ice Cream Sandwich."
Zoboi recently discussed the book with students from the University of Houston Charter School, sharing her passion for storytelling and science fiction.
"I love the energy of third and fourth graders," Zoboi, a finalist for the National Book Award, said during her Aug. 27 visit. "It's always fun to present to them because they reflect back to me the enthusiasm I had while writing the book."
The book centers on a 12-year-old girl who's forced to leave Hunstville, Alabama, where she bonded with her grandpa over outer space and sci-fi, to live with her dad in Harlem, New York. In her new town, the other kids called her a "plain ol' ice cream sandwich" to mock her.
During her presentation, Zoboi flashed images from old TV shows and movies on a large screen, giving the students a glimpse into the book's setting in the 1980s.
Margaret Hale, interim chair of the Department of Curriculum and Instruction at the UH College of Education, said the real-world examples helped "students see that parts of their own everyday lives might serve as inspiration for them in the future." Hale, a professor of literacy education, helped arrange the author's visit to the school.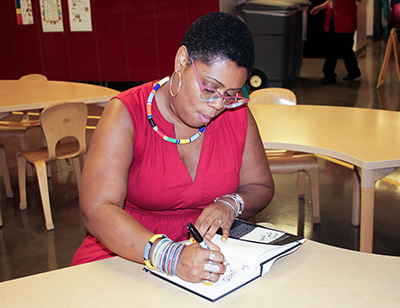 Lynn Reynolds, a teacher at the UH Charter School, called the presentation "fabulous," with Zoboi making the book come alive for the students.
"She talked about things they experience in their lives too, but then the aspect of the science fiction was so fascinating, creative and different," Reynolds said. "She brought out history that fascinates my students now."
–Story and photos by Kathy Patnaude