High School Students Dream Big During College of Education Tour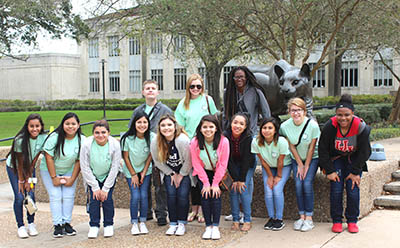 Students from El Campo High School posed with the popular University of Houston cougar statue during a tour in February.
Posted March 1, 2017 – A future special education teacher. An aspiring healthcare worker, possibly a TV star. These high school students recently traveled more than an hour from El Campo, Texas, to the University of Houston to tour the campus and visit the College of Education.
Natasha Krenek, a family and consumer science teacher at El Campo High School, brought a group of roughly 15 students to expose them to the university and to the college's three undergraduate programs: health, human development and family studies, and teaching and learning.
Visiting the College of Education was a good fit as the high school started an experiential teaching program this year, sending students into schools three times per week to observe. Next year they'll get to help plan lessons – like they would do as student teachers in college.
Between posing for a photo at the popular Cougar statue on campus and learning about the college from current students, the El Campo High School visitors took time to share their goals with us.
Shelby Fitts, a junior: "I want to work in special education and I feel I can impact lives because not all kids come from a great home life. I feel I could introduce new ideas to kids and let them grow."
Brandon Olmstead, a sophomore, expressed interest in the health program particularly with the healthcare field growing.
"If you want to take part, this is the place to be," explained Jonathan Mendoza, a student peer advisor leading the information session. "This program allows you to understand what people need to know when it comes to healthcare and services that they need."
"I always wanted to have a big impact on the world," Olmstead said, as he balances multiple dreams. "I also want to be a part of 'Grey's Anatomy' [the TV show]!"
Members of the college's Leaders in Education Ambassador Program (LEAP), Lizeth Barron and Shea Stooksberry, also shared their experiences as students and offered information about their organization.
The college is hosting five high school tours this semester, drawing students locally from the Klein and Cypress-Fairbanks school districts.
"We are always trying to increase enrollment," said Teresa Edgar, the college's associate dean of undergraduate studies. "I'm so proud of the efforts of our student peer advisors and events coordinator.  We are a top education college, and this is another avenue to showcase our programs to high school students."
The College of Education enrolls more than 2,500 students, including about 1,870 undergraduates. The teacher-preparation program ranks among the nation's best, according to the National Council on Teacher Quality. The college also was the first in Texas to meet new, stricter national standards set by the Council for the Accreditation of Educator Preparation.
For information about scheduling a tour, please contact events coordinator Paula Leveston at pcanada@uh.edu.
Learn more about the Human Development and Family Studies program in this video.


Video by Daniel Huron