Staff Spotlight: Solutions-Focused Program Manager Serves Students, the Community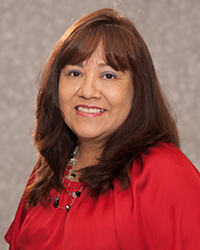 Posted March 9, 2020 — Becky Perez has spent the last 18 years helping students navigate campus life at the University of Houston College of Education. As a program manager for the Department of Curriculum & Instruction, she schedules undergraduate and graduate courses and answers students' questions about their classes — and anything else they need.
"I like resolution," Perez said. "I want our students to walk away knowing that we care and listen. I don't like the words 'I don't know' because everything should have a solution."
Perez is committed to finding supportive solutions outside the office, too. This year, she will celebrate her 24th year walking with March of Dimes, a nonprofit that works to improve the health of mothers and babies. The 2020 March of Dimes March for Babies Walk will be held at UH on April 25. Members of the UH and Houston community are invited to walk alongside Perez as individuals or a team. Registration is $25 for each participant and includes a T-shirt, breakfast and lunch.
"We need more people to participate," said Perez, who raises additional funds from donors who sponsor her walk. "The more people walk, the more we can help moms and babies."
Learn more about Perez and the March of Dimes walk in the Q&A below.
What are your day-to-day responsibilities?
Most days are busy. Some days, it could be something as simple as a student forgetting their pencil. Other days, I may have to help students solve their financial aid issues, tell them what to do next or where they need to go. I also conduct queries to retrieve data and help faculty with reports or coordinate food orders for College events.  
What do you love about your job?
I love what I do. I love my students. Seeing them walk across the stage is my greatest joy because then I know we did everything we could to help. 
Why is the March of Dimes walk important to you?
My good friend's son was 1 pound, 10 ounces when he was born. He's doing well now and will turn 11 in April thanks to March of Dimes. The organization helped her with her son, so it gives me joy to give back. There've been thunderstorms, and I still walk.
How can people support this cause?
You can join the COE team by signing up online. By raising a minimum of $25, you receive a T-shirt and gain access to the UH tent for breakfast, lunch and activities the day of the walk.
What's your favorite place in Houston?
I like to go see plays, so I like to go to the Hobby Center. It has a lot of good shows that come into town.
What do you do to unwind after a long day?
I usually work! After a nice dinner, I like to sit down and listen to the TV while I respond to emails and help students, especially during registration times when we have medical center cohorts who don't have an 8 – 5 day like we do.
Other than that, I work in my garden when it's not cold. I love roses. I have all colored roses.
— By Lillian Hoang