UH BOUNCE Program Expands Community Gardening to Third Ward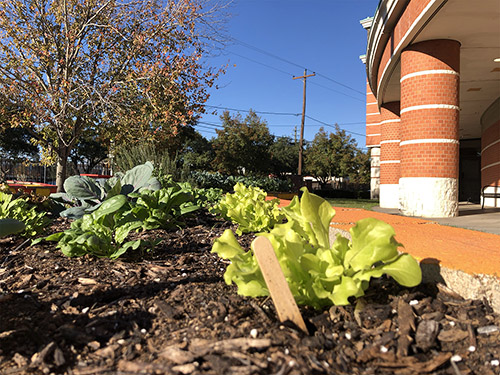 Posted Dec. 19, 2019 — Natalia Chacon arrived at the Third Ward Multi-Service Center with a potted basil plant in one arm and the other pulling a wagon full of worksheets, clipboards, gardening tools and assorted seed packets. She could hear the last bell of the day ring across the street at Blackshear Elementary School as she laid out the materials for the day's lesson.
Chacon is a nutrition assistant for the University of Houston's BOUNCE program, a community outreach and research initiative dedicated to reducing obesity-related diseases in underserved communities. College of Education Professor Norma Olvera founded the initiative and serves as executive director.
On this afternoon, Chacon is leading the newest Master Growers Club, an afterschool program that teaches elementary and middle school students how to garden and grow their own healthy food. The program, launched in fall 2018 in Houston's East End, has grown to include partnerships with five schools and centers in the neighborhood. This fall, BOUNCE also expanded the program to the Third Ward neighborhood thanks to a special partnership with Blackshear Elementary, the Third Ward Multi-Service Center and UH's Advancing Community Engagement and Service Institute. 
"We've had a strong presence in Houston's East End and are thrilled to build more connections in Third Ward," said Ashley Schwartz, BOUNCE's program coordinator. "Some schools don't have the resources for health education, so we look at the needs of the community and try to fill the gaps with our programming."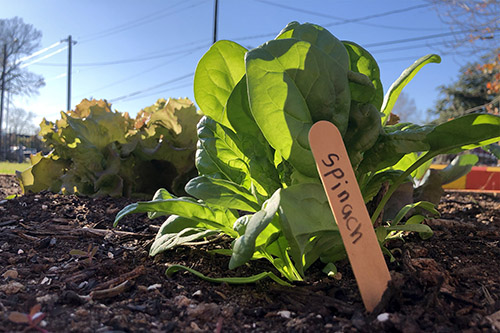 As part of the Third Ward partnership, BOUNCE — which stands for Behavior Opportunities Uniting Nutrition, Counseling and Exercise — leads two afterschool lessons a week, one with fourth graders and one with fifth graders.
Halfway through the school year, Chacon said the students are increasingly excited and curious.
As she led a recent lesson on soil types — explaining how clay holds moisture while sand drains more easily — the fifth graders perked up, getting ready to ask questions. 
"I love this part!" said one of students, grabbing his pencil to take notes.
Later, the students dug in the community garden beds and planted onions, lettuce, spinach, carrots and lavender.
Each week, Chacon introduces a new topic and leads a hands on lesson. In additional to soil and nutrients, topics include gardening tools, planting, friends and foes in the garden, harvesting, cleaning, composting and nutrition.
"We discuss nutritional concepts with them, engaging them with the science, to get them eager to grow and cultivate their own food," said Chacon, who recently graduated from UH with a bachelor's in human nutrition and foods. "It's very much about instilling pride in them."
— By Natalie Thayer
— Photos by Jaime Questell