Principal of the Year Wins UH College of Education Young Alum Award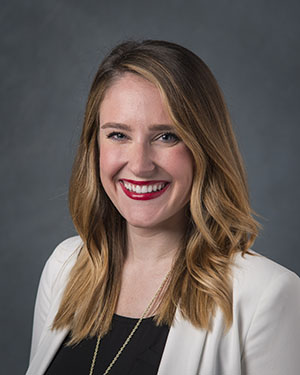 Posted April 9, 2019 – At 8 years old, Amy Poerschke knew what she wanted in life. She had gone to her older brother's college graduation and admired the fancy regalia worn by students in the front row.
On Oct. 3, 1996, in second grade, she declared her dream as part of a class assignment.
"I'm going to get a doctorate," she wrote in pencil in perfect cursive.
The piece of paper now hangs framed on her office wall at Durham Elementary, where she serves as principal. Also hanging: her three diplomas – from Baylor University, where she earned a B.S. in early childhood education; the University of St. Thomas, where she earned an M.Ed. in educational leadership; and the University of Houston, where she earned an Ed.D. in professional leadership – K-12 in 2017.
Poerschke has since accomplished goals she didn't know she had.
In February, she won the Elementary Principal of the Year Award from the Houston Independent School District.
And this month, a week after turning 31, Poerschke will receive the UH College of Education's 2019 Rising Star Award, given to outstanding young alumni.
Associate Professor Bradley Carpenter, who directs the College's school leadership programs, praised Poerschke's success as a principal and an adjunct professor for the College. She serves as a teacher and role model for future administrators.
"Her energy, passion and commitment to the betterment of our programs and the public school children of Houston ISD deserve recognition by her peers and the broader University of Houston community," Carpenter said.
'A shocking entry'
Poerschke, pronounced "purse-key," grew up in Fort Worth, raised by a single mom working multiple jobs while her dad was estranged from a young age.
"For me school was a safe place," Poerschke said. "School was a place where a lot of my confidence came from."
Poerschke said her mom made sure she attended good schools, driving her across town. She recalls an especially kind elementary school teacher, Ms. Gapp, who inspired her future career.
But even as a teenager Poerschke realized she had opportunities other children didn't. It bothered her. Why weren't all the students encouraged to take Advanced Placement classes or offered SAT preparation?
Poerschke went on to study education at Baylor, where her brother went, and then took a non-traditional route into the classroom, drawn to help students in need. She entered Teach for America and came to Houston ISD, teaching third grade at Dodson Elementary the year before it was closed.
"It was a shocking entry into public education in Houston," Poerschke said.
 "I loved those children. I still think about them. I have a picture of them in my office. They continue to drive me to do good work."
'Relevant to Houston'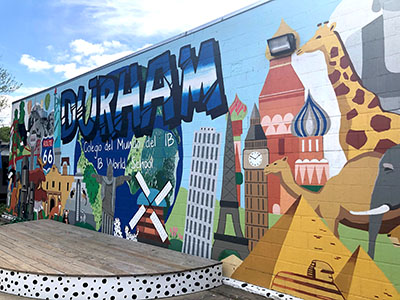 For the next five years, Poerschke worked at Garcia Elementary, as a teacher, a specialist and then an assistant principal.
She loved teaching, creating a classroom where her students could thrive, but wanted the chance to set up that environment school-wide. She earned her master's in educational leadership in 2014 and a few months later started the doctoral program at UH while working at Garcia.
A year into her Ed.D. classes, she became principal of Durham Elementary, a once-struggling school on the rise, located in a north Houston neighborhood where mobile homes share space with mansions.
"UH felt very relevant to Houston," Poerschke said. "The discussions we were having during our seminars were very relevant to what I was experiencing in the public school setting. I was getting really candid feedback from colleagues around how difficult the work actually is, which was important. I think that's the biggest part of it – the network of UH."
'High expectations'
On a warm, windy afternoon in late March, Poerschke paused in the courtyard at Durham. A mural of the world – with the Golden Gate bridge painted on the left and the Eiffel Tower on the right – serves as backdrop for umbrella-shaded tables where about 100 parents join their children for lunch on any given day.
"It truly is a community school," Poerschke said.
About 62 percent of the students are Hispanic, 25 percent are white and 12 percent are black. Around 60 percent are economically disadvantaged.
A class of kindergarteners walked by in a straight line.
"Hi, guys!" Poerschke said. "Did you have fun in music?"
"Yes!" several squealed.
---
"Dr. Poerschke is an outstanding leader that has high expectations for all students." – HISD Interim Superintendent Grenita Lathan
---
With numerous principal changes preceding her, Poerschke said the school needed consistency. While Durham's scores on state exams have risen significantly, Poerschke said her teachers don't focus on test prep and worksheets. The school has an International Baccalaureate designation, emphasizing projects and global leadership skills, and offers a dual-language program, where students learn together in English and Spanish.
Murals representing different countries adorn once-gray walls, and students garden in an outdoor classroom.
Earlier in the semester, Poerschke got "the surprise of a lifetime" when she walked into the Durham auditorium. HISD Interim Superintendent Grenita Lathan was there to announce she was the Elementary Principal of the Year.
"Dr. Poerschke is an outstanding leader that has high expectations for all students," Lathan said in an HISD interview. "She has a very diverse student population. She has a staff that has high expectations for every child in the school. She is a proven leader."
Another UH Ed.D. graduate and adjunct professor, Khalilah Campbell-Rhone, won HISD's Secondary Principal of the Year Award. In addition, M.Ed. graduate Sean Negron won Elementary Assistant Principal of the Year and Ed.D. student Thomas James Cotter won Secondary Assistant Principal of the Year.
'Super passionate'
Despite her busy schedule, Poerschke teaches graduate students at the UH College of Education one evening a week. For the last two years, she's taught Data-Informed Decision Making for School Leaders, sharing real-world advice about analyzing student data, designing budgets and organizing limited hours in the day.
But it's not only about the numbers.
During a recent class, Poerschke had students read an article titled, "Data was Supposed to Fix the U.S. Education System. Here's Why It Hasn't."
As she later posted on Twitter, "#CoogLeaders discuss why data, without meaningful action, won't help our kids or schools."
 Students praise the rigor of her class.
"I come home on Monday nights so energized," Poerschke said. "Teaching was my first love, so to be able to go back, teaching adults wanting to become principals, it's so fun. They're so green and super passionate."
"You need to be an idealist to get through the work sometimes. You need to believe that things can be better and believe that you have a part in that in order to remain in this work."
–By Ericka Mellon
–Photo courtesy of the Houston Independent School District