New UH Institute Combines Real-World Learning and Community Engagement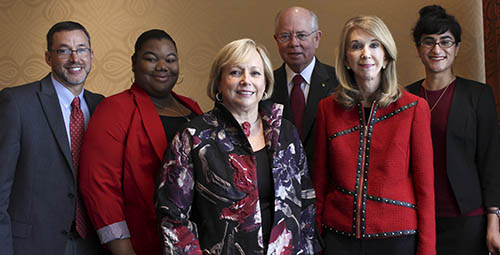 From left: Jonathan Schwartz, Jasmine Payton, Anne McClellan, Bob McPherson, Paula Myrick Short and Sarah Fard
Posted Oct. 27, 2017 – Across the University of Houston, students are learning while also serving the community. Teaching majors from the College of Education volunteer as reading tutors at local public schools, for example, while Honors College students help high schoolers prepare for the SAT.
A new UH institute, celebrated at a formal launch ceremony Friday, aims to expand such real-world learning experiences for students and to improve the quality of life in greater Houston. Called the Advancing Community Engagement and Service Institute, it serves as the hub of service learning at UH.
The ACES Institute team will work with faculty and staff across disciplines to develop well-designed service learning courses and opportunities for students. The institute also will offer training, collect data and conduct research to promote high-quality programs that could be replicated nationwide.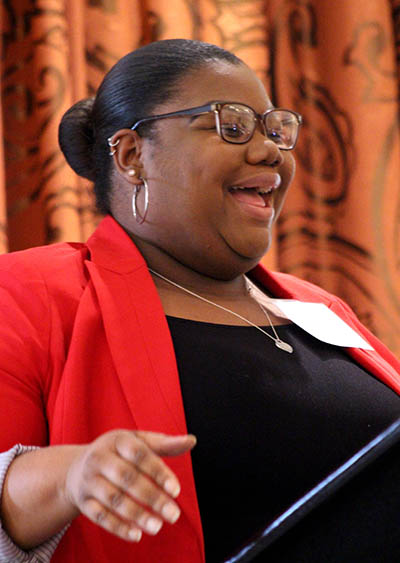 Jasmine Payton, program manager for the ACES Institute, said she was born into community service.
Service, or experiential, learning connects what students study in the classroom with the needs of the community.
"Today heralds a new era in service learning," said UH Provost Paula Myrick Short. "I have very high expectations for our Advancing Community Engagement and Service Institute. It's going to take us to the next level at the University of Houston and also engage us in extraordinarily useful ways with our larger community."
Jonathan Schwartz, associate dean of graduate studies at the UH College of Education, and Anne McClellan, the College of Education's executive director for growth and innovation, serve as co-founders and co-directors of the ACES Institute. Sarah Fard serves as the institute's program director, and Jasmine Payton is program manager.
Since he arrived at UH four years ago, Schwartz said he has envisioned creating an institute dedicated to service learning. Research suggests that service learning increases student retention, deepens learning and makes a positive impact on the community.
"We want to help the great programs that are already going on and create new programs so students have the benefit of going out in the community and learning," Schwartz said. "We live in a great city, and there are so many opportunities."
"Service learning provides our students the opportunities to become engaged learners and informed citizens," McClellan said, "while addressing a myriad of social, economic, educational and environmental problems."
About 100 UH administrators, professors, staff members and community leaders attended the ceremony Friday at the UH Hilton, kicking off the university-wide rollout of the ACES Institute.
The inaugural work of the ACES Institute has focused on school improvement efforts in Third Ward, involving professors and students from the UH College of Education and Graduate College of Social Work. These efforts are part of UH President Renu Khator's Third Ward Initiative overseen by Elwyn Lee, vice president for community relations and institutional access.
"Service learning is at the very heart of what we do at the College of Education," said Dean Bob McPherson. "Our undergraduates are out in the field almost from day one engaging in service learning activities."
This fall, the tutoring efforts are expanding thanks to a $276,578 grant McClellan received through AmeriCorps Texas. Students accepted into the UH Cougar Literacy Corps – AmeriCorps will tutor students at four local elementary schools in reading and collaborate on community service projects.
As manager of the literacy corps for the ACES Institute, Payton said her experiences doing community service as a child and in college drew her to the job. To the student corps members at the launch ceremony, she said: "Thank you for your time, your knowledge and your dedication to mold the next generation."
-By Ericka Mellon
-Photos by Jaime Questell