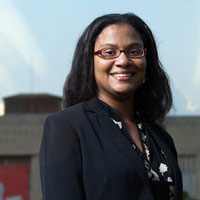 Dr. Raven Jones (she/hers)
Director
rljones@central.uh.edu
As Director of the Center for Student Empowerment, Dr. Raven Jones enhances the quality of education for UH students within the CSE program. As an avid researcher, program developer, and trainer, Dr. Jones's research concentrates on the cultural resources within urban communities that can be utilized to improve the resiliency and psychological development of underrepresented students. Through the program, Dr. Jones prevents minor obstacles from becoming major setbacks to degree achievement.
---
Judith Corral (she/hers)
Graduate Student Assistant
jcorral2@uh.edu
Judith Corral was born in Mazatlan, Sinaloa and she moved to Houston, Texas at 7 years old. She received a Bachelor of Science degree in Psychology from the University of Houston in 2020. As an undergraduate, she served various leadership roles as an Orientation Team Leader, Commuter Assistant, and REACH Diversity peer educator. Through these roles, she served as a mentor to first-generation/DACA students which rooted her interested in pursuing a career in student affairs. As a first-generation student, she understands the need for mentorship and Latina representation in higher education. She is currently pursuing a Master's of Higher Education in the College of Educationand the Student representative for TACHE.
---
Ja'Neria Ross (she/hers)
Graduate Student Assistant
jross6@uh.edu
Ja'Neria is a BSW graduate from Lamar University. She is currently pursuing her Master's of Social Work with the Graduate College of Social Work. She enjoys helping others find solutions to their problems that come with everyday life. She is solve the multitude of problems that arrive in our everyday lives alongside with online shopping. In her free time she is a major foodie that loves to eat new cuisines and even prepare them herself.