Mat Johnson's 'Pym' continues Poe's arctic adventure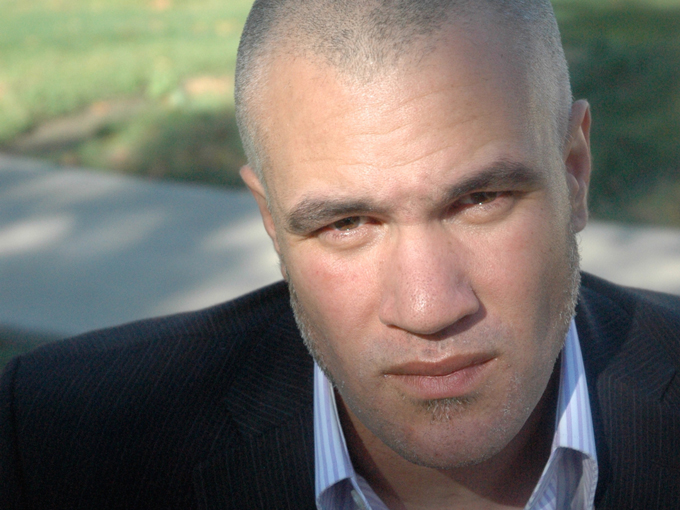 Creative Writing Program professor Mat Johnson's new novel, Pym, is a sequel to Edgar Allan Poe's only novel.
Edgar Allan Poe's novel The Narrative of Arthur Gordon Pym of Nantucket details the title character's extensive sea adventure but ends inconclusively. After surviving several perils — including an attack from a savage tribe — Pym and a companion encounter a mysterious white figure in the glaciers of Antarctica. The book then abruptly ends.
From that infamous conclusion, Mat Johnson began his own eight-year odyssey to pen a follow-up to Poe's work. That creative journey recently concluded, and he soon will share his novel Pym (Spiegel and Grau) with readers.
Johnson, a professor in the Creative Writing Program, wasn't solely focused on Pym during the past eight years. During that time, he wrote three critically acclaimed graphic novels for Vertigo/DC: Hellblazer: Papa Midnite (2005), Incognegro (2008) and Dark Rain: A New Orleans Story (2010). He also completed a fourth graphic novel that is yet to be titled and will hit shelves in 2012.
Pym will be Johnson's third novel. He authored Drop (2000) and Hunting in Harlem (2003). He also wrote a non-fiction work The Great Negro Plot (2007). All of these books were published by Bloomsbury USA.
This semester, Johnson will share his insight on illustrated storytelling with students as part of UH's Graphic Novel Workshop. He also is inviting Houstonians to celebrate the release of Pym on March 2 at Brazos Bookstore during a reading and book signing.
Creative Pride's Mike Emery caught up with Johnson as he was preparing for the spring semester and got a preview of Pym.
Emery: Tell me about Pym.
Mat Johnson: Edgar Allan Poe wrote only one novel and that was The Narrative of Arthur Gordon Pym of Nantucket. It ends in a cliffhanger, so it has presented somewhat of a literary challenge. Jules Verne wrote a sequel of sorts. H.G. Wells wrote a sequel. There also are a few lesser-known sequels. People have been wondering why this book ... that didn't quite end ... ended the way that it did.
Pym tells the story of an all-black mining crew that goes to Antarctica with a Poe scholar. They end up researching what happened to Pym. They have an original narrative that proves Poe's book is true. During the course of their journey, they end up discovering the monsters encountered by the characters in Poe's book. It takes off from there.
Emery: After eight years of working on this book, what's it like to see it in print?
Johnson: It's a great feeling. There were many moments where I thought about giving up on it, but I stayed with it.
Initially, I started writing a book that I thought only five people would actually read, which is very liberating.
So, I'd write a draft and send to my agent who would read it for a few months, then get back to me with edits or questions. In the meantime, I'd start a graphic novel. In the years since I've started "Pym," I wrote four graphic novels.
There were many times when I thought that it was taking too much of my time, and it was taking me in the wrong direction. I tried to dump it twice, but people in my life, including my wife and my best friend, convinced me to stick with it.
Emery: Why do you think Poe's original book inspired authors such as yourself to follow up on its ambiguous ending.
Johnson: Aside from the climax, which leaves the reader hanging, the book has racial overtones. There's a book by Toni Morrison titled Playing in the Dark, which deals with the concept of whiteness and blackness in American literature. Morrison's theory is that Poe imagined that whiteness was perfection, so the narrative couldn't continue. There was no further conflict, so he just ended it there.
His book also shows all of his genius and all of his hackery. Poe was a genius. He spawned so many things in American literature like the detective novel, the gothic novel, the horror novel. All of these forms come from him. In other instances, he wrote just to make money, and it shows. It's very fun to work with his stuff.
Read more about the Creative Writing Program in the Department of English.
Johnson can be reached at mrjohns6@mail.uh.edu. His personal website is www.matjohnson.info
—Mike Emery
This interview first appeared in UH Media Relations Fine Arts Writer Mike Emery's blog, "Creative Pride," which appears on the Houston Chronicle's chron.com webstie.
RELATED LINKS