COMD professor researches bilingual speech development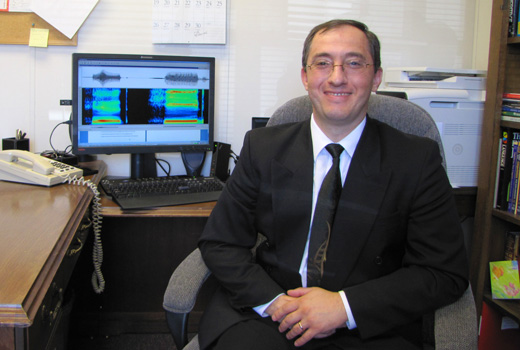 UH Communication Sciences and Disorders Assistant Professor Ferenc Bunta studies how bilingual students acquire the sound systems of their languages.
Communication Sciences and Disorders Assistant Professor Ferenc Bunta knows what it's like to learn a second language. Born in Transylvania, a northwestern region of Romania, Bunta's native language is Hungarian, but he grew up learning multiple languages.
"When I was learning English as a second language, I felt fairly confident about my syntax and morphology, but my pronunciation often revealed that I was a non-native speaker of English," Bunta said. "So, that's really why I started researching phonology — how the sound system works. Why do some speakers pass for native and others have a heavy accent? How do sound systems develop when someone is acquiring multiple languages?"
This summer, Bunta co-taught a graduate-level course with Communication Sciences and Disorders Assistant Professor Rachel G. Aghara that focused on bilingual language development and assessment. He also credited the University Speech, Language and Hearing Clinic's efforts in the field of bilingual assessment and intervention services. Through his own research, Bunta addresses issues concerning bilingual and cross-linguistic phonological acquisition.
"It is important to differentiate signs of a speech or language disorder from cross-language influences, and that is not always an easy task," Bunta said. "Sometimes, bilingual children who are really typically developing are identified as having a speech or language disorder — an over-identification problem. Other times, it may be assumed that error patterns are due to first language influences, when in fact, they are signs of a speech or language disorder, resulting in under-identification of bilingual children. A better understanding of bilingual phonological acquisition will lead to more accurate speech and language evaluations."
This semester, Bunta is teaching two sections of phonetics and one section on writing for communication disorders professionals. Bunta is relatively new to Houston, and began teaching at UH in 2008 after completing a post-doctoral research fellowship at Temple University.
"Houstonians are very welcoming and friendly," Bunta said. "And I really enjoy the diversity of the University of Houston. Here at the university, we encourage undergraduate research, as we should. You have to engage students in the process of scientific inquiry early so that they learn to appreciate the discovery process. We try to involve students in the discovery process. While learning specific job skills is important, part of our mission is to instill in our students that learning is a lifelong endeavor and critical thinking is essential."
Bunta said that the benefits of training to become a speech language pathologist at UH is that the program not only prepares the students for their job, but it also nurtures critical thinking skills via activities like evidence-based practice. The students become active learners and acquire skills that will serve them throughout their career.
"We've had 100 percent job placement, even in this economy," Bunta said. "I think it's very important to realize that you need to rely on expertise of a variety of individuals and sources to solve complex problems we are facing. We have to collaborate and go out of our comfort zone to work with people whose skills will contribute to a richer, more accurate solution. I feel very fortunate to be at UH, because I have wonderful opportunities to collaborate with colleagues within our department, within the University of Houston and maintain my external collaborations."
It's an exciting time to be at the University of Houston, Bunta said, because of the University's push to gain Tier One status.
"I firmly believe that the University of Houston is well on its way to becoming a Tier One institution," Bunta said. "Outstanding scholarly activity, excellent teaching, and community engagement will help us get there, but ultimately, what will solidify our reputation is the quality of our graduates. That is why it is so important to not only be driven to excel, but to convey that passion to our students. And to convey that drive."
For more information about the Communication Sciences and Disorders department, visit their website at http://www.class.uh.edu/comd.
Bunta can be reached at fbunta@uh.edu.
—Brandon Moeller