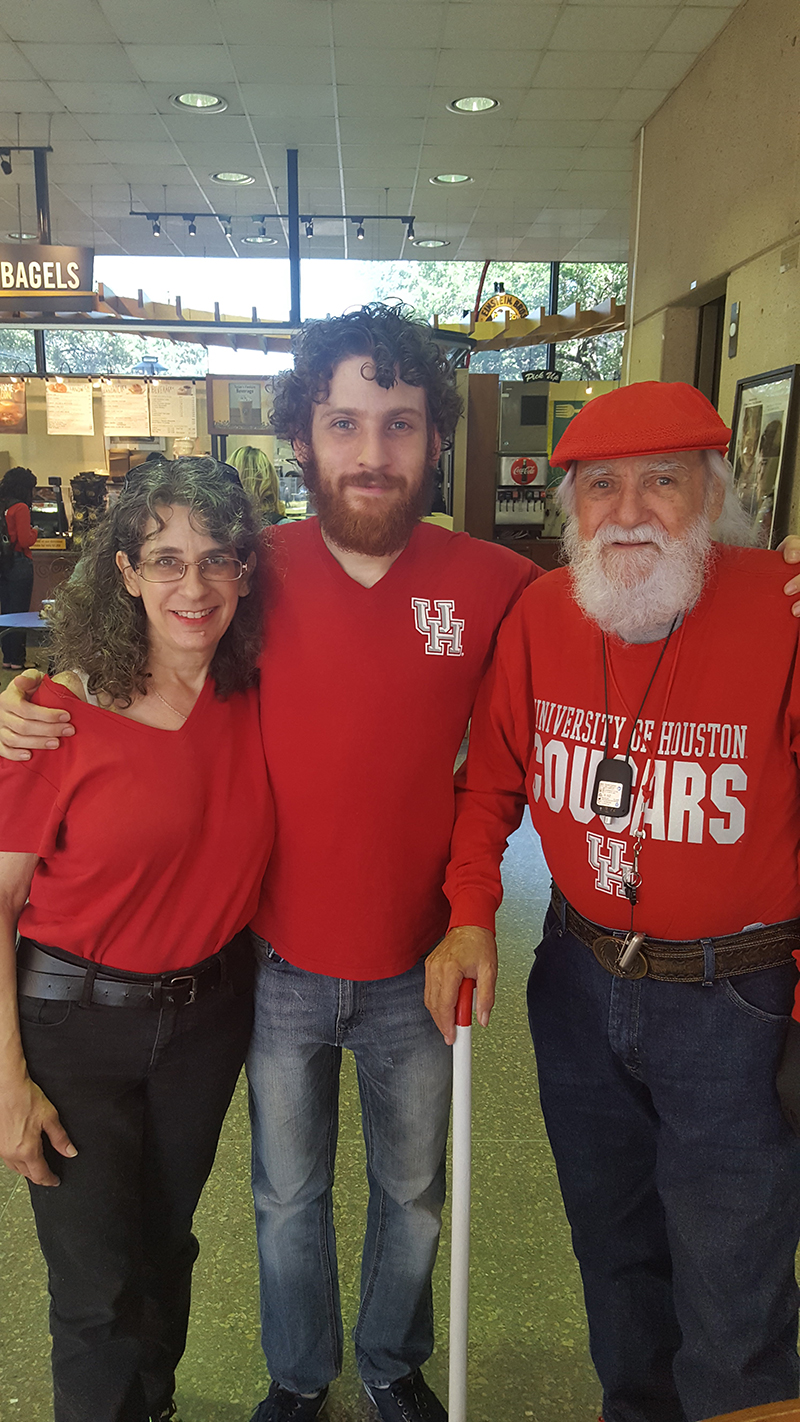 The Levin's: Judy, Herschel and Kenneth
Kenneth Levin jokes that every 30 years, he decides to go back to college.
At 86-years-old, this time around he is earning a bachelor's degree in political science with a minor in history, and is CLASS's oldest graduate this semester.
But, Kenneth isn't the only Levin graduating this spring – his son, 23-year-old Herschel, is also graduating with a degree in political science.
It's a father-son milestone that will take place on Mother's Day, and Judy Bluestein-Levin, Kenneth's wife and Herschel's mother, couldn't be more proud - especially since she is the one who enrolled Kenneth in college in the first place.
"Herschel started taking courses at Lone Star Community College at age 16, and since he wasn't driving yet Kenneth would take him," recalls Judy. "As he waited for his son, Kenneth would 'hold court' on campus, chatting with the students."
Kenneth adds, "They would talk to me about everything – from issues they were having with their professors, to their boyfriend and girlfriend troubles."
Herschel and Judy decided that since Kenneth was already on campus, he may as well take some classes too. So, without telling him, they submitted an application to Lone Star on his behalf, and then enrolled him in a full course load – 12 credit hours. In 2014, both Levins graduated with a two-year degree and decided to attend the University of Houston together.
This was a big accomplishment considering Kenneth had quit high school many decades earlier.
Kenneth was born and raised in Baltimore, MD and attended high school at Baltimore City College, the third oldest high school in the United States.
"Music was my entire life at that time," says Kenneth. "I did not graduate from high school because I had an altercation with a department head - started by him - in front of the school marching band of which I was the drum major."
Kenneth says that the school disciplinary office sided with the teacher, and his resulting punishment caused him to lose his full scholarship to Duke University. His friends in the band staged a protest on his behalf during a special performance before the school board, so the next day he quit school in order to "save the band."
"It was an emotional experience," he says.
After leaving high school, Kenneth's dad gave him $15 and sent him to Washington D.C. to live with his sister. He took a job at a corner store/diner in the heart of the nation's capital. While living and working in Washington D.C., the store that he worked at happened to be along President Harry Truman's motorcade route between his home (the residence at the White House was under construction at that time) and the Oval Office. Kenneth says he used to wait outside for the president to drive by and the two often waved at each other in passing.
While living in Washington D.C., Kenneth developed an interest in politics and worked for President Truman's re-election campaign in 1948.
"In my 20s, after passing the GED and serving in the U.S. Air Force, I attended the University of Baltimore where I earned a degree in marketing," says Kenneth.
After graduating, he worked for an insurance company, which later relocated him to Houston. At age 52, he decided to return to school and he earned another degree in Scientific/Technical Photography (medical photography) from Houston Community College – a four-year degree at that time.
Over the years, Kenneth says he has gotten married five times to three different women. He married his current wife three times, first in a civil ceremony before he would begin living with her, shortly after that they had a private religious ceremony, and then a year after the religious ceremony they had a third, larger ceremony in front of family, friends and Kenneth's former wife. Today, they all consider themselves one family.
Judy is thirty years younger than her husband, and when the two met at Houston Community College she was in her early 20s and Kenneth was in his 50s. Judy initially tried to set Kenneth up with her mother. That didn't work out, but the two always remained close, and eventually fell in love and had Herschel.
"All together, we have six living daughters and they have one younger brother, Herschel. My second wife, a magnificent woman, is our family matriarch and although our daughters are living coast to coast we often have family get-togethers. We have eight grandchildren and two magnificent great grandchildren, a boy and a girl."
Once Kenneth and Herschel started taking college classes together, Kenneth had one goal – to graduate with his son. He's also thrilled they have the same major. Every class Kenneth has taken has been with Herschel enrolled in the same class.
"Politics has always been important to me, and Herschel caught the bug. When he wanted to study political science it was a blessing to me," he says.
Herschel has enjoyed watching his dad in class and both Levins easily find the humor in their situation. "In one of our classes, the professor started out talking about the civil war. He looked squarely at my dad and said, 'you were there, right?'" he recalls as the two laugh together.
Kenneth wanted to attend to UH, in part, because of Dr. Richard Murray, professor of political science, whom he has known about and followed for over 50 years. In addition, Judy also attended UH when she was in her 20s. This time around at UH, Judy has been the glue holding everything together for her family. Despite the fact that both Judy and Kenneth have had health challenges, she maintains Kenneth's schedule and ensures he has everything he needs to be successful.
The Levin family plans to celebrate the graduation with a dinner out with family and friends. But Kenneth says that the celebration isn't the important part of his experience.
"Self-pride is what it is all about," he says.
When asked about his post-college plans, Kenneth responds, "I plan to sleep. Maybe I'll go to graduate school and study political science…if Herschel goes. Over the past few years, I've learned that university life is designed to educate the young and entertain the old – and I've had more fun than you can imagine."