Theresa Rebeck joins School of Theatre & Dance as Visiting Professor
Acclaimed American playwright and screenwriter to teach undergraduate courses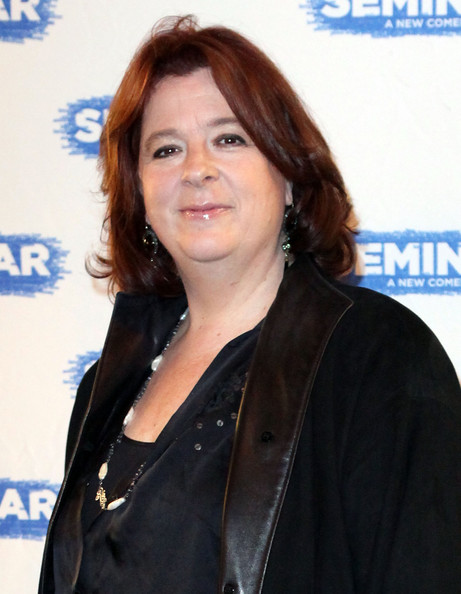 Acclaimed playwright and screenwriter Theresa Rebeck joins the School of Theatre & Dance this fall as Distinguished Visiting Professor of Playwriting.
"Theresa Rebeck is a great American playwright, and she's actively working as a writer," said Jim Johnson, director of UH's School of Theatre and Dance. "In addition to writing works for the stage, she also has worked in film and television and has wonderful insights about the art and the business. I'm incredibly excited for our students."
Dr. Rebeck's work has been produced and performed on and off Broadway, throughout the United States and abroad. She was named a Pulitzer Prize for Drama finalist for Omnium Gatherum, which she co-authored with Alexandra Gersten-Vassilanos.
Her television credits include creating and executive producing the musical drama series Smash that ran on the NBC network. Professor Rebeck's produced feature films include Harriet the Spy, Gossip, and the independent features Sunday on the Rocks and Seducing Charlie Barker, an adaptation of her play, The Scene.
Dr. Rebeck holds a Master of Fine Arts in Playwrighting and a Doctorate of Philosophy in Victorian Melodrama, both from Brandeis University. She serves on the board of the Dramatists Guild and is an Associate Artist of the Roundabout Theatre Company, a not-for-profit that manages five stages on and off Broadway.
She also is a contributing editor to the literary journal Harvard Review and has taught at Brandeis and Columbia universities.
At UH, Dr. Rebeck will teach Playwriting III, a course crafted for third-year undergraduates. She also will guide senior Bachelor of Fine Arts Playwriting/Dramaturgy students as they develop their capstone projects to complete their degrees.. Under her watchful eye, students will write and shape a full-length play during their junior year and another during their senior year.
"I'm thrilled to have Ms. Rebeck join the UH School of Theatre and Dance," said Rob Shimko, associate professor of theater and head of UH's Playwriting/Dramaturgy BFA program.
"She is one of the most accomplished playwrights in the country and also has a stellar track record as a rigorous teacher and caring mentor," Professor Shimko said. "Our discussions thus far have been very focused on the students, and she has some great things planned for them. I can tell that she will have an amazing influence on our young playwrights."
In addition to the Pulitzer Prize nod, Professor Rebeck's work has been honored with numerous awards.
They include the Mystery Writers of America's Edgar Award, the Writers Guild of America Award for Episodic Drama, the Hispanic Images Imagen Award and the Peabody Award for her writing work on NYPD Blue, the Emmy-award winning drama that aired for 12 seasons on the ABC network.
She also has been recognized with the National Theatre Conference Award for her play The Family Man and William Inge New Voices Playwriting Award for The Bells, as well as the PEN/Laura Pels Foundation Award for her body of work.
In 2011, Newsweek magazine named Rebeck one of the "150 Fearless Women in the World."
She joins a talented School of Theatre and Dance faculty and follows in the footsteps of several distinguished artists who have balanced time between the professional stage and UH classrooms. These include Pulitzer Prize-winning playwrights Edward Albee and Lanford Wilson, American Theater Hall of Fame member and Tony Award-winning director Jose Quintero, Tony Award-winning producer Stuart Ostrow, and Royal Shakespeare Co. founder Sir Peter Hall. Tony nominee scenic and lighting designer Kevin Rigdon is a Moores Professor on faculty now.
Professor Rebeck's play Fool had its world premiere in Houston at the Alley Theatre in February 2014.  She will direct the Alley's production of Arthur Miller's All My Sons as part of the theater company's 2014-2015 season that will be in residence at the University of Houston. The Alley is presenting a seven-play season in the Wortham Theater on the UH campus while its downtown facility undergoes renovations.
"Sometimes people worry about the essential nature of the theater," Rebeck told the Houston Chronicle. "You hear that - 'like poetry' - theater might be dying. I don't think theater or poetry are dying, but I do think that these vital forms reinvent themselves across time and space. The idea that I might be involved in that reinvention in Houston, with young theater artists, is just tremendous. To have someone ask you to take part in that - I just truly wanted to do it."
To learn more about Dr. Rebeck, visit her website, and for more details on the UH School of Theatre and Dance visit www.theatredance.uh.edu.
- by Mike Emery