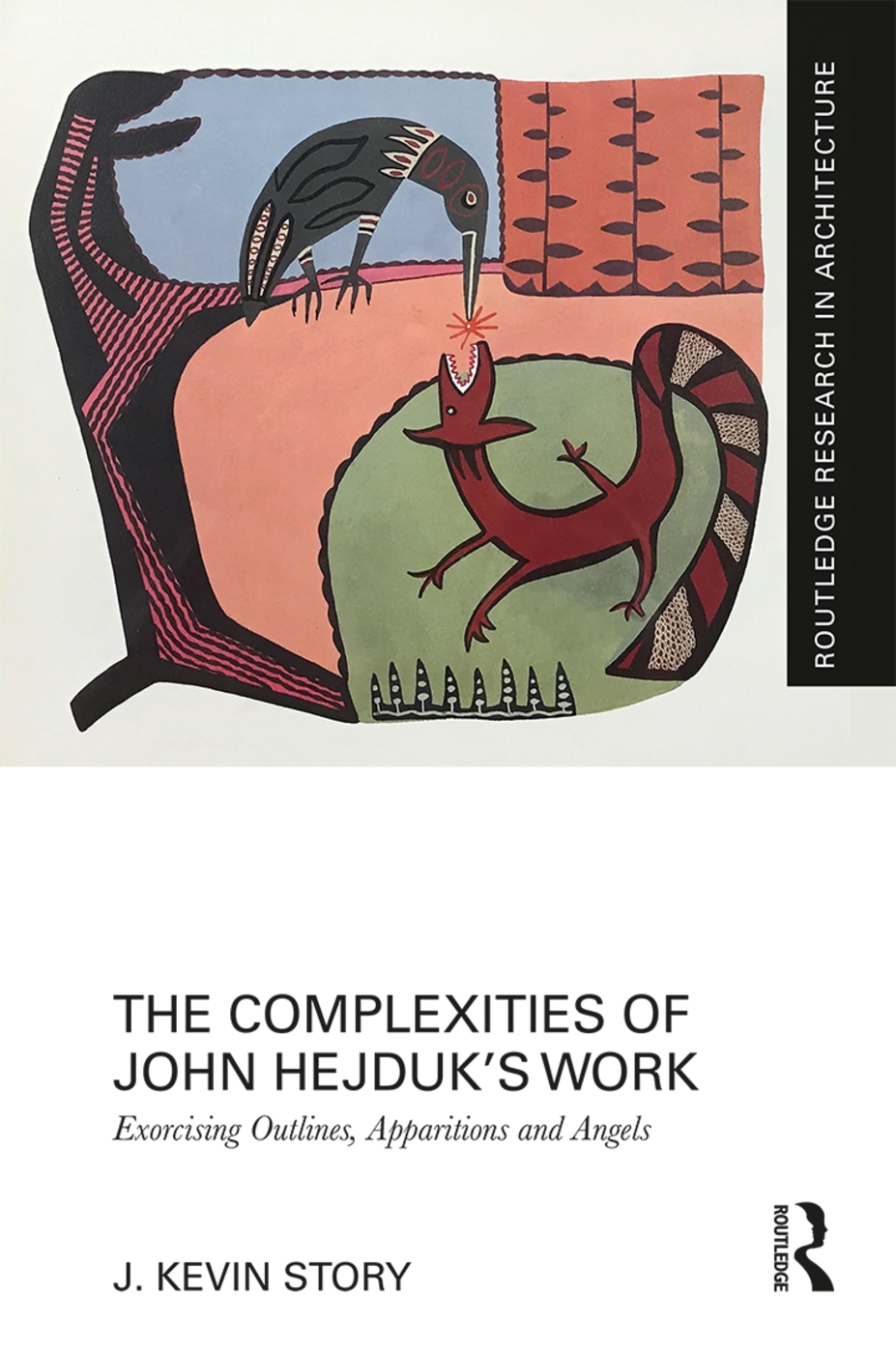 For Gerald D. Hines College of Architecture and Design Professor J. Kevin Story, the ten-year journey to develop, craft, and publish his book, The Complexities of John Hejduk's Work: Exorcising Outlines, Applications, and Angels, was the culmination of a desire to honor Hejduk that began 41 years ago. This year, Story's book was published by Routledge Publications, bringing the life, work, and influence of Hejduk to the spotlight.
During the 1970s, Story was an undergraduate student at the University of Houston College of Architecture. As part of the infamous "Honors Studio" design class, Story took advantage of the opportunity to learn from four visiting critics during the 1979-1980 academic year, the first being John Hejduk.
"My student experience with Hejduk changed my life," said Story. "He instilled in me the importance of the poetics that can be found in form and space and to search for the spirit in architectural spatial experience."
Hejduk, who passed away in 2000, had a long, accomplished career, including as the dean of the Cooper Union School of Architecture in New York City for the last 25 years of his life (1975-2000).
"As I created my UH master thesis project beginning in 2010, I decided to dig deeper into the work and life of John Hejduk," shared Story. "My master thesis then evolved over the last ten years to become a book honoring the life, legacy, and soulful exorcisms of John Hejduk."
Story approached the thesis project with the idea of "exorcism" to uncover Hejduk's thought process when examining architectural design. Hejduk's work always encouraged the questions of what, why, and how we build, opening a larger conversation and enhancing the phenomenology found in architectural experiences.
Across seven chapters of the book, Story examined three distinct eras in Hejduk's architectural career and applied these eras to analogies of outlines, apparitions, and angels. These themes allowed Story to investigate the progression of thought and depth in the architect's imagination by studying key Hudjek projects, including the Texas Houses, the Wall House archetype, Architectural Masques, and his Final Works.
While gathering research for the book, Story not only conducted numerous telephone interviews and email correspondences with Hejduk's former students but also traveled to New York to visit with John Hejduk's wife and world-renowned architects close to Hejduk.
"Mrs. Hejduk's vivid memory of John's work was invaluable to my study," said Story. "Her insights into Hedjuk's pedagogical probing, along with her memories of life with John, were truly fascinating and very informative."
The Complexities of John Hejduk's Work: Exorcising Outline, Apparitions and Angels brings to life the impact of Hejduk on architecture and design, inspired by Story's first-hand experience with the extraordinary architect. Read the editorial reviews of Story's book below.
"As architectural practice and education keep turning into a formulaic pragmatism, John Hejduk's poetic pedagogy and artistic work, as well as his emphasis on drawing, craft and making, concretize an alternative approach of crucial value. His work expands the narrow expressive scope of contemporary architecture to the realms of fantasy and dream, ritual and narrative, fear and hope. As architecture is restricted by a shallow quasi-rationality, Hejduk's view of the art of building as an ethical and poetic exploration provides a demanding and liberating alternative perspective. Kevin Story's book mediates the deep complexities of Hejduk's thinking, work and mental world through a successful method of multiple exposure."
- Juhani Pallasmaa, Architect SAFA, HonFAIA, IntFRIBA, Professor emeritus (Aalto University, Helsinki), Writer
"John Hedjuk's crusade for a "poetics of architecture" seem even more urgent in our time of enormous corporate practices. Kevin Story's book, The Complexities of John Hejduk's Work, consists of concepts and stories underlying the extraordinary force of his convictions. John was an architect of ideas at a time when modern architecture had become rigid and unimaginative. In the midst of postmodern eclecticism, John taught that we should keep our "umbilical cord" connection to modernity. His amazing imagination gave wings to Jung's reflection that each of us is "modern in search of a soul." From meeting him in 1974, to our last exchange when he wrote enclosing, Lines: No Fire Can Burn (1999), he kept the faith for architecture... a gift of future generations."
- Steven Holl, Architect
---
Two other books from Hines College faculty were also published this year: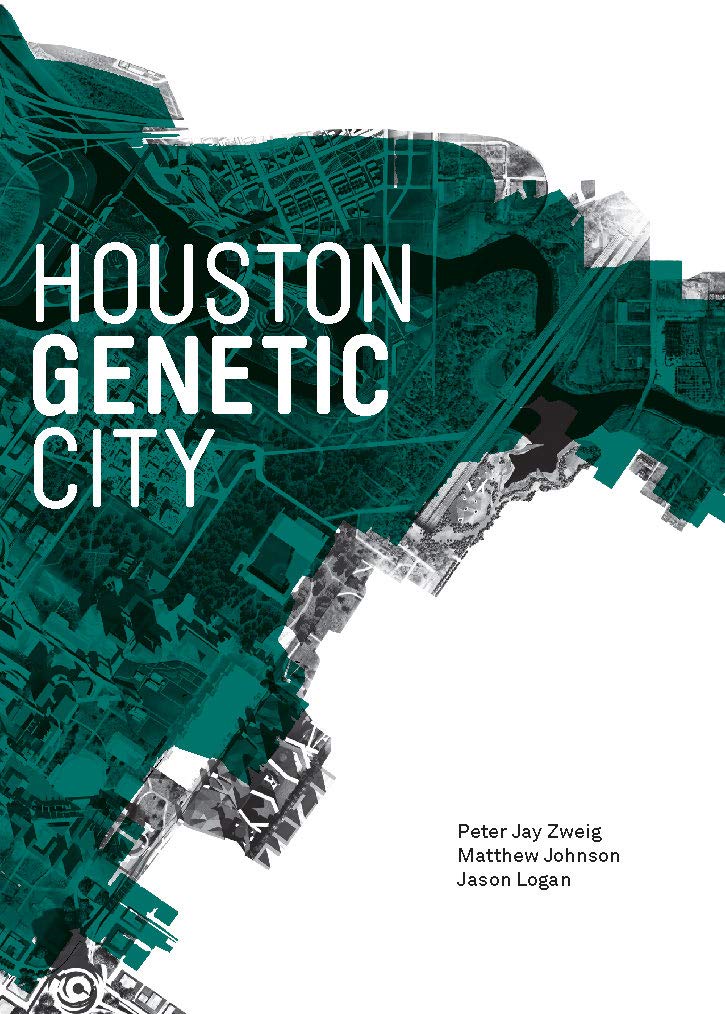 Houston Genetic City
by Peter Zweig, Matthew Johnson, and Jason Logan
No city in the United States is synonymous with unbridled growth and land speculation as the sprawling Texas city of Houston. The book offers a vision for a future Houston as a global city, beyond its current petro-economy, its laissez-faire land speculation, and its notorious sprawl. It speculates about new forms of urbanism that offer resiliency against our changing climate as well as new models for development in fast-urbanizing regions.

Though Houston is described as a city, its massive size makes it regional or even megaregional in scale―including a patchwork of satellite downtowns and suburbs, a vast floodplain of bayous and coastal prairie, as well as a long stretch of Gulf Coast. Its lack of zoning means ad hoc developments scatter across the landscape with little formal planning, where urban developments are always provisional and negotiable.

Using maps, photographs, timelines, and collages, the book lays out the conditions for new urbanization in this fragile landscape.

Published by Actar Publishers & University of Houston's Gerald D. Hines College of Architecture and Design
Making Houston Modern: The Life and Architecture of Howard Barnstone
by Barrie Scardino Bradley, Stephen Fox, Michelangelo Sabatino
Complex, controversial, and prolific, Howard Barnstone was a central figure in the world of twentieth-century modern architecture. Recognized as Houston's foremost modern architect in the 1950s, Barnstone came to prominence for his designs with partner Preston M. Bolton, which transposed the rigorous and austere architectural practices of Ludwig Mies van der Rohe to the hot, steamy coastal plain of Texas. Barnstone was a man of contradictions―charming and witty but also self-centered, caustic, and abusive―who shaped new settings that were imbued, at once, with spatial calm and emotional intensity.
Making Houston Modern explores the provocative architect's life and work, not only through the lens of his architectural practice but also by delving into his personal life, class identity, and connections to the artists, critics, collectors, and museum directors who forged Houston's distinctive culture in the postwar era. Edited by three renowned voices in the architecture world, this volume situates Barnstone within the contexts of American architecture, modernism, and Jewish culture to unravel the legacy of a charismatic personality whose imaginative work as an architect, author, teacher, and civic commentator helped redefine architecture in Texas.