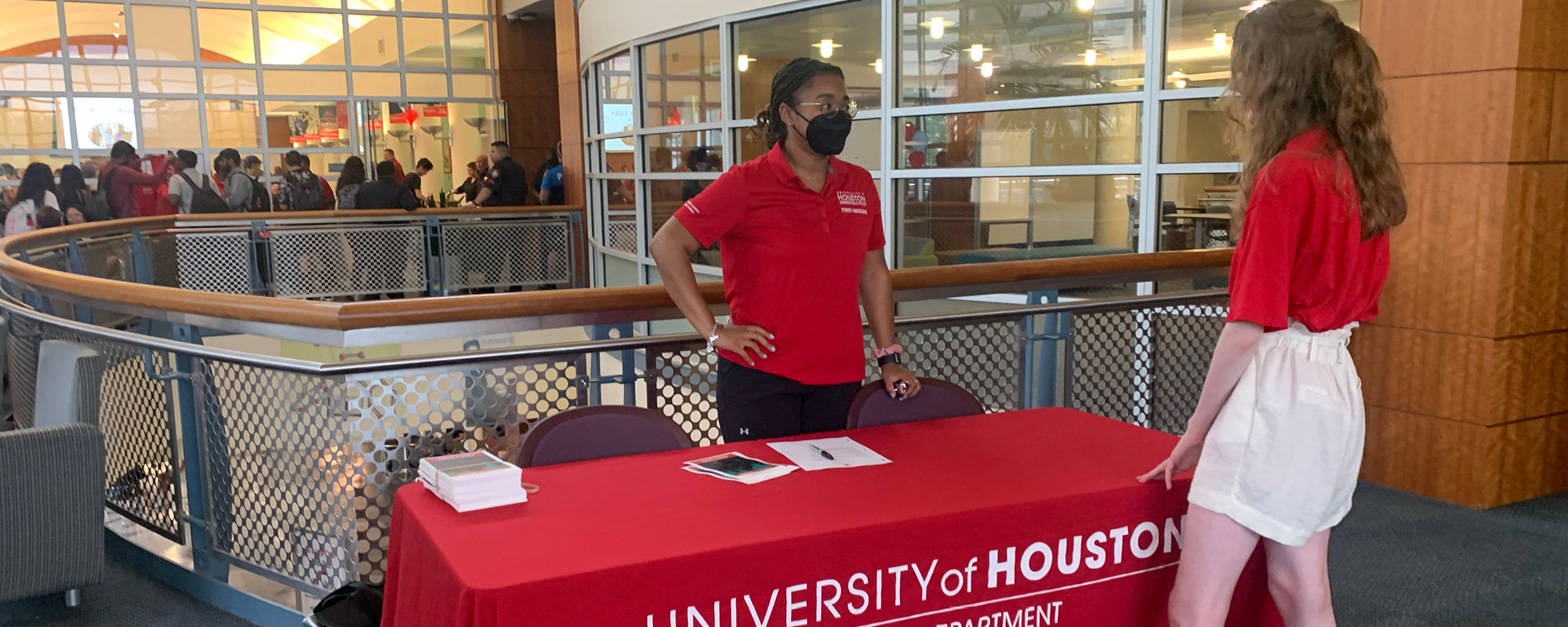 The start of the fall semester at the University of Houston saw an uptick in business for many Administration and Finance departments, and the division's 11 Student Ambassadors were instrumental in lending a helping hand.
The Student Ambassadors aided departments before and during the start of the fall semester. Two departments that benefitted from the support were the Cougar Card office and Parking and Transportation.
"The student ambassadors helped with multiple tasks during our busy residential move-in week and the first two days of the semester. They helped us by passing out Cougar Cards and sharing information about how to make an appointment and join the virtual line in CougarQ," said the director of Cougar Card and Food Services, Rosie Ashley.
"They also learned how to look up all the backend information we are required to have before we can print a Cougar Card, and then they completed the process by printing cards."

Student Ambassador Geraldine Palacios was one of the many ambassadors that assisted the Cougar Card office during their opening week rush.
Palacios, who joined the Student Ambassadors to become more involved on campus and to improve her leadership skills, said in her short stint as an ambassador that she's learned about all the different resources on campus for students.
For Parking and Transportation, the ambassadors were instrumental in helping the department at their tabling events.
"The ambassadors helped by staffing shifts at a tabling in the Student Center South the first five days of the semester," said Parking and Transportation Department Outreach Manager Richard Zagrzecki.
"The tabling was for Parking and Transportation Services to promote some of its services, including Cougar Ride, COAST, and the Cougar Line shuttles, while answering any questions students may have hadThe ambassadors didn't limit their assistance to helping departments. Student Ambassador Manager Nancy Nguyen said the students were also involved in a focus group providing feedback on their student experience on campus.

The Behind the Badge event was one campus event the student ambassadors supported during Weeks of Welcome. Ambassadors assisted in helping to check-in event attendees and distributing t-shirts. And overall, they had fun while helping to educate students, faculty, and staff about campus safety resources.
 "That was so much fun," said Student Ambassador Temperance Joseph. "It was great seeing so many students stopping by and engaging with UHPD.
Joseph, a Nutrition and Food Science senior, decided to become a student ambassador to become more involved on campus.
"It's cool getting to represent my university," said Joseph. "Not only outside of UH but to students and different staff and faculty members as well."
A&F's student ambassadors will have plenty more opportunities to assist A&F departments this fall semester, and there's no doubt the ambassadors will be ready to answer the call.